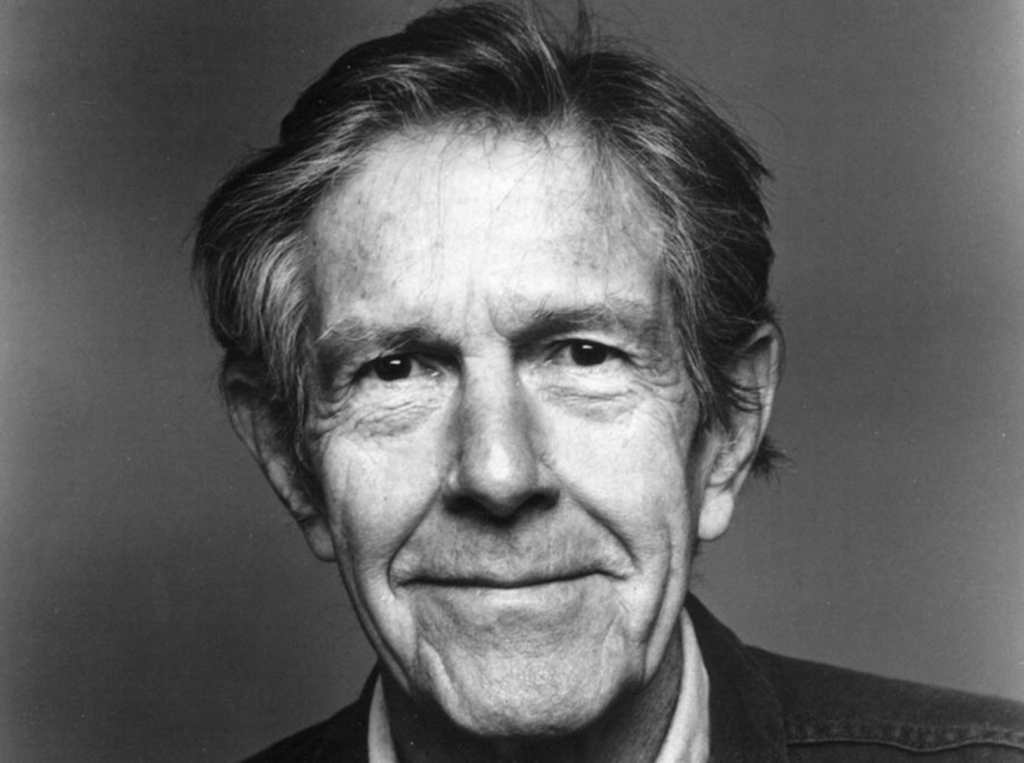 Image by WikiArt, via Wiki­me­dia Com­mons
Avant-garde com­pos­er John Cage start­ed out as a dis­ci­ple of Arnold Schoen­berg. He great­ly looked up to the exiled Aus­tri­an as a mod­el of how a true artist ought to live. Cage, in turn, inspired gen­er­a­tions of artists and com­posers both through his work – which incor­po­rat­ed ele­ments of chance into his music – and through his teach­ing.
One of those whom he inspired was Sis­ter Cori­ta Kent. An unlike­ly fix­ture in the Los Ange­les art scene, the nun was an instruc­tor at Immac­u­late Heart Col­lege and a cel­e­brat­ed artist who con­sid­ered Saul Bass, Buck­min­ster Fuller and Cage to be per­son­al friends.
In 1968, she craft­ed the love­ly, touch­ing Ten Rules for Stu­dents and Teach­ers for a class project. While Cage was quot­ed direct­ly in Rule 10, he didn't come up with the list, as many web­site sites claim. By all accounts, though, he was delight­ed with it and did every­thing he could to pop­u­lar­ize the list. Cage's lover and life part­ner Mer­ce Cun­ning­ham report­ed­ly kept a copy of it post­ed in his stu­dio until his dying days. You can check the list out below:
RULE ONE: Find a place you trust, and then try trust­ing it for a while.

RULE TWO: Gen­er­al duties of a stu­dent: Pull every­thing out of your teacher; pull every­thing out of your fel­low stu­dents.

RULE THREE: Gen­er­al duties of a teacher: Pull every­thing out of your stu­dents.

RULE FOUR: Con­sid­er every­thing an exper­i­ment.

RULE FIVE: Be self-dis­ci­plined: this means find­ing some­one wise or smart and choos­ing to fol­low them. To be dis­ci­plined is to fol­low in a good way. To be self-dis­ci­plined is to fol­low in a bet­ter way.

RULE SIX: Noth­ing is a mis­take. There's no win and no fail, there's only make.

RULE SEVEN: The only rule is work. If you work it will lead to some­thing. It's the peo­ple who do all of the work all of the time who even­tu­al­ly catch on to things.

RULE EIGHT: Don't try to cre­ate and ana­lyze at the same time. They're dif­fer­ent process­es.

RULE NINE: Be hap­py when­ev­er you can man­age it. Enjoy your­self. It's lighter than you think.

RULE TEN: We're break­ing all the rules. Even our own rules. And how do we do that? By leav­ing plen­ty of room for X quan­ti­ties.

HINTS: Always be around. Come or go to every­thing. Always go to class­es. Read any­thing you can get your hands on. Look at movies care­ful­ly, often. Save every­thing. It might come in handy lat­er.
If you would like to sign up for Open Culture's free email newslet­ter, please find it here.
If you would like to sup­port the mis­sion of Open Cul­ture, con­sid­er mak­ing a dona­tion to our site. It's hard to rely 100% on ads, and your con­tri­bu­tions will help us con­tin­ue pro­vid­ing the best free cul­tur­al and edu­ca­tion­al mate­ri­als to learn­ers every­where. You can con­tribute through Pay­Pal, Patre­on, and Ven­mo (@openculture). Thanks!
Via Gotham Writ­ers
Relat­ed Con­tent:
Lis­ten to John Cage's 5 Hour Art Piece: Diary: How To Improve The World (You Will Only Make Mat­ters Worse)
Hear Joey Ramone Sing a Piece by John Cage Adapt­ed from James Joyce's Finnegans Wake
Watch a Sur­pris­ing­ly Mov­ing Per­for­mance of John Cage's 1948 "Suite for Toy Piano"
Woody Guthrie's Fan Let­ter To John Cage and Alan Hov­haness (1947)
Jonathan Crow is a Los Ange­les-based writer and film­mak­er whose work has appeared in Yahoo!, The Hol­ly­wood Reporter, and oth­er pub­li­ca­tions. You can fol­low him at @jonccrow.