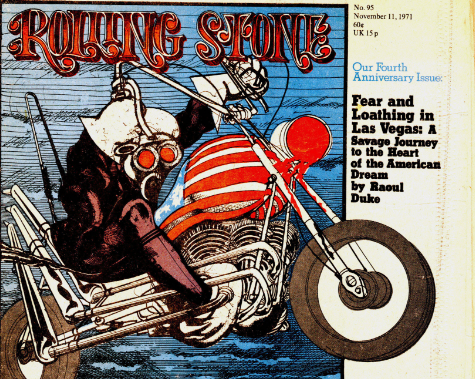 Last week, we revisited Johnny Depp's reading of the famous "wave speech" from Hunter S. Thompson's Fear and Loathing in Las Vegas. Wouldn't you know it, a week later, we've discovered that you can read the entire text of the original novel, online, for free.  The Gonzo journalism classic first appeared as a two-part series in Rolling Stone magazine in November 1971, complete with illustrations from Ralph Steadman, before being published as a book in 1972.  Rolling Stone has posted the original version on its web site. The 23,000 word manuscript famously begins:
We were somewhere around Barstow on the edge of the desert when the drugs began to take hold. I remember saying something like "I feel a bit lightheaded; maybe you should drive. …" And suddenly there was a terrible roar all around us and the sky was full of what looked like huge bats, all swooping and screeching and diving around the car, which was going about 100 miles an hour with the top down to Las Vegas. And a voice was screaming: "Holy Jesus! What are these goddamn animals?"
Down the line, you can find this text permanently listed in our collection of Free eBooks, as well as in our List of 10 Free Articles by Hunter S. Thompson That Span His Gonzo Journalist Career (1965-2005). Enjoy.
via @SteveSilberman
If you would like to sign up for Open Culture's free email newsletter, please find it here.
If you would like to support the mission of Open Culture, consider making a donation to our site. It's hard to rely 100% on ads, and your contributions will help us continue providing the best free cultural and educational materials to learners everywhere. You can contribute through PayPal, Patreon, Venmo (@openculture) and Crypto. Thanks!