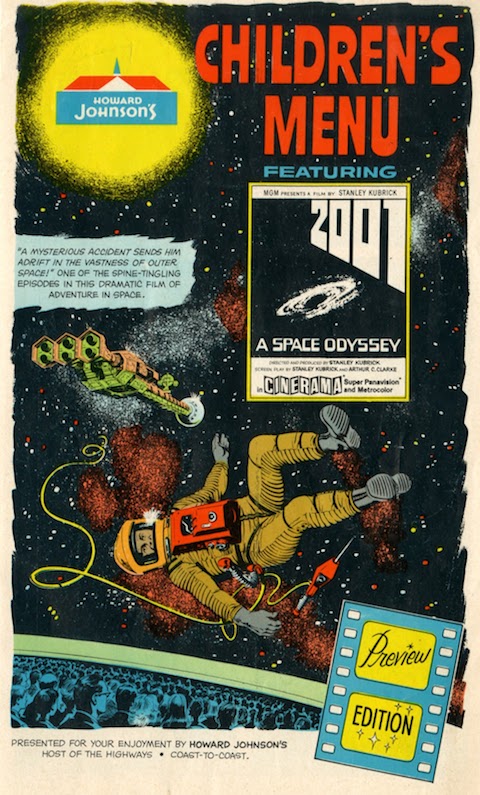 Rumor has it that promi­nent place­ment in a sci­ence-fic­tion movie can put a kind of "curse" on a brand: wit­ness the fates, for instance, of Atari, Bell, and Pan Amer­i­can World Air­ways, all of which went south after appear­ing in Rid­ley Scot­t's Blade Run­ner in 1982. (Even the appar­ent­ly unstop­pable Coca-Cola, its logo flash­ing so bright­ly on the future Los Ange­les sky­line, sub­se­quent­ly put the infa­mous New Coke to mar­ket.) Pan Am, then less than a decade from dis­so­lu­tion, had pre­vi­ous­ly played a high-pro­file part in 2001: A Space Odyssey. Stan­ley Kubrick and Arthur C. Clarke's vision of mono­liths, Jupiter mis­sions, and too-intel­li­gent arti­fi­cial intel­li­gence came out in 1968, the tail end of Amer­i­ca's mid­cen­tu­ry Space Age of the imag­i­na­tion. At that time, Pan Am enjoyed a rep­u­ta­tion as the pre­ferred air­line of the new "jet-set" — the nat­ur­al trans­porta­tion provider, I sup­pose, for their seem­ing­ly inevitable (and inevitably glam­orous) hol­i­days in out­er space. But who would pro­vide the lodg­ing so far from Earth? Why, Howard John­son's, of course.
The hotel-restau­rant chain, Amer­i­ca's largest in the 1960s and 70s, lent its name to the "earth­light room" built into 2001's space sta­tion. It also offered a spe­cial chil­dren's menu (pro­duced by the Amuse-a-Menu Com­pa­ny of Boston, Mass­a­chu­setts) fea­tur­ing a com­ic retelling not of the film itself, but of the expe­ri­ence of attend­ing the film's pre­miere. Many of its pan­els man­age impres­sive recre­ations of 2001's then-as-now-impres­sive visu­als, though I sus­pect the writer and artist had to work with few plot details — they make no men­tion at all, for instance, of the icon­i­cal­ly malev­o­lent super­com­put­er (and arguably 2001's star) HAL 9000.
The full menu, which you can browse at Dreams of Space, offers the kids of 1968 an activ­i­ty page, an oppor­tu­ni­ty to pur­chase a 50-cent birth­day-themed 45-RPM record, and a host of bland dish­es. Born well after 2001's pre­miere — and indeed after Blade Run­ner's, though I did hear when Pan Am went under — I nev­er­the­less remem­ber eat­ing all these stan­dards from chil­dren's menus every­where: spaghet­ti, hot dogs, peanut-but­ter-and-jel­ly sand­wich­es. While I rarely dream of a future where we've devel­oped a space­far­ing jet set, I often dream of the even less plau­si­ble one where we've come up with appe­tiz­ing food for the under-ten set.
Relat­ed Con­tent:
1966 Doc­u­men­tary Explores the Mak­ing of Kubrick's 2001: A Space Odyssey (and Our High-Tech Future)
In 1968, Stan­ley Kubrick Makes Pre­dic­tions for 2001: Human­i­ty Will Con­quer Old Age, Watch 3D TV & Learn Ger­man in 20 Min­utes
Isaac Asi­mov Pre­dicts in 1964 What the World Will Look Like Today — in 2014
Arthur C. Clarke Pre­dicts the Future in 1964 … And Kind of Nails It
Col­in Mar­shall hosts and pro­duces Note­book on Cities and Cul­ture and writes essays on cities, lan­guage, Asia, and men's style. He's at work on a book about Los Ange­les, A Los Ange­les Primer. Fol­low him on Twit­ter at @colinmarshall or on Face­book.