If you come to the first film pro­duc­tion of J.R.R. Tolkien's 1937 nov­el The Hob­bit expect­ing any­thing like a rev­er­ent ren­di­tion of the sto­ry, pre­pare your­self for dis­ap­point­ment. Pro­duced in 1966, the 12-minute ani­mat­ed short takes ele­ments of the clas­sic work of fan­ta­sy and adapts—or corrupts—them to fit a dif­fer­ent sto­ry, one with a drag­on, a hob­bit, a wiz­ard, and an Arken­stone, to be sure, but with a great many odd lib­er­ties tak­en with Tolkien's world. Instead of the great Smaug, we have a drag­on named "Slag." Instead of pil­lag­ing The Lone­ly Moun­tain, he steals the trea­sure of the vil­lage of Dale. Instead of a troupe of dwarves, we have one Gen­er­al Oak­en­shield, a princess named "Mika," and an unnamed watch­man. Trolls and gob­lins become "Groans" and "Grablins," and Gol­lum appears as "Goloom."
Is this some off-brand knock-off, you may ask? Not exact­ly. Pro­duc­er William Sny­der became the first per­son to acquire rights to Tolkien's book, and he orig­i­nal­ly intend­ed a fea­ture length film. The project failed, but when the novel's pop­u­lar­i­ty soared, Sny­der con­tract­ed Prague-based com­ic illus­tra­tor and ani­ma­tor Gene Deitch to cre­ate the short film you see above. Snyder's motives, it seems, were mer­ce­nary: he want­ed to extend his license, which he then sold back to Tolkien's pub­lish­ers for $100,000. But the film itself has a cer­tain charm, despite the nar­ra­tive butch­ery. Deitch hired Czech illus­tra­tor Adolf Born for the project, and he ren­ders the sto­ry in the col­or­ful, folk-art style of East­ern Europe (some of the draw­ings remind me of the lurid car­i­ca­tures of Ger­man artist George Grosz, some of Rocky and Bull­win­kle).
If Deitch's Hob­bit short fails to move you, con­sid­er it at least a minor entry in the career of a fas­ci­nat­ing char­ac­ter in the world of comics, ani­ma­tion, and folk music. Deitch pro­duced car­toons for Colum­bia, 20th Cen­tu­ry Fox, MGM, and Para­mount (includ­ing some Tom and Jer­ry and Pop­eye shorts) and made record­ings of John Lee Hook­er and Pete Seeger, as well as the recent­ly re-dis­cov­ered won­der Con­nie Con­verse. He also wrote the pop­u­lar guide How to Suc­ceed in Ani­ma­tion and fathered three car­toon­ist sons, the most well-known of whom, Kim Deitch, holds a spe­cial place in the his­to­ry of under­ground comics. But I offer none of this infor­ma­tion to excuse the flaws of Deitch and Snyder's Hob­bit short. Fans of com­ic art may love it, Tolkien purists not at all. Deitch tells the full sto­ry of the "Hol­ly­wood­ized" short film's slap­dash mak­ing on his blog, and it is well worth a read. The film itself can be found in the Ani­ma­tion sec­tion of our col­lec­tion, 4,000+ Free Movies Online: Great Clas­sics, Indies, Noir, West­erns, Doc­u­men­taries & More.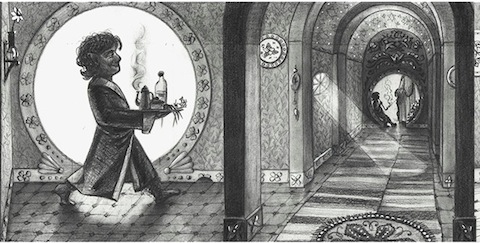 For anoth­er, much more faithful—albeit wordless—illustrated take, see Anna Repp's End­less Book Project (screen shot above). A Metafil­ter user describes it as "one con­tin­u­ous scroll, with new art­work added almost every week." Each pan­el has a unique look—some in the intri­cate style of Ger­man Renais­sance engrav­ing, some resem­bling wood­cuts, some inkwash draw­ings. And of course, you can­not go wrong with Tolkien's own orig­i­nal illus­tra­tions for The Hob­bit, some pub­lished in the first edi­tion, and many more late­ly dis­cov­ered among the author's papers. See Tolkien's draw­ing of The Lone­ly Moun­tain at night below, and vis­it Brain­pick­ings for more.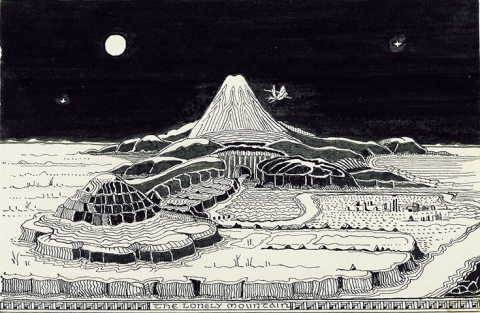 Relat­ed Con­tent:
"The Tolkien Pro­fes­sor" Presents Three Free Cours­es on The Lord of the Rings
C.S. Lewis' Pre­scient 1937 Review of The Hob­bit by J.R.R. Tolkien: It "May Well Prove a Clas­sic"
Lis­ten to J.R.R. Tolkien Read a Lengthy Excerpt from The Hob­bit (1952)
Sovi­et-Era Illus­tra­tions Of J. R. R. Tolkien's The Hob­bit (1976)
Josh Jones is a writer and musi­cian based in Durham, NC. Fol­low him at @jdmagness.