If you come to the first film production of J.R.R. Tolkien's 1937 novel The Hobbit expecting anything like a reverent rendition of the story, prepare yourself for disappointment. Produced in 1966, the 12-minute animated short takes elements of the classic work of fantasy and adapts—or corrupts—them to fit a different story, one with a dragon, a hobbit, a wizard, and an Arkenstone, to be sure, but with a great many odd liberties taken with Tolkien's world. Instead of the great Smaug, we have a dragon named "Slag." Instead of pillaging The Lonely Mountain, he steals the treasure of the village of Dale. Instead of a troupe of dwarves, we have one General Oakenshield, a princess named "Mika," and an unnamed watchman. Trolls and goblins become "Groans" and "Grablins," and Gollum appears as "Goloom."
Is this some off-brand knock-off, you may ask? Not exactly. Producer William Snyder became the first person to acquire rights to Tolkien's book, and he originally intended a feature length film. The project failed, but when the novel's popularity soared, Snyder contracted Prague-based comic illustrator and animator Gene Deitch to create the short film you see above. Snyder's motives, it seems, were mercenary: he wanted to extend his license, which he then sold back to Tolkien's publishers for $100,000. But the film itself has a certain charm, despite the narrative butchery. Deitch hired Czech illustrator Adolf Born for the project, and he renders the story in the colorful, folk-art style of Eastern Europe (some of the drawings remind me of the lurid caricatures of German artist George Grosz, some of Rocky and Bullwinkle).
If Deitch's Hobbit short fails to move you, consider it at least a minor entry in the career of a fascinating character in the world of comics, animation, and folk music. Deitch produced cartoons for Columbia, 20th Century Fox, MGM, and Paramount (including some Tom and Jerry and Popeye shorts) and made recordings of John Lee Hooker and Pete Seeger, as well as the recently re-discovered wonder Connie Converse. He also wrote the popular guide How to Succeed in Animation and fathered three cartoonist sons, the most well-known of whom, Kim Deitch, holds a special place in the history of underground comics. But I offer none of this information to excuse the flaws of Deitch and Snyder's Hobbit short. Fans of comic art may love it, Tolkien purists not at all. Deitch tells the full story of the "Hollywoodized" short film's slapdash making on his blog, and it is well worth a read. The film itself can be found in the Animation section of our collection, 4,000+ Free Movies Online: Great Classics, Indies, Noir, Westerns, Documentaries & More.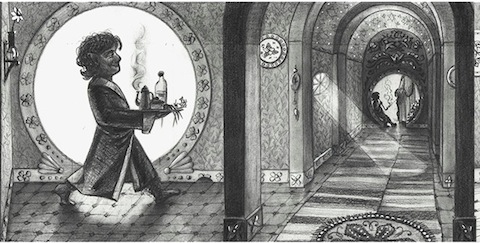 For another, much more faithful—albeit wordless—illustrated take, see Anna Repp's Endless Book Project (screen shot above). A Metafilter user describes it as "one continuous scroll, with new artwork added almost every week." Each panel has a unique look—some in the intricate style of German Renaissance engraving, some resembling woodcuts, some inkwash drawings. And of course, you cannot go wrong with Tolkien's own original illustrations for The Hobbit, some published in the first edition, and many more lately discovered among the author's papers. See Tolkien's drawing of The Lonely Mountain at night below, and visit Brainpickings for more.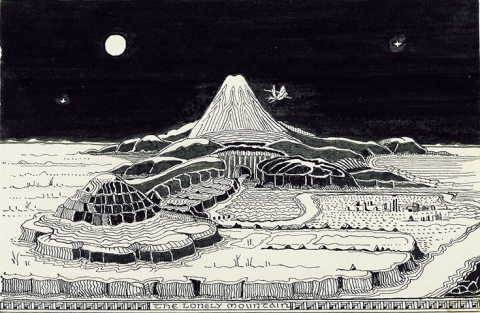 Related Content:
"The Tolkien Professor" Presents Three Free Courses on The Lord of the Rings
C.S. Lewis' Prescient 1937 Review of The Hobbit by J.R.R. Tolkien: It "May Well Prove a Classic"
Listen to J.R.R. Tolkien Read a Lengthy Excerpt from The Hobbit (1952)
Soviet-Era Illustrations Of J. R. R. Tolkien's The Hobbit (1976)
Josh Jones is a writer and musician based in Durham, NC. Follow him at @jdmagness.