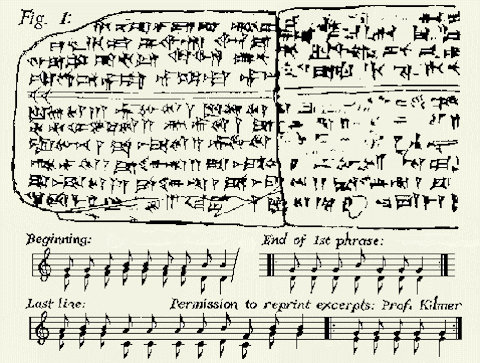 In the early 1950s, archaeologists unearthed several clay tablets from the 14th century B.C.E.. Found, WFMU tells us, "in the ancient Syrian city of Ugarit," these tablets "contained cuneiform signs in the hurrian language," which turned out to be the oldest known piece of music ever discovered, a 3,400 year-old cult hymn. Anne Draffkorn Kilmer, professor of Assyriology at the University of California, produced the interpretation above in 1972. (She describes how she arrived at the musical notation—in some technical detail—in this interview.) Since her initial publications in the 60s on the ancient Sumerian tablets and the musical theory found within, other scholars of the ancient world have published their own versions.
The piece, writes Richard Fink in a 1988 Archeologia Musicalis article, confirms a theory that "the 7-note diatonic scale as well as harmony existed 3,400 years ago." This, Fink tells us, "flies in the face of most musicologist's views that ancient harmony was virtually non-existent (or even impossible) and the scale only about as old as the Ancient Greeks." Kilmer's colleague Richard Crocker claims that the discovery "revolutionized the whole concept of the origin of western music." So, academic debates aside, what does the oldest song in the world sound like? Listen to a midi version below and hear it for yourself. Doubtless, the midi keyboard was not the Sumerians instrument of choice, but it suffices to give us a sense of this strange composition, though the rhythm of the piece is only a guess.
Kilmer and Crocker published an audio book on vinyl (now on CD) called Sounds From Silence in which they narrate information about ancient Near Eastern music, and, in an accompanying booklet, present photographs and translations of the tablets from which the song above comes. They also give listeners an interpretation of the song, titled "A Hurrian Cult Song from Ancient Ugarit," performed on a lyre, an instrument likely much closer to what the song's first audiences heard. Unfortunately, for that version, you'll have to make a purchase, but you can hear a different lyre interpretation of the song by Michael Levy below, as transcribed by its original discoverer Dr. Richard Dumbrill.
via WFMU
If you would like to sign up for Open Culture's free email newsletter, please find it here.
If you would like to support the mission of Open Culture, consider making a donation to our site. It's hard to rely 100% on ads, and your contributions will help us continue providing the best free cultural and educational materials to learners everywhere. You can contribute through PayPal, Patreon, and Venmo (@openculture). Thanks!
Related Content:
What Ancient Greek Music Sounded Like: Hear a Reconstruction That is '100% Accurate'
Hear The Epic of Gilgamesh Read in the Original Akkadian and Enjoy the Sounds of Mesopotamia
Learn Latin, Old English, Sanskrit, Classical Greek & Other Ancient Languages in 10 Lessons