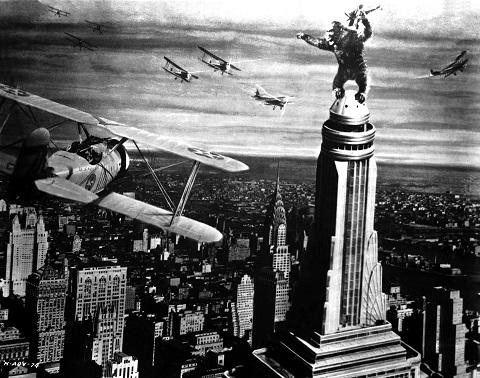 Yesterday we featured Jorge Luis Borges' review of Citizen Kane. But as a film critic, the writer of such influential short fictions as "The Aleph," "The Garden of Forking Paths," and "Pierre Menard, Author of the Quixote" didn't start there, with perhaps the most influential motion picture ever produced. Flicker has more on the movies that caught Borges' critical eye:
He was a passionate admirer of Charlie Chaplin. In a wonderful sentence that typifies his writing style, Borges writes, "Would anyone dare ignore that Charlie Chaplin is one of the established gods in the mythology of our time, a cohort of de Chirico's motionless nightmares, of Scarface Al's ardent machine guns, of the finite yet unlimited universe of Greta Garbo's lofty shoulders, of the goggled eyes of Gandhi?"

Borges' film reviews were often quite humorous. When discussing Josef von Sternberg's version of Crime and Punishment (1935), he writes, "Indoctrinated by the populous memory of The Scarlet Empress, I was expecting a vast flood of false beards, miters, samovars, masks, surly faces, wrought-iron gates, vineyards, chess pieces, balalaikas, prominent cheekbones, and horses. In short, I was expecting the usual von Sternberg nightmare, the suffocation and the madness."
But the film-reviewing Borges' masterpiece of dismissal takes on King Kong, Merian C. Cooper and Ernest B. Schoedsack's most iconic giant-ape disaster movie of them all:
A monkey, forty feet tall (some fans say forty-five) may have obvious charms, but those charms have not convinced this viewer. King Kong is no full-blooded ape but rather a rusty, desiccated machine whose movements are downright clumsy. His only virtue, his height, did not impress the cinematographer, who persisted in photographing him from above rather than from below —  the wrong angle, as it neutralizes and even diminishes the ape's overpraised stature. He is actually hunchbacked and bowlegged, attributes that serve only to reduce him in the spectator's eye. To keep him from looking the least bit extraordinary, they make him do battle with far more unusual monsters and have him reside in caves of false cathedral splendor, where his infamous size again loses all proportion. But what finally demolishes both the gorilla and the film is his romantic love — or lust — for Fay Wray.
As Mourdaunt Hall's contemporary New York Times review of this "Fantastic Film in Which a Monstrous Ape Uses Automobiles for Missiles and Climbs a Skyscraper" put it, "Through multiple exposures, processed 'shots' and a variety of angles of camera wizardry the producers set forth an adequate story and furnish enough thrills for any devotee of such tales," but "it is when the enormous ape, called Kong, is brought to this city that the excitement reaches its highest pitch. Imagine a 50-foot beast with a girl in one paw climbing up the outside of the Empire State Building, and after putting the girl on a ledge, clutching at airplanes, the pilots of which are pouring bullets from machine guns into the monster's body." That sight must have struck the (still not overly thrilled) Hall as more impressive than it did Borges, but then, Borges, that visionary of dizzying labyrinths, eternities, and infinitudes, had already seen true visions of enormousness — and enormity.
Related Content:
Jorge Luis Borges, Film Critic, Reviews Citizen Kane — and Gets a Response from Orson Welles
Jorge Luis Borges' Favorite Short Stories (Read 7 Free Online)
Borges: Profile of a Writer Presents the Life and Writings of Argentina's Favorite Son, Jorge Luis Borges
Colin Marshall hosts and produces Notebook on Cities and Culture and writes essays on cities, language, Asia, and men's style. He's at work on a book about Los Angeles, A Los Angeles Primer. Follow him on Twitter at @colinmarshall or on Facebook.