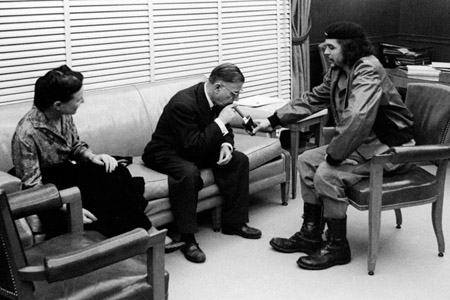 In 1960, Jean-Paul Sartre and Simone de Beauvoir ventured to Cuba during, as he wrote, the "honeymoon of the revolution." Military strongman Fulgencio Batista's regime had fallen to Fidel Castro's guerilla army and the whole country was alight with revolutionary zeal. As Beauvoir wrote, "after Paris, the gaiety of the place exploded like a miracle under the blue sky."
At the time, Sartre and de Beauvoir were internationally renown, the intellectual power couple of the 20th century. Beauvoir's book, The Second Sex (1949), laid the groundwork for the feminism movement, and her book The Mandarins won France's highest literary award in 1954. Sartre's name had become a household word. The philosophy he championed – Existentialism – was being read and debated around the world. And his political activism — loudly condemning France's war in Algeria, for instance — had given him real moral authority. When Sartre was arrested in 1968 for civil disobedience, Charles de Gaulle pardoned him, noting, "You don't arrest Voltaire." As Deirdre Bair notes in her biography of Beauvoir, "Sartre became the one intellectual whose presence and commentary emerging governments clamored for, as if he alone could validate their revolutions." So it's not terribly surprising that Fidel Castro wined and dined the two during their month in Cuba.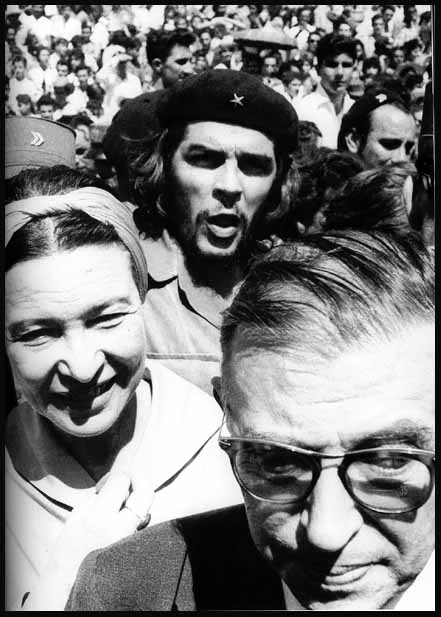 Cuban photographer Alberto Korda captured the couple as they met with Castro, Che Guevara and other leaders of the revolution. One picture (above) is of Guevara in his combat boots and trademark beret, lighting a cigar for the French philosopher. Sartre looks small and unhealthy compared to the strapping, magnetic revolutionary. Sartre was apparently impressed by the time he spent with the guerilla leader. When Che died in Bolivia seven years later, Sartre famously wrote that Guevara was "not only an intellectual but also the most complete human being of our age."
Later, Korda caught them as they were guided through the streets of Havana. And as you can see (below), that iconic image of Guevara, later plastered on T-shirts and Rage Against the Machine album covers, is on that same role of film.
When the couple returned to Paris, Sartre wrote article after article extolling the revolution. Beauvoir, who was equally impressed, wrote, "For the first time in our lives, we were witnessing happiness that had been attained by violence."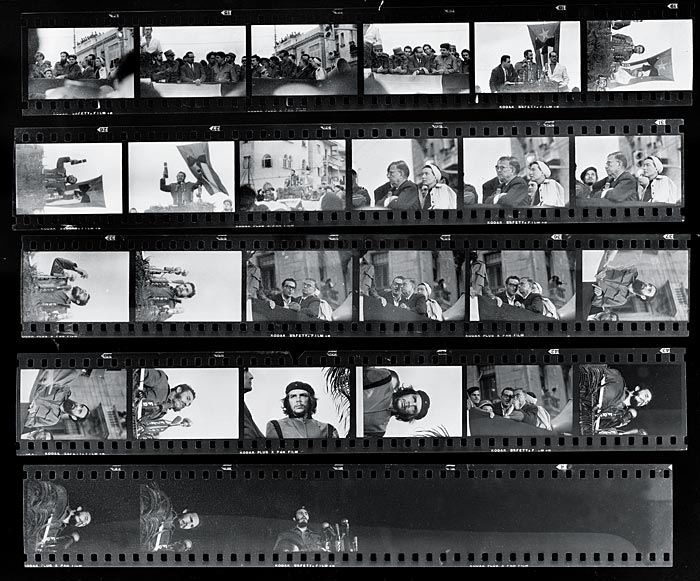 Yet their enthusiasm for the regime cooled when they returned to Cuba a year later. The streets of Havana had little of the joy as the previous year. When they talked to factory workers, they heard little but parroting of the official party line. Beauvoir and Sartre ultimately denounced Castro (along with a bunch of other intellectual luminaries like Gabriel Garcia Marquez and Octavio Paz) in an open letter that criticized him for the arrest of Cuban poet Herberto Padillo.
You can read more about the life and photography of Alberto Korda in the 2006 book, Cuba: by Korda.
Photos above by Alberto Korda.
via Critical Theory
Related Content: 
Philosophy's Power Couple, Jean-Paul Sartre and Simone de Beauvoir, Featured in 1967 TV Interview
Jean-Paul Sartre Breaks Down the Bad Faith of Intellectuals
Walter Kaufmann's Classic Lectures on Nietzsche, Kierkegaard and Sartre (1960)
Jonathan Crow is a Los Angeles-based writer and filmmaker whose work has appeared in Yahoo!, The Hollywood Reporter, and other publications. You can follow him at @jonccrow. And check out his blog Veeptopus, featuring one new drawing of a vice president with an octopus on his head daily.  The Veeptopus store is here.