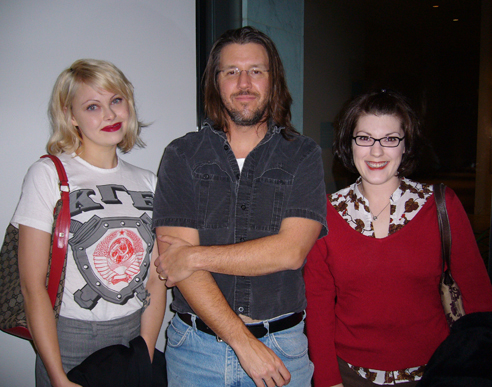 Photo courtesy of Claudia Sherman.
The term "creative nonfiction" has picked up a great deal of traction over the past decade — perhaps too much, depending upon how valid or invalid you find it. Meaningful or not, the label has come into its current popularity in part thanks to the essays of novelist David Foster Wallace: whether writing nonfictionally about the Illinois State Fair, David Lynch, professional tennis, or a seven-night Caribbean cruise, he did it in a way unlike any other man or woman of letters. While nobody can learn to write quite like him — this we've seen when Wallace-imitators write pastiches of their own — he did spend time teaching the art of creative nonfiction as he saw it,
a broad category of prose works such as personal essays and memoirs, profiles, nature and travel writing, narrative essays, observational or descriptive essays, general-interest technical writing, argumentative or idea-based essays, general-interest criticism, literary journalism, and so on. The term's constituent words suggest a conceptual axis on which these sorts of prose works lie. As nonfiction, the works are connected to actual states of affairs in the world, are "true" to some reliable extent. If, for example, a certain event is alleged to have occurred, it must really have occurred; if a proposition is asserted, the reader expects some proof of (or argument for) its accuracy. At the same time, the adjective creative signifies that some goal(s) other than sheer truthfulness motivates the writer and informs her work. This creative goal, broadly stated, may be to interest readers, or to instruct them, or to entertain them, to move or persuade, to edify, to redeem, to amuse, to get readers to look more closely at or think more deeply about something that's worth their attention. . . or some combination(s) of these.
This comes straight from the syllabus of English 183D, a workshop Wallace taught at Pomona College in the spring of 2008, which you can read in its entirety at Salon (reprinted from The David Foster Wallace Reader). As you may remember from the previous Wallace syllabus we featured, from a 1994 semester of English 102 – Literary Analysis I: Prose Fiction at Illinois State University, the man could really assemble a reading list. For his creative nonfiction course, he had students read Jo Ann Beard's "Werner," Stephen Elliott's "Where I Slept," George Orwell's classic "Politics and the English Language," Donna Steiner's "Cold," David Gessner's "Learning to Surf," Kathryn Harrison's "The Forest of Memory," Hester Kaplan's "The Private Life of Skin," and George Saunders's "The Braindead Megaphone."
In some ways, Wallace syllabi themselves count as pieces of creative nonfiction. What other professor ever had the prose chops to make you actually want to read anything under the "Class Rules & Procedures" heading? In the ninth of its thirteen points, he lays out the workshop's operative belief:
that you'll improve as a writer not just by writing a lot and receiving detailed criticism but also by becoming a more sophisticated and articulate critic of other writers' work. You are thus required to read each of your colleagues' essays at least twice, making helpful and specific comments on the manuscript copy wherever appropriate. You will then compose a one-to-three-page letter to the essay's author, communicating your sense of the draft's strengths and weaknesses and making clear, specific suggestions for revision.
But whatever the rigors of English 183D, Wallace would have succeeded, to my mind, if he'd instilled nothing more than this in the minds of his departing students:
In the grown-up world, creative nonfiction is not expressive writing but rather communicative writing. And an axiom of communicative writing is that the reader does not automatically care about you (the writer), nor does she find you fascinating as a person, nor does she feel a deep natural interest in the same things that interest you.
True to form, DFW's syllabus comes complete with footnotes.
1 (A good dictionary and usage dictionary are strongly recommended. You're insane if you don't own these already.)
You can read the Creative Nonfiction syllabus in full here.
Related Content:
30 Free Essays & Stories by David Foster Wallace on the Web
David Foster Wallace's 1994 Syllabus: How to Teach Serious Literature with Lightweight Books
Read David Foster Wallace's Notes From a Tax Accounting Class, Taken to Help Him Write The Pale King
David Foster Wallace Breaks Down Five Common Word Usage Mistakes in English
Colin Marshall hosts and produces Notebook on Cities and Culture and writes essays on cities, language, Asia, and men's style. He's at work on a book about Los Angeles, A Los Angeles Primer. Follow him on Twitter at @colinmarshall or on Facebook.