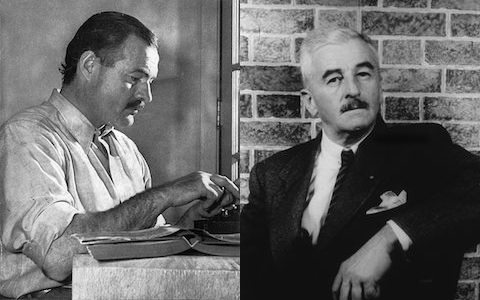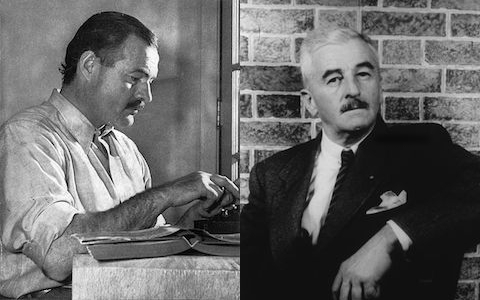 Hemingway and Faulkner, Faulkner and Hemingway…. The American literary canon has expanded so much in the past thirty years or so that it almost spans the globe, like American business, drawing in writers from every possible corner. With greater inclusion comes the passing out of fashion of many a former icon (does anyone read Dreiser or Dos Passos anymore?). And yet, no matter how much critical tastes and scholarly measures change, it seems we'll never be able to do without our Hemingway and Faulkner.
Perhaps it's their deep takes on history—Hemingway's sentimental war correspondence and tragic sense of a changing Europe; Faulkner's sense of a South held in thrall to squalid delusions of grandeur and epic colonial violence. Geopolitically relevant they still may be, but there's much more to both than geopolitics. Perhaps it's the timeless stylistic dialectic, or the Nobels, or the traded insults, or that the names themselves, like Roosevelt and Kennedy, trigger instant recall of the "American century." Of course, devotees of Faulkner (I am one), of Hemingway, or of Faulkner and Hemingway need no rationale, and it is to such people principally that today's post is addressed.
For today, we bring you Hemingway and Faulkner, reading Hemingway and Faulkner. In the Spotify playlists above (download Spotify here), we have both authors reading from their Nobel acceptance speeches, then excerpts from their literary works. These recordings were originally released as vinyl albums by Caedmon Records, that pre-audiobook phenomenon founded by Barbara Holdridge and Marianne Roney in 1952. Caedmon released albums of readings by dozens of major writers, like Dylan Thomas and Eudora Welty, and we have featured many of them here before—such as those from T.S. Eliot, Sylvia Plath, W.H. Auden, and Tennessee Williams (reading Hart Crane). But today, it's Hemingway and Faulkner, who despite—or because of—their differences, belong together forever as great American literary patriarchs, even if patriarchy is terminally passé.
If you need the Spotify software, please download it here.
Related Content:
Download 55 Free Online Literature Courses: From Dante and Milton to Kerouac and Tolkien
William Faulkner's Review of Hemingway's The Old Man and the Sea (1952)
18 (Free) Books Ernest Hemingway Wished He Could Read Again for the First Time
Rare Audio: William Faulkner Names His Best Novel, And the First Faulkner Novel You Should Read
Josh Jones is a writer and musician based in Durham, NC. Follow him at @jdmagness