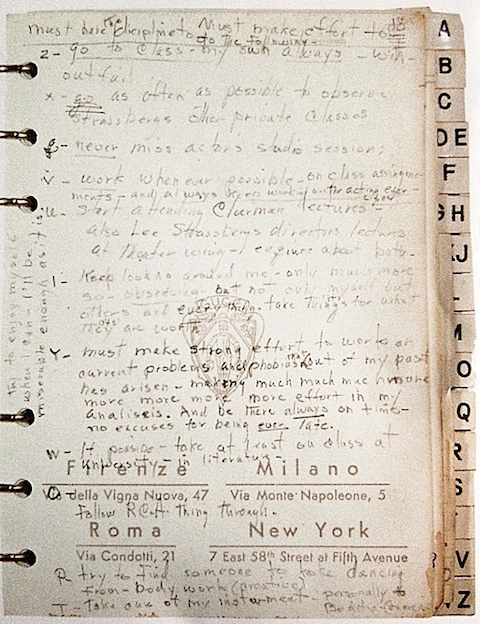 The common conception of New Year's resolutions frames them as disposable ideals, not to be taken too seriously or followed through past the first few months of winter; by spring, we all assume, we'll be right back to our slothful, gluttonous ways. Perhaps the problem lies in the way we approach this yearly ritual. Lists of the most common resolutions tend towards the almost shockingly banal, such that most people's desires for change are interchangeable with their friends and neighbors and might as well be scripted by greeting card companies. I'd hazard it's impossible to be passionate about half-thoughts and boilerplate ambition.
But there are those few people who really pour their hearts into it, creating lists so individualized and authentic that the documents expose their inner lives, their hopes, fears, loves, struggles, and deep, personal yearnings and aspirations. One such list that circulates often, and which we featured last year, is this gem from Woody Guthrie circa 1943. It's so completely him, so much in his voice, that no one else could have written it, even in parody. This year, we direct your attention to the list above, from Marilyn Monroe, written at the end of 1955 when the star was 29.
Already well-known for her acting in such fine films as All About Eve, Gentlemen Prefer Blondes, and The Seven Year Itch, Monroe had recently been accepted to Lee Strasberg's Actors Studio. As Lists of Note puts it, "judging by this list, she was determined to make the most of her opportunities." I'm not sure what to make of the odd use of random letters at the beginning of each resolution, but what the list does offer us is a glimpse into Monroe's deep commitment—despite her feeling that her life was "miserable"—to growing and developing as an actor and a person.
See a full transcript of her list of resolutions below.
Must make effort to do

Must have the dicipline to do the following –

z – go to class – my own always – without fail
x – go as often as possible to observe Strassberg's other private classes

g – never miss actor's studio sessions

v – work whenever possible – on class assignments – and always keep working on the acting exercises

u – start attending Clurman lectures – also Lee Strassberg's directors lectures at theater wing – enquire about both

l – keep looking around me – only much more so – observing – but not only myself but others and everything – take things (it) for what they (it's) are worth

y – must make strong effort to work on current problems and phobias that out of my past has arisen – making much much much more more more more more effort in my analisis. And be there always on time – no excuses for being ever late.

w – if possible – take at least one class at university – in literature –

o – follow RCA thing through.

p – try to find someone to take dancing from – body work (creative)

t – take care of my instrument – personally & bodily (exercise)

try to enjoy myself when I can – I'll be miserable enough as it is.
via Lists of Note
Related Content:
The 430 Books in Marilyn Monroe's Library: How Many Have You Read?
Woody Guthrie's Doodle-Filled List of 33 New Year's Resolutions From 1943
The Science of Willpower: 15 Tips for Making Your New Year's Resolutions Last from Dr. Kelly McGonigal
The Top 10 New Year's Resolutions Read by Bob Dylan
Josh Jones is a writer and musician based in Durham, NC. Follow him at @jdmagness