The field of psy­chol­o­gy is very dif­fer­ent than it used to be. Nowa­days, the Amer­i­can Psy­cho­log­i­cal Asso­ci­a­tion has a code of con­duct for exper­i­ments that ensures a subject's con­fi­den­tial­i­ty, con­sent and gen­er­al men­tal well being. In the old days, it was­n't the case.
Back then, you could, for instance, con sub­jects into think­ing that they were elec­tro­cut­ing a man to death, as they did in the infa­mous 1961 Mil­gram exper­i­ment, which left peo­ple trau­ma­tized and hum­bled in the knowl­edge that deep down they are lit­tle more than weak-willed pup­pets in the face of author­i­ty. You could also try to turn a group of unsus­pect­ing orphans into stut­ter­ers by method­i­cal­ly under­min­ing their self-esteem as the folks who ran the apt­ly named Mon­ster Study of 1939 tried to do. But, if you real­ly want to get into the swamp of moral dubi­ous­ness, look no fur­ther than the Lit­tle Albert exper­i­ments, which trau­ma­tized a baby into hat­ing dogs, San­ta Claus and all things fuzzy.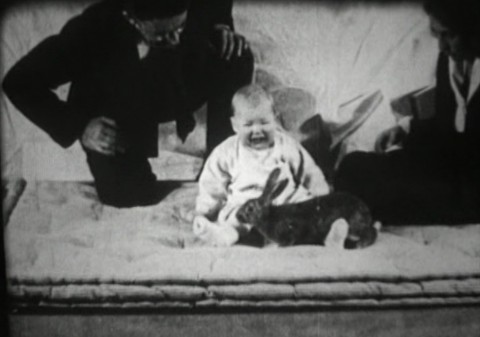 In 1920, Johns Hop­kins pro­fes­sor John B. Wat­son was fas­ci­nat­ed with Ivan Pavlov's research on con­di­tioned stim­u­lus. Pavlov famous­ly rang a bell every time he fed his dogs. At first the food caused the dogs to sali­vate, but after a spell of pair­ing the bell with din­ner, the dogs would even­tu­al­ly sali­vate at just the sound of the bell. That's called a con­di­tioned response. Wat­son want­ed to see if he could cre­ate a con­di­tioned response in a baby.
Enter 9‑month old Albert B., AKA Lit­tle Albert. At the begin­ning of the exper­i­ment, Albert was pre­sent­ed with a white rat, a dog, a white rab­bit, and a mask of San­ta Claus among oth­er things. The lad was unafraid of every­thing and was, in fact, real­ly tak­en with the rat. Then every time the baby touched the ani­mals, sci­en­tists struck a met­al bar behind him, cre­at­ing a star­tling­ly loud bang. The sound freaked out the child and soon, like Pavlov's dogs, Lit­tle Albert grew ter­ri­fied of the rat and the mask of San­ta and even a fur coat. The par­tic­u­lar­ly messed up thing about the exper­i­ment was that Wat­son didn't even both to reverse the psy­cho­log­i­cal trau­ma he inflict­ed.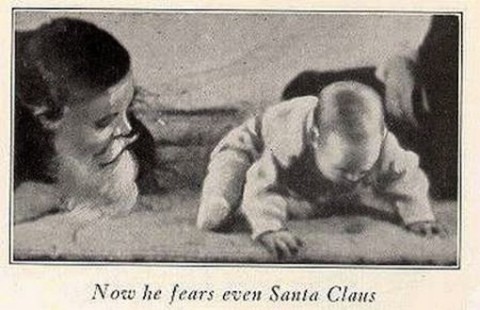 What hap­pened to poor baby Albert is hard to say, in part because no one is real­ly sure of the child's true iden­ti­ty. He might have been Dou­glas Mer­ritte, as psy­chol­o­gists Hall P. Beck and Shar­man Levin­son argued in 2009. If that's the case, then the child died at the age of 6 in 1925 of hydro­cephalus. Or he might have been William Albert Barg­er, as Russ Pow­ell and Nan­cy Dig­don argued in 2012. He passed away in 2007 at the age of 87. He report­ed­ly had a life­long aver­sion to dogs, though it can­not be deter­mined if it was a last­ing effect of the exper­i­ment.
Lat­er in life, Wat­son left aca­d­e­mics for adver­tis­ing.
You can watch a video of the exper­i­ment above.
via Men­tal Floss
Relat­ed Con­tent:
Free Online Psy­chol­o­gy Cours­es
How To Think Like a Psy­chol­o­gist: A Free Online Course from Stan­ford
Watch Footage from the Psy­chol­o­gy Exper­i­ment That Shocked the World: Milgram's Obe­di­ence Study (1961)
Her­mann Rorschach's Orig­i­nal Rorschach Test: What Do You See? (1921)
Jonathan Crow is a Los Ange­les-based writer and film­mak­er whose work has appeared in Yahoo!, The Hol­ly­wood Reporter, and oth­er pub­li­ca­tions. You can fol­low him at @jonccrow. And check out his blog Veep­to­pus, fea­tur­ing lots of pic­tures of bad­gers and even more pic­tures of vice pres­i­dents with octo­pus­es on their heads. The Veep­to­pus store is here.