I can well remem­ber the first time I read Mad Mag­a­zine. I was prob­a­bly around Bart Simpson's age, but nowhere near his degree of wiseass-ness. I found the humor of the adult world most­ly mys­ti­fy­ing and also pret­ty tame, giv­en my rather shel­tered exis­tence. It was my dis­cov­ery of Mad—stacks and stacks of old Mads, to be pre­cise, in the rec room of a fam­i­ly acquaintance—that cracked the shell, one of those for­ma­tive loss-of-inno­cence moments that are ulti­mate­ly edi­fy­ing. At the time, I couldn't tell sophis­ti­cat­ed satire from puerile par­o­dy, and the aver­age issue of Mad was no Gulliver's Trav­els. Nonethe­less, its glee­ful skew­er­ing of the Amer­i­can civ­il reli­gion of pol­i­tics, celebri­ty, pro­fes­sion­al sports, com­merce, and mid­dle class com­fort hooked me instant­ly, and taught me about the val­ue of freethought before I'd ever heard the name Jonathan Swift.
Found­ed as a com­ic book by edi­tor Har­vey Kurtz­man and pub­lish­er William Gaines in 1952, Mad and its gap-toothed mas­cot Alfred E. New­man (still active today!) pio­neered pop­ulist satire and inspired many less­er imi­ta­tors. One dis­tinc­tive fea­ture of the mag­a­zine for almost its entire exis­tence was its abil­i­ty to run with­out adver­tis­ing, allow­ing it to tear apart mate­ri­al­ist cul­ture with­out fear of bit­ing the hands that fed it. Instead, for decades, the mag­a­zine ran fake spoof ads like those you see here. At the top, for exam­ple, see a 1963 ad for the "1963 ¾ Edsel," an update of the "1963 ½ models—which made all '63 mod­els obso­lete." The text goes on to state frankly, "we're tak­ing the first steps toward "Planned Month­ly Obsolescence—when every car own­er will be shamed into trad­ing in his old June '64 car for a brand new shiny July '64 mod­el." Apple, take note.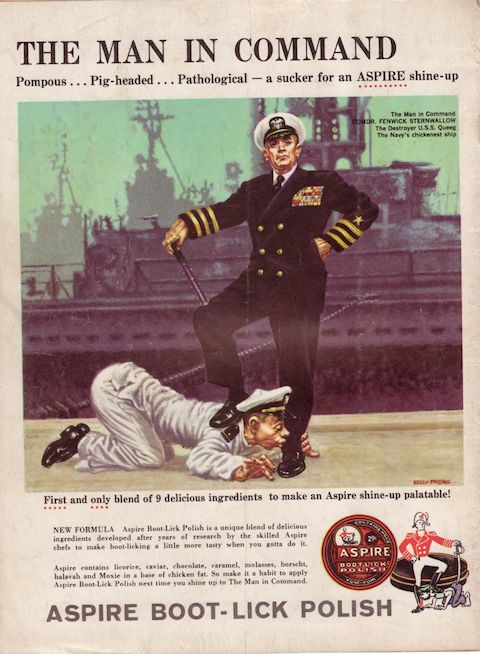 In the 1960 spoof ad above, mil­i­tary cul­ture gets a send-up with "Aspire Boot-Lick Pol­ish," made for "The Man in Com­mand: Pompous… Pig-head­ed… Patho­log­i­cal." The fla­vored boot polish—"licorice, caviar, choco­late, caramel, molasses, borscht, halavah, and Mox­ie in a base of chick­en fat"—is said to make "boot-lick­ing a lit­tle more tasty when you got­ta do it." A clever inset links the U.S. chain of com­mand with pre­vi­ous empires, show­ing a car­toon Euro­pean naval offi­cer of cen­turies past get­ting his boots licked by a sub­or­di­nate sailor.
Just above, the dis­turb­ing 1969 fake ad for "Ceme­tery Filler Cig­a­rettes" pre­dates the tobac­co tri­als of the 1990s by decades. Long pro­mot­ed for their health ben­e­fits, calm­ing effects, sophis­ti­ca­tion, and taste—as in that mem­o­rable first episode of Mad Men—cig­a­rettes are exposed for the mass killers they are by none oth­er than "Adolph Hitler". (Anoth­er 1970 fake ad for "Win­som Cig­a­rettes" uses an actu­al ceme­tery to sim­i­lar effect.)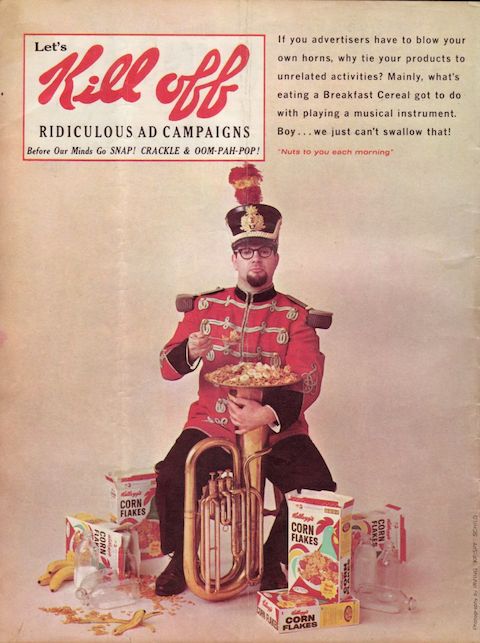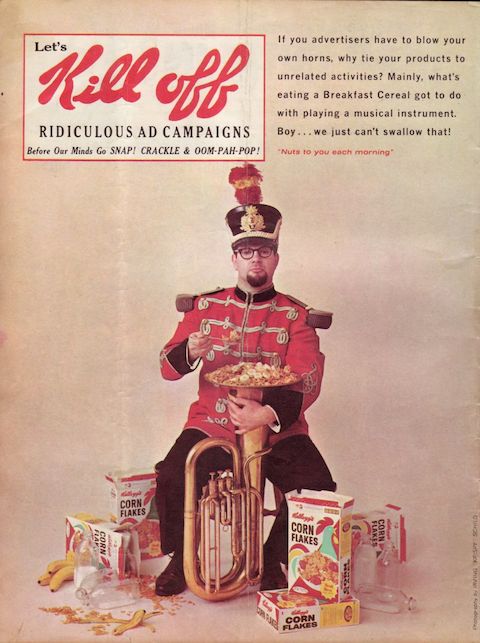 While cig­a­rette com­pa­nies were a fre­quent tar­get of Mad's fake ads, just as often they took on the inani­ty of the entire ad indus­try itself, as in the above 1965 meta-ad for "Let's Kill Off Ridicu­lous Ad Cam­paigns." The text reads, "If you adver­tis­ers have to blow your own horns, why tie your prod­ucts to unre­lat­ed activ­i­ties? Main­ly, what's eat­ing a Break­fast Cere­al got to do with play­ing a musi­cal instru­ment? Boy… we just can't swal­low that!" Anoth­er reg­u­lar fea­ture was "Mad's Great Moments in Adver­tis­ing," a kind of high­light bloop­er reel of ads gone wrong. The exam­ple below, also from 1965, spoofs the promis­es of clean­ing prod­uct ads to make the lives of house­wives eas­i­er with a prod­uct that works just a lit­tle too well.
All of these fake Mad ads come from a Flickr account com­piled by user "Jas­par­do." See many more of them there, and for even more of the magazine's illus­tri­ous past, check out this Fla­vor­wire gallery of "The 10 Great­est Mad Mag­a­zine Cov­ers."
Relat­ed Con­tent:
Men In Com­mer­cials Being Jerks About Cof­fee: A Mashup of 1950s & 1960s TV Ads
Before Mad Men: Famil­iar and For­got­ten Ads from 1950s to 1980s Now Online
Eisen­how­er Answers Amer­i­ca: The First Polit­i­cal Adver­tise­ments on Amer­i­can TV (1952)
Josh Jones is a writer and musi­cian based in Durham, NC. Fol­low him at @jdmagness