I can well remember the first time I read Mad Magazine. I was probably around Bart Simpson's age, but nowhere near his degree of wiseass-ness. I found the humor of the adult world mostly mystifying and also pretty tame, given my rather sheltered existence. It was my discovery of Mad—stacks and stacks of old Mads, to be precise, in the rec room of a family acquaintance—that cracked the shell, one of those formative loss-of-innocence moments that are ultimately edifying. At the time, I couldn't tell sophisticated satire from puerile parody, and the average issue of Mad was no Gulliver's Travels. Nonetheless, its gleeful skewering of the American civil religion of politics, celebrity, professional sports, commerce, and middle class comfort hooked me instantly, and taught me about the value of freethought before I'd ever heard the name Jonathan Swift.
Founded as a comic book by editor Harvey Kurtzman and publisher William Gaines in 1952, Mad and its gap-toothed mascot Alfred E. Newman (still active today!) pioneered populist satire and inspired many lesser imitators. One distinctive feature of the magazine for almost its entire existence was its ability to run without advertising, allowing it to tear apart materialist culture without fear of biting the hands that fed it. Instead, for decades, the magazine ran fake spoof ads like those you see here. At the top, for example, see a 1963 ad for the "1963 ¾ Edsel," an update of the "1963 ½ models—which made all '63 models obsolete." The text goes on to state frankly, "we're taking the first steps toward "Planned Monthly Obsolescence—when every car owner will be shamed into trading in his old June '64 car for a brand new shiny July '64 model." Apple, take note.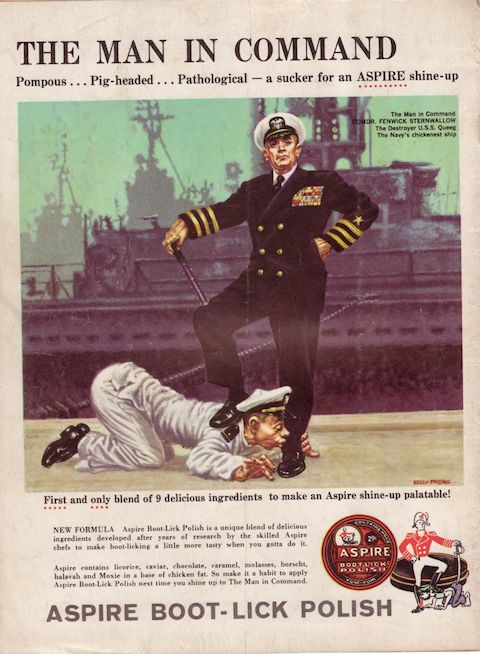 In the 1960 spoof ad above, military culture gets a send-up with "Aspire Boot-Lick Polish," made for "The Man in Command: Pompous… Pig-headed… Pathological." The flavored boot polish—"licorice, caviar, chocolate, caramel, molasses, borscht, halavah, and Moxie in a base of chicken fat"—is said to make "boot-licking a little more tasty when you gotta do it." A clever inset links the U.S. chain of command with previous empires, showing a cartoon European naval officer of centuries past getting his boots licked by a subordinate sailor.
Just above, the disturbing 1969 fake ad for "Cemetery Filler Cigarettes" predates the tobacco trials of the 1990s by decades. Long promoted for their health benefits, calming effects, sophistication, and taste—as in that memorable first episode of Mad Men—cigarettes are exposed for the mass killers they are by none other than "Adolph Hitler". (Another 1970 fake ad for "Winsom Cigarettes" uses an actual cemetery to similar effect.)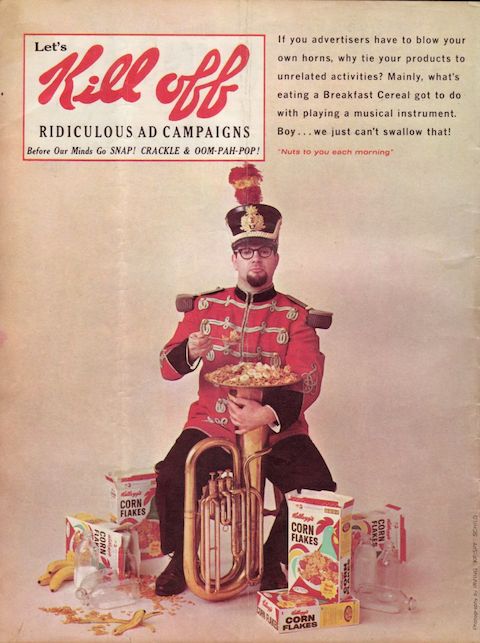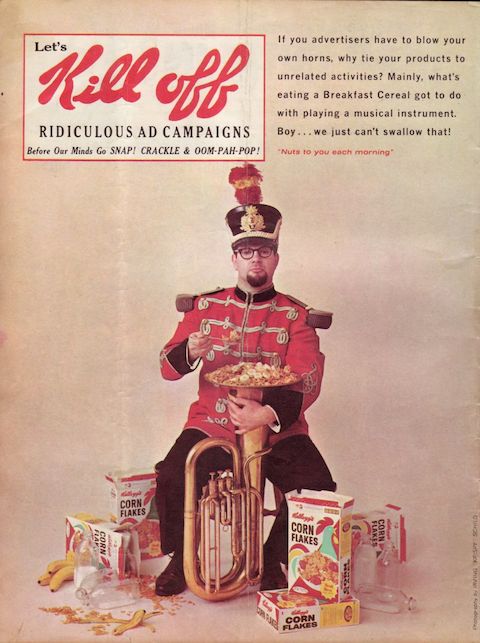 While cigarette companies were a frequent target of Mad's fake ads, just as often they took on the inanity of the entire ad industry itself, as in the above 1965 meta-ad for "Let's Kill Off Ridiculous Ad Campaigns." The text reads, "If you advertisers have to blow your own horns, why tie your products to unrelated activities? Mainly, what's eating a Breakfast Cereal got to do with playing a musical instrument? Boy… we just can't swallow that!" Another regular feature was "Mad's Great Moments in Advertising," a kind of highlight blooper reel of ads gone wrong. The example below, also from 1965, spoofs the promises of cleaning product ads to make the lives of housewives easier with a product that works just a little too well.
All of these fake Mad ads come from a Flickr account compiled by user "Jaspardo." See many more of them there, and for even more of the magazine's illustrious past, check out this Flavorwire gallery of "The 10 Greatest Mad Magazine Covers."
Related Content:
Men In Commercials Being Jerks About Coffee: A Mashup of 1950s & 1960s TV Ads
Before Mad Men: Familiar and Forgotten Ads from 1950s to 1980s Now Online
Eisenhower Answers America: The First Political Advertisements on American TV (1952)
Josh Jones is a writer and musician based in Durham, NC. Follow him at @jdmagness