Get talk­ing with graph­ic design peo­ple, and Japan will come up soon­er or lat­er. That coun­try, always a world leader in aes­thet­ics, has put the time and ener­gy of gen­er­a­tions into per­fect­ing the dis­ci­pline. You can see this progress chart­ed out on the Tokyo-based Ian Lynam Design's "Misruptions/Disruptions: A Japan­ese Graph­ic Design His­to­ry Time­line." It labels the busy peri­od of 1910–1941 as the time of an "adop­tion of West­ern Avant Garde aes­thet­ics in Graph­ic Design & Typog­ra­phy, coin­cid­ing with Left-lean­ing exper­i­men­ta­tion and increased state sup­pres­sion of the Left" — and the time that gave rise to Japan­ese Art Deco.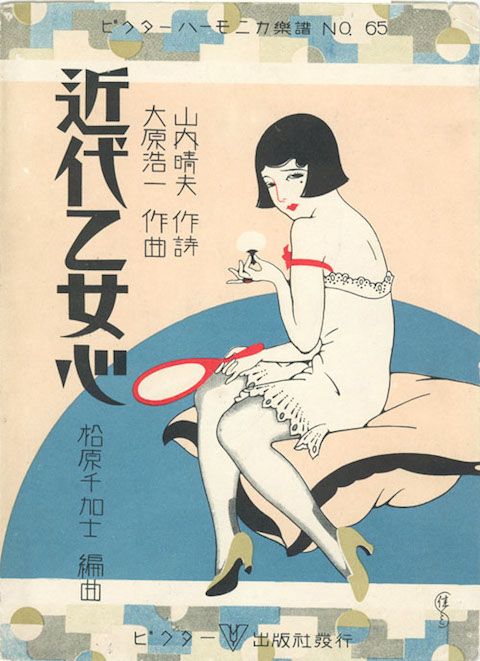 Last year, I attend­ed Deco Japan, a show at the Seat­tle Art Muse­um, which show­cased a great many arti­facts from that pre­war move­ment of such com­bined artis­tic and com­mer­cial abun­dance. It put on dis­play all man­ner of paint­ings, vas­es, pieces of fur­ni­ture, house­hold items, and pack­ages, but some­how, the peri­od adver­tise­ments struck me as still the most vital of all. The Japan­ese graph­ic design­ers who made them drew, in the words of Cap­i­tal's Grace-Yvette Gem­mell, "on sta­ples of pro­gres­sive Euro­pean and Amer­i­can high and pop­u­lar art, incor­po­rat­ing styl­ized ver­sions of gears and clocks that bring to mind Fritz Lang's Metrop­o­lis and Char­lie Chaplin's Mod­ern Times."
This makes more sense than it sounds like it would: "the Deco use of for­eign imagery and design ele­ments was a vir­tu­al­ly seam­less process giv­en exist­ing prac­tices of both abstrac­tion and cul­tur­al appro­pri­a­tion at work in the dec­o­ra­tive arts at the time in Japan. Many tra­di­tion­al designs already pos­sessed a sort of visu­al affin­i­ty with the Art Deco aes­thet­ic; the syn­the­sis of con­ven­tion­al design ele­ments with con­tem­po­rary, pared-down forms appealed to the culture's col­lec­tive knowl­edge of tra­di­tion­al motifs and sym­bols while feed­ing their desire for mod­ern con­sumer prod­ucts that reflect­ed a keen sense of cos­mopoli­tanism per­fect­ly com­bin­ing the old with the ultra­mod­ern."
Many of the adver­tise­ments, or oth­er works of graph­ic design like leaflets and mag­a­zine cov­ers, to come out of Japan's Art Deco gold­en age fea­ture the image of the "moga," or, in Japanized Eng­lish, "mod­ern girl." Hav­ing appeared in Japan as a new kind of jazz-lov­ing, bob-haired, rel­a­tive­ly lib­er­at­ed woman, the moga quick­ly became an attrac­tive com­mer­cial propo­si­tion. The Asian Art Muse­um print­ed up a leaflet of their own, list­ing off the "ten qual­i­fi­ca­tions for being a moga" as orig­i­nal­ly enu­mer­at­ed in 1929 by illus­tra­tor Tak­a­batake Kashō in the mag­a­zine Fujin sekai (Ladies' World):
Strength, the "ene­my" of con­ven­tion­al fem­i­nin­i­ty
Con­spic­u­ous con­sump­tion of West­ern food and drink
Devo­tion to jazz records, danc­ing, and smok­ing Gold­en Bat cig­a­rettes from a met­al cig­a­rette hold­er
Knowl­edge of the types of West­ern liquor and a will­ing­ness to flirt to get them for free
Devo­tion to fash­ion from Paris and Hol­ly­wood as seen in for­eign fash­ion mag­a­zines
Devo­tion to cin­e­ma
Real or feigned inter­est in dance halls as a way to show off one's osten­si­ble deca­dence to mobo (mod­ern boys)
Strolling in the Gin­za every Sat­ur­day and Sun­day night
Pawn­ing things to get mon­ey to buy new clothes for each sea­son
Offer­ing one's lips to any man who is use­ful, even if he is bald or ugly, but keep­ing one's chasti­ty because "infringe­ment of chasti­ty" law­suits are out of style
Sound a fair bit more inter­est­ing than the women demand­ed for today's ads in the West, don't they?
Relat­ed Con­tent:
Gaze at Glob­al Movie Posters for Hitchcock's Ver­ti­go: U.S., Japan, Italy, Poland & Beyond
René Magritte's Ear­ly Art Deco Adver­tis­ing Posters, 1924–1927
Hand-Col­ored Pho­tographs of 19th Cen­tu­ry Japan
Col­in Mar­shall hosts and pro­duces Note­book on Cities and Cul­ture as well as the video series The City in Cin­e­ma and writes essays on cities, lan­guage, Asia, and men's style. He's at work on a book about Los Ange­les, A Los Ange­les Primer. Fol­low him on Twit­ter at @colinmarshall or on Face­book.