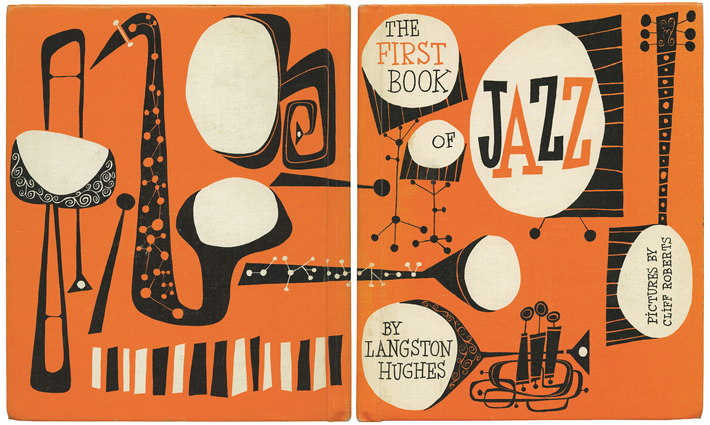 I can imagine no better guide through the history and variety of jazz than Langston Hughes, voice of the Harlem Renaissance and poetic interpreter of 20th century black American culture. Hughes' 1955 First Book of Jazz is just that, a short primer with a surprisingly high degree of sophistication for a children's book. I would, in fact, recommend it as an introduction to jazz for any reader.
Hughes thoroughly covers the musical context of jazz in brief chapters like "African Drums," "Old New Orleans," "Work Songs," "The Blues," and "Ragtime." He then "discusses the mechanics of jazz," writes author and blogger Ariel S. Winter, including "improvisation, syncopation, percussion, rhythm, blue notes, tone color, harmony, break, riff…." Through it all runs the life and career of Louis Armstrong, whose story, Hughes states "is almost the whole story of orchestral jazz in America."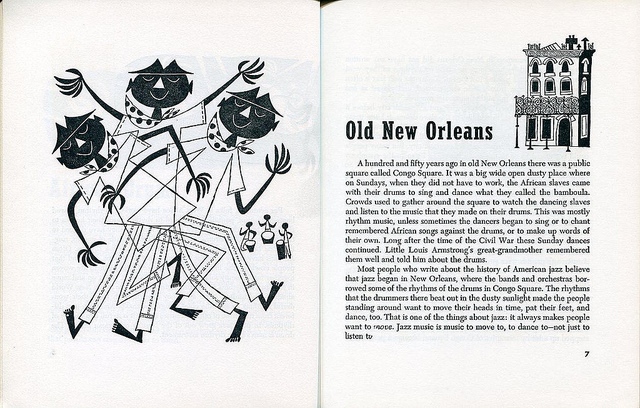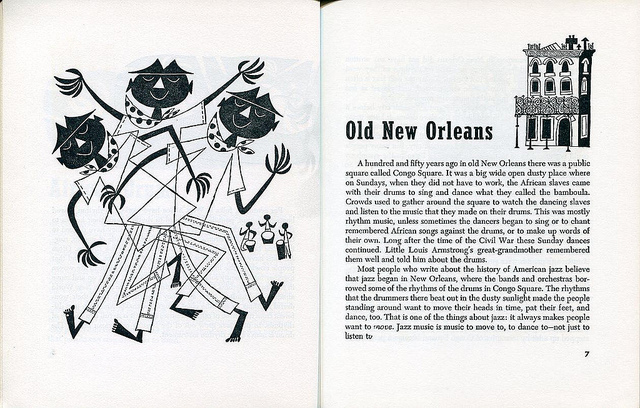 The book is very patriotic in tone, a fact dictated by Hughes' recent appearance before Senator McCarthy's Subcommittee, which exonerated him on the condition that he renounce his earlier sympathies for the Communist Party and get with a patriotic program. Having fallen out of favor with the public, Hughes began the nonfiction children's series to win back readers, also writing the quaintly named cultural history First Book of Negroes and the Whitmanesque First Book of Rhythms. All of the books were illustrated by different artists. The First Book of Jazz received special treatment from popular illustrator Cliff Roberts, who made its pages closely resemble classic album covers by artists like Jim Flora.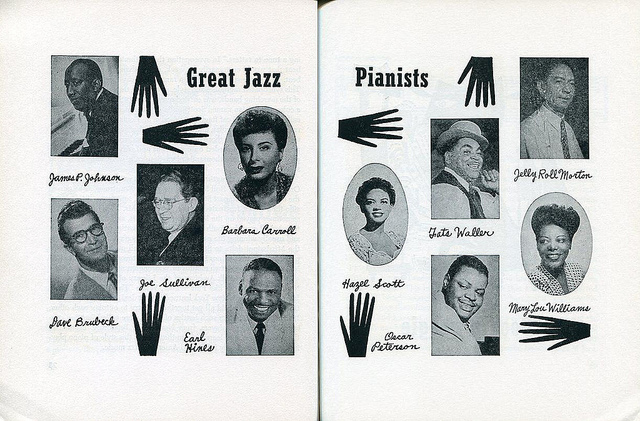 Although Hughes may have been somewhat conciliatory in his attitude toward inequality, he nonetheless makes the origins and importance of jazz clear:
A part of American music is jazz, born in the South. Woven into it in the Deep South were the rhythms of African drums that today make jazz music different from any other music in the world. Nobody else ever made jazz before we did. Jazz is American music.
"The particular Americans in question," writes Winter, "are undeniably black," and "when Hughes covers the vast array of American styles that went into jazz, they tend to be (as they should be) black interpretations of each musical form." But as he had always done, whether under pressure from McCarthyism or not, he proudly declares jazz yet another invaluable contribution African-Americans, as well as European immigrants, made to the national culture. However far left his political sympathies, Hughes was always a patriot, in the best sense, an admirer of his country's achievements and genuine lover of its people.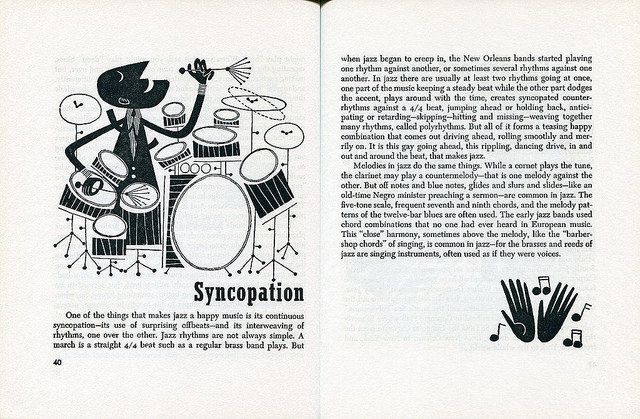 Although it is a children's book, Hughes' First Book of Jazz is still a scholarly one, with a host of references in the Acknowledgements, and a list of famous jazz musicians, and their instruments, at the end. Also rounding out the short course on jazz history and musicianship is a two-part list of "Suggested Records for Study" and one called "100 of My Favorite Recordings." Hughes even convinced Folkways records to release The Story of Jazz, an LP Hughes narrated with examples of each style of jazz he discusses. You can read the full First Book of Jazz at Winter's Flickr, where he has posted scans of every page. Vintage copies can be purchased online. See a gallery of Roberts' full page illustrations here.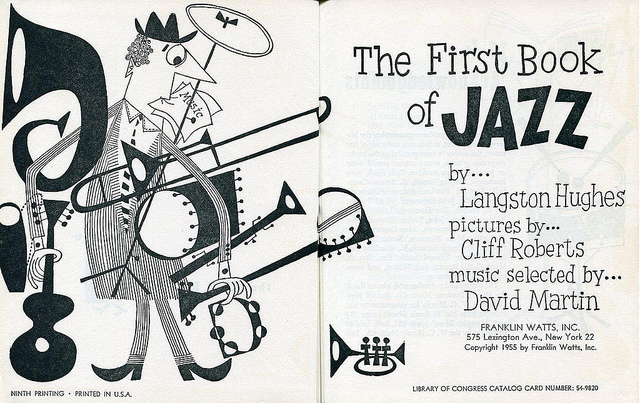 Related Content:
A Child's Introduction to Jazz by Cannonball Adderley (with Louis Armstrong & Thelonious Monk)
Watch Langston Hughes Read Poetry from His First Collection, The Weary Blues (1958)
Charles Mingus Explains in His Grammy-Winning Essay "What is a Jazz Composer?"
The Cry of Jazz: 1958's Highly Controversial Film on Jazz & Race in America (With Music by Sun Ra)
Josh Jones is a writer and musician based in Washington, DC. Follow him at @jdmagness