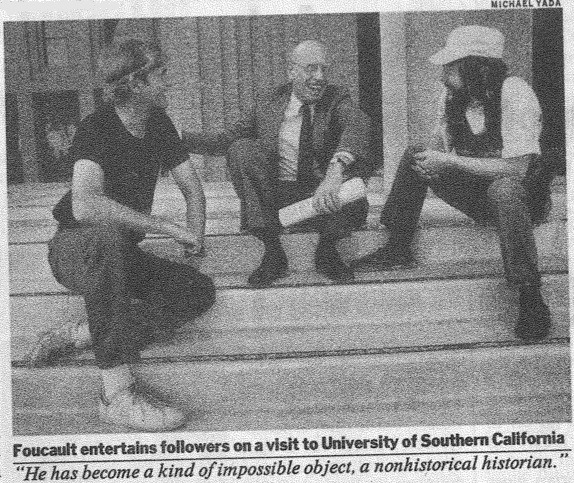 These days, would we expect to find a profile of a homosexual radical-left philosopher specializing in discipline and punishment in the pages of Time magazine? Maybe, maybe not—and few of us would find out if there were one, given that the magazine seems to have long since ceded its centrality in American culture, falling back on a subscriber base of retirees and dentist offices. But in November 1981, when Time was definitely still TIME, it did indeed run such a profile, and now you can read it in full in PDF form.
"Watching French Marxists grapple with the radical theories of Michel Foucault, says the philosopher's translator Alan Sheridan, is like watching 'a policeman attempting to arrest a particularly outrageous drag queen.'" So reports journalist and cultural historian Otto Friedrich in the piece's opening. "The solemn specialists who patrol the American university have their own difficulties with Foucault. Leo Bersani of the French department at Berkeley eulogizes him as 'our most brilliant philosopher of power,' but Yale Historian Peter Gay dismisses him: 'He doesn't do any research, he just goes on instinct.'"
Other sources offering accolade, condemnation, and a mixture of both for the author of The Archaeology of Knowledge and The History of Sexuality, include (broadly speaking) colleagues like literary theorist Edward Said, who complains that Foucault "has never been able to explain historical change," and philosopher Richard Rorty, who suggests Foucault "join the bourgeois liberals he despises." When Foucault himself speaks, he exhibits the expected tendency toward intellectual defiance and rug-pulling redefinition of terms, though the article also gathers several moments of surprising frankness about his own life. ("I cannot experience pleasure," he claims.)
Of course, not every American of the day got to know Foucault through Time. Rather than in that most mainstream of all magazines, they may have discovered him through one of the least: Chez Foucault, the low budget fanzine we featured last week. And the connection goes deeper: "In 1981, when Time magazine published an article on Foucault," writes James Miller in his biography The Passion of Michel Foucault, "the photograph accompanying the piece [above] showed Foucault sitting with Simeon Wade"—publisher of Chez Foucault. Wade put the 'zine together with other University of California students, a group whom the philosopher's ideas would continue to influence until his death, as evidenced by his final UC Berkeley lectures in 1983, and beyond—as collegians currently working under the system of control known as the cultural theory department can attest.
via Critical Theory/Progressive Geographies
Related Content:
Hear Michel Foucault Deliver His Lecture on "Truth and Subjectivity" at UC Berkeley, In English (1980)
Hear Michel Foucault's Lecture "The Culture of the Self," Presented in English at UC Berkeley (1983)
Michel Foucault – Beyond Good and Evil: 1993 Documentary Explores the Theorist's Controversial Life and Philosophy
Watch a "Lost Interview" With Michel Foucault: Missing for 30 Years But Now Recovered
Read Chez Foucault, the 1978 Fanzine That Introduced Students to the Radical French Philosopher
Colin Marshall hosts and produces Notebook on Cities and Culture as well as the video series The City in Cinema and writes essays on cities, language, Asia, and men's style. He's at work on a book about Los Angeles, A Los Angeles Primer. Follow him on Twitter at @colinmarshall or on Facebook.