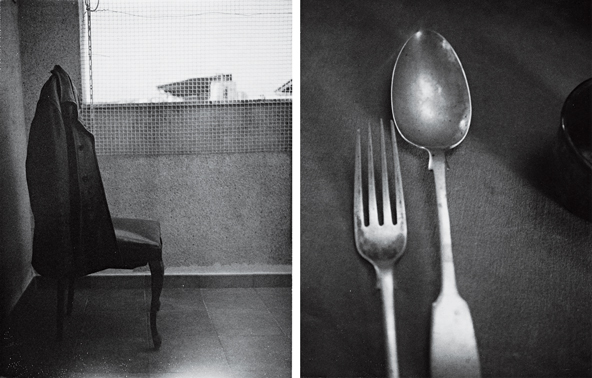 Polaroid photography has seen a new wave of interest over the past decade, in large part from young photographers looking to do something different from what they can with the digital technology on which they grew up.
The other modern practitioners include no less a creator than Patti Smith, who have personally witnessed the format's appearance, fade, and return. A few years ago, her Polaroid photography reached the galleries, becoming shows and installations in Connecticut and Paris.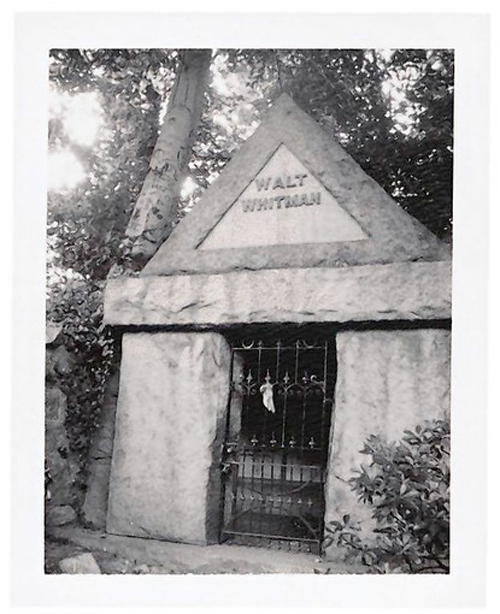 These "black-and-white silver gelatin prints made from Polaroid negatives, small and square and in soft focus," writes the New York Times' A.O. Scott, "are culled from a collection that documents hundreds of encounters with worldly effects transformed into sacred relics. A fork and a spoon that belonged to Arthur Rimbaud, the French symbolist poet who has been one of Smith's touchstones forever. [Robert] Mapplethorpe's bedroom slippers and the tambourine he made for Smith. A chair that belonged to the Chilean novelist Roberto Bolaño. William S. Burroughs's bandanna. A replica of a life mask cast from the features of William Blake."
Smith's "gorgeous, misty photographs are inspired by artifacts from some of Smith's favorite artists, from museums she has visited around the world, and many are from her personal life," writes Flavorwire's Emily Temple on "Camera Solo," the Hartford exhibition which introduced these Polaroids to America in 2011. If you didn't make it to the Wadsworth Atheneum for that show, you can still experience it through Patti Smith: Camera Solo, its companion book. Or have a look at her work on display at the BBC's site, the gallery that offers the photos of Virginia Woolf's bed, writing desk, and gravestone just above.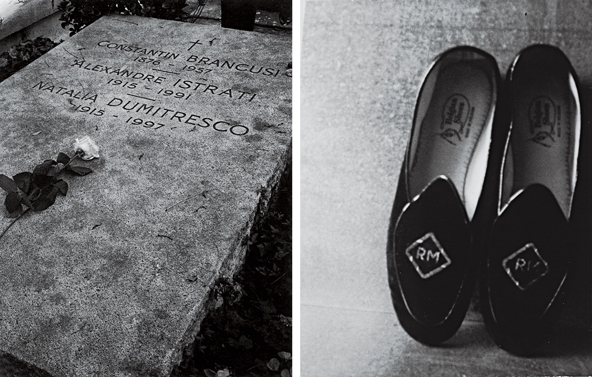 You can see even more at this post from Lens Culture on "Land 250," the exhibition of Smith's Polaroid photography at Paris' Fondation Cartier."I first took Polaroids in the early 1970s as components for collages," it quotes Smith as saying. "In 1995, after the death of my husband, I was unable to center on the complex process of drawing, recording or writing a poem. The need for immediacy drew me again to the Polaroid. I chose a vintage Land 100." In 2002, she settled on the Land 250, the venerable instant camera that gave the Paris show and its associated monograph their titles. It surely counts as one of the most important artifacts of Smith's artistic life — and one with which she has captured the artifacts of so many other artistic lives important to her.
Related Content:
Watch Patti Smith Read from Virginia Woolf, and Hear the Only Surviving Recording of Woolf's Voice
Patti Smith Reads Her Final Words to Robert Mapplethorpe
Patti Smith's List of Favorite Books: From Rimbaud to Susan Sontag
Andy Warhol's 85 Polaroid Portraits: Mick Jagger, Yoko Ono, O.J. Simpson & Many Others (1970-1987)
The Masterful Polaroid Pictures Taken by Filmmaker Andrei Tarkovsky
Colin Marshall writes on cities, language, Asia, and men's style. He's at work on a book about Los Angeles, A Los Angeles Primer, and the video series The City in Cinema. Follow him on Twitter at @colinmarshall or on Facebook.