Image via EricMcluhan.com
Six years before Bri­an Eno and Peter Schmidt designed their first pack of Oblique Strate­gies cards—a set of ran­dom apho­risms meant to clear cre­ative blocks—communication the­o­rist and philoso­pher Mar­shall McLuhan had designed a very sim­i­lar deck in 1969, this one with a more direct nod to the clas­sic play­ing card deck.
The name of the card deck, Dis­tant Ear­ly Warn­ing, was a ref­er­ence to the 3,000 mile long DEW Line, a sys­tem of 63 radar sta­tions that act­ed as an ear­ly detec­tion inva­sion buffer dur­ing the Cold War. And in his 1964 book Under­stand Media, McLuhan explained,
"I think of art, at its most sig­nif­i­cant, as a DEW line, a Dis­tant Ear­ly Warn­ing sys­tem that can always be relied on to tell the old cul­ture what is begin­ning to hap­pen to it."
And so with help from adver­tis­ing and pub­lish­ing guru Eugene Schwartz, The Mar­shall McLuhan DEW-Line Newslet­ter and its spin­off deck of cards was born. Schwartz saw the newslet­ter much like we see blogs today: a very imme­di­ate way of dis­sem­i­nat­ing infor­ma­tion, deep­er than tele­vi­sion and faster than books. The newslet­ter last­ed only two years, came in sev­er­al forms (one issue was a set of slides, anoth­er a record), and rep­re­sents the height of "McLuhan Mania" in Amer­i­can cul­ture. Busi­ness and thought lead­ers were its tar­get audi­ence.
Much like Oblique Strate­gies (you can still find vin­tage ver­sions online), the instruc­tions for Dis­tant Ear­ly Warn­ing (also avail­able online here) sug­gest that the user think of a per­son­al or busi­ness prob­lem, shuf­fle the deck, choose a card and inter­pret its mean­ing. Although div­ina­to­ry cards have long been a part of west­ern cul­ture, the idea of inde­ter­mi­na­cy and con­sult­ing the I Ching was very much in vogue through artists like John Cage.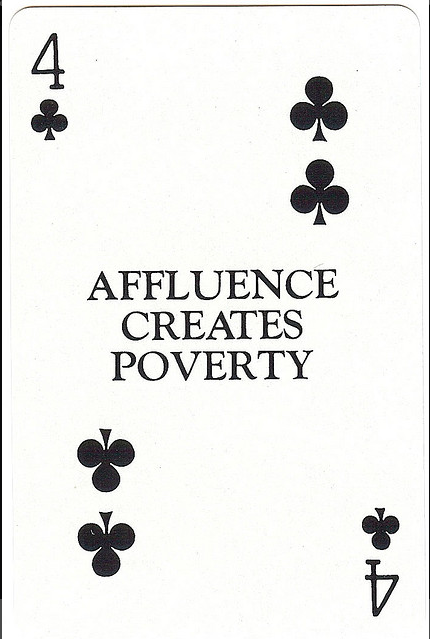 The cards con­tain plays on apho­risms, like "The Vic­tor Belongs to the Spoils" or "Thanks for the Mam­maries." Some­times they quote Vic­to­ri­an nov­el­ist Samuel But­ler, like "The chick­en was the egg's idea for get­ting more eggs" or W.C. Fields ("How do you like kids?" "Well cooked," he said stern­ly), or John Cage ("Silence is all the sounds of the envi­ron­ment at once.") Many are McLuhan's own quotes.
McLuhan and Schwartz' ideas can still be felt in any num­ber of TED talks or when­ev­er a busi­ness leader talks about think­ing out­side the box. Steve Jobs was a walk­ing deck of these cards.
Should you feel like push­ing your brain lat­er­al­ly, check out the full deck here at this Flickr feed, and if you long to own a phys­i­cal copy, it can still be had for Cana­di­an dol­lars at the site run by McLuhan's son.
via Flash­bak
Relat­ed con­tent:
The Vision­ary Thought of Mar­shall McLuhan, Intro­duced and Demys­ti­fied by Tom Wolfe
McLuhan Said "The Medi­um Is The Mes­sage"; Two Pieces Of Media Decode the Famous Phrase
Nor­man Mail­er & Mar­shall McLuhan Debate the Elec­tron­ic Age
Ted Mills is a free­lance writer on the arts who cur­rent­ly hosts the FunkZone Pod­cast. You can also fol­low him on Twit­ter at @tedmills, read his oth­er arts writ­ing at tedmills.com and/or watch his films here.