Image via EricMcluhan.com
Six years before Brian Eno and Peter Schmidt designed their first pack of Oblique Strategies cards—a set of random aphorisms meant to clear creative blocks—communication theorist and philosopher Marshall McLuhan had designed a very similar deck in 1969, this one with a more direct nod to the classic playing card deck.
The name of the card deck, Distant Early Warning, was a reference to the 3,000 mile long DEW Line, a system of 63 radar stations that acted as an early detection invasion buffer during the Cold War. And in his 1964 book Understand Media, McLuhan explained,
"I think of art, at its most significant, as a DEW line, a Distant Early Warning system that can always be relied on to tell the old culture what is beginning to happen to it."
And so with help from advertising and publishing guru Eugene Schwartz, The Marshall McLuhan DEW-Line Newsletter and its spinoff deck of cards was born. Schwartz saw the newsletter much like we see blogs today: a very immediate way of disseminating information, deeper than television and faster than books. The newsletter lasted only two years, came in several forms (one issue was a set of slides, another a record), and represents the height of "McLuhan Mania" in American culture. Business and thought leaders were its target audience.
Much like Oblique Strategies (you can still find vintage versions online), the instructions for Distant Early Warning (also available online here) suggest that the user think of a personal or business problem, shuffle the deck, choose a card and interpret its meaning. Although divinatory cards have long been a part of western culture, the idea of indeterminacy and consulting the I Ching was very much in vogue through artists like John Cage.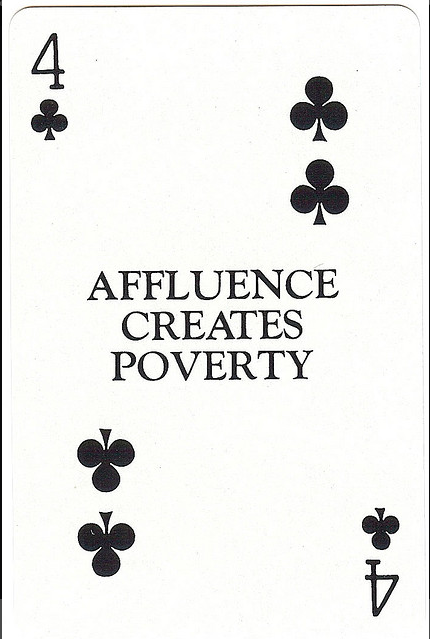 The cards contain plays on aphorisms, like "The Victor Belongs to the Spoils" or "Thanks for the Mammaries." Sometimes they quote Victorian novelist Samuel Butler, like "The chicken was the egg's idea for getting more eggs" or W.C. Fields ("How do you like kids?" "Well cooked," he said sternly), or John Cage ("Silence is all the sounds of the environment at once.") Many are McLuhan's own quotes.
McLuhan and Schwartz' ideas can still be felt in any number of TED talks or whenever a business leader talks about thinking outside the box. Steve Jobs was a walking deck of these cards.
Should you feel like pushing your brain laterally, check out the full deck here at this Flickr feed, and if you long to own a physical copy, it can still be had for Canadian dollars at the site run by McLuhan's son.
via Flashbak
Related content:
The Visionary Thought of Marshall McLuhan, Introduced and Demystified by Tom Wolfe
McLuhan Said "The Medium Is The Message"; Two Pieces Of Media Decode the Famous Phrase
Norman Mailer & Marshall McLuhan Debate the Electronic Age
Ted Mills is a freelance writer on the arts who currently hosts the FunkZone Podcast. You can also follow him on Twitter at @tedmills, read his other arts writing at tedmills.com and/or watch his films here.