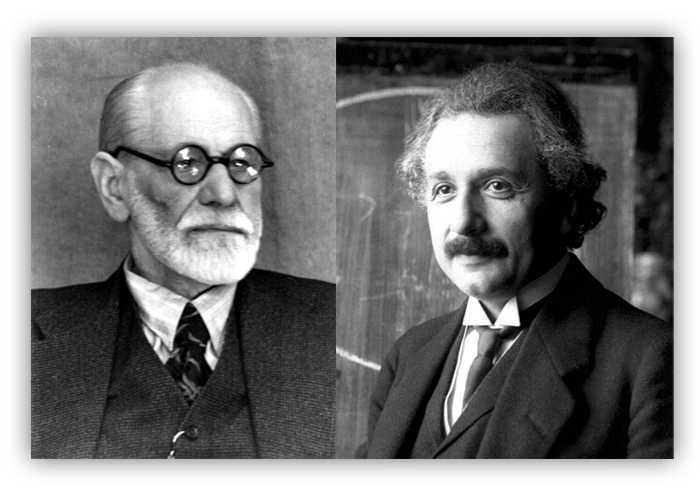 The problem of violence, perhaps the true root of all social ills, seems irresolvable. Yet, as most thoughtful people have realized after the wars of the twentieth century, the dangers human aggression pose have only increased exponentially along with globalization and technological development. And as Albert Einstein recognized after the nuclear attacks on Hiroshima and Nagasaki—which he partly helped to engineer with the Manhattan Project—the aggressive potential of nations in war had reached mass suicidal levels.
After Einstein's involvement in the creation of the atomic bomb, he spent his life "working for disarmament and global government," writes psychologist Mark Leith, "anguished by his impossible, Faustian decision." Yet, as we discover in letters Einstein wrote to Sigmund Freud in 1932, he had been advocating for a global solution to war long before the start of World War II. Einstein and Freud's correspondence took place under the auspices of the League of Nation's newly-formed International Institute of Intellectual Cooperation, created to foster discussion between prominent public thinkers. Einstein enthusiastically chose Freud as his interlocutor.
In his first letter to the psychologist, he writes, "This is the problem: Is there any way of delivering mankind from the menace of war?" Well before the atomic age, Einstein alleges the urgency of the question is a matter of "common knowledge"—that "with the advance of modern science, this issue has come to mean a matter of life and death for Civilization as we know it."
Einstein reveals himself as a sort of Platonist in politics, endorsing The Republic's vision of rule by elite philosopher-kings. But unlike Socrates in that work, the physicist proposes not city-states, but an entire world government of intellectual elites, who hold sway over both religious leaders and the League of Nations. The consequence of such a polity, he writes, would be world peace—the price, likely, far too high for any world leader to pay:
The quest of international security involves the unconditional surrender by every nation, in a certain measure, of its liberty of action—its sovereignty that is to say—and it is clear beyond all doubt that no other road can lead to such security.
Einstein expresses his proposal in some sinister-sounding terms, asking how it might be possible for a "small clique to bend the will of the majority." His final question to Freud: "Is it possible to control man's mental evolution so as to make him proof against the psychosis of hate and destructiveness?"
Freud's response to Einstein, dated September, 1932, sets up a fascinating dialectic between the physicist's perhaps dangerously naïve optimism and the psychologist's unsentimental appraisal of the human situation. Freud's mode of analysis tends toward what we would now call evolutionary psychology, or what he calls a "'mythology' of the instincts." He gives a mostly speculative account of the prehistory of human conflict, in which "a path was traced that led away from violence to law"—itself maintained by organized violence.
Freud makes explicit reference to ancient sources, writing of the "Panhellenic conception, the Greeks' awareness of superiority over their barbarian neighbors." This kind of proto-nationalism "was strong enough to humanize the methods of warfare." Like the Hellenistic model, Freud proposes for individuals a course of humanization through education and what he calls "identification" with "whatever leads men to share important interests," thus creating a "community of feeling." These means, he grants, may lead to peace. "From our 'mythology' of the instincts," he writes, "we may easily deduce a formula for an indirect method of eliminating war."
And yet, Freud concludes with ambivalence and a great deal of skepticism about the elimination of violent instincts and war. He contrasts ancient Greek politics with "the Bolshevist conceptions" that propose a future end of war and which are likely "under present conditions, doomed to fail." Referring to his theory of the competing binary instincts he calls Eros and Thanatos—roughly love (or lust) and death drives—Freud arrives at what he calls a plausible "mythology" of human existence:
The upshot of these observations, as bearing on the subject in hand, is that there is no likelihood of our being able to suppress humanity's aggressive tendencies. In some happy corners of the earth, they say, where nature brings forth abundantly whatever man desires, there flourish races whose lives go gently by; unknowing of aggression or constraint. This I can hardly credit; I would like further details about these happy folk.
Nonetheless, he says wearily and with more than a hint of resignation, "perhaps our hope" that war will end in the near future, "is not chimerical." Freud's letter offers no easy answers, and shies away from the kinds of idealistic political certainties of Einstein. For this, the physicist expressed gratitude, calling Freud's lengthy response "a truly classic reply…. We cannot know what may grow from such seed."
This exchange of letters, contends Humboldt State University philosophy professor John Powell, "has never been given the attention it deserves…. By the time the exchange between Einstein and Freud was published in 1933 under the title Why War?, Hitler, who was to drive both men into exile, was already in power, and the letters never achieved the wide circulation intended for them." Their correspondence is now no less relevant, and the questions they address no less urgent and vexing. You can read the complete exchange at professor Powell's site here.
Related Content:
Albert Einstein Reads 'The Common Language of Science' (1941)
Listen as Albert Einstein Calls for Peace and Social Justice in 1945
The Famous Letter Where Freud Breaks His Relationship with Jung (1913)
Sigmund Freud Appears in Rare, Surviving Video & Audio Recorded During the 1930s
Josh Jones is a writer and musician based in Durham, NC. Follow him at @jdmagness