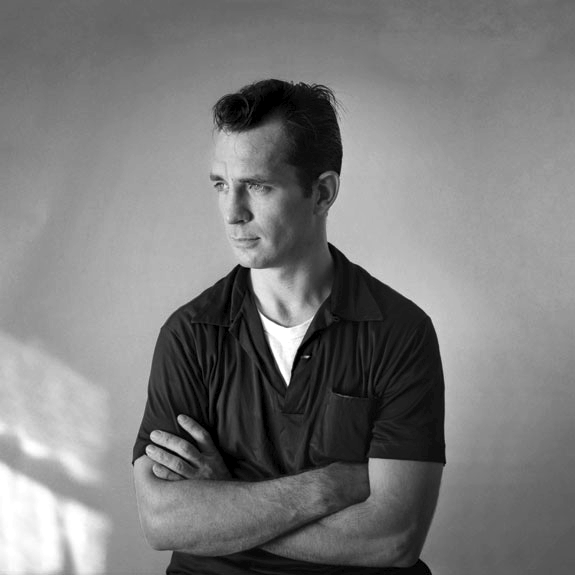 Image by Tom Palumbo, via Wikimedia Commons
Last year, we featured a few readings and performances of the work of Jack Kerouac by musicians like Patti Smith, John Cale, Thurston Moore, and Joe Strummer. Those tracks got laid down for 1997's Kerouac: Kicks Joy Darkness
, a tribute to the author of On the Road and The Dharma Bums and an American cultural presence as resonant as they come. Now, you can listen to the whole thing on Spotify (whose free software you can download here) and revel in renditions of Kerouac's poetry and prose by an even wider selection of beloved alternative musicians: Warren Zevon, Pearl Jam's Eddie Vedder, REM's Michael Stipe, Sonic Youth's Lee Ranaldo show up on the roster, to name but a few.
It also features contributions from a great many subculture-defining non-musicians, including writers like Hunter S. Thompson and William S. Burroughs, comedian Richard Lewis, actor Matt Dillon, poet Maggie Estep, and a genuine Beat eminence like Lawrence Ferlinghetti. It even brings in cultural figures who, though known for other pursuits, also established enough of a side career in music to hold their own in the recording studio, like Johnny Depp and The Basketball Diaries
 author Jim Carroll. We even hear Kerouac as interpreted with the help of no less a lifelong musician — and no less unexpected a musician on an album like this — than Aerosmith's Steven Tyler.
"Fourteen of the 25 tracks on this 79½-minute disc are drawn from Kerouac's poetry book Pomes All Sizes
," writes All Music Guide's William Ruhlmann. "The rest come from his novels (nothing from On the Road, though) and letters, with some unpublished work also included." Ruhlmann points out Kerouac's own lack of enthusiasm for rock and preference for jazz, highlighting Ranaldo, Zevon, Dillon, and Lewis' contributions as closest to the man's own sensibility. But altogether, he writes, they "present a good sampling of Kerouac's literary concerns, and, whether appropriate or not, the recordings demonstrate his extensive influence" — a perfect demonstration of how the cool of one era can inspire the cool of another.
Kerouac: Kicks Joy Darkness
 will be added to our list of collection, 1,000 Free Audio Books: Download Great Books for Free.
Related Content:
Jack Kerouac's Poems Read by Patti Smith, John Cale & Other Cultural Icons (with Music by Joe Strummer)
Jack Kerouac Lists 9 Essentials for Writing Spontaneous Prose
Pull My Daisy: 1959 Beatnik Film Stars Jack Kerouac and Allen Ginsberg
Jack Kerouac Reads from On the Road (1959)
Jack Kerouac's Naval Reserve Enlistment Mugshot, 1943
Colin Marshall writes on cities, language, Asia, and men's style. He's at work on a book about Los Angeles, A Los Angeles Primer, and the video series The City in Cinema. Follow him on Twitter at @colinmarshall or on Facebook.