I love turn­ing teenagers on to the work of author Kurt Von­negut.
I want their minds to be blown the way mine was at 15, when I picked up Slap­stick, his 8th nov­el, for rea­sons I no longer remem­ber. It wasn't on rec­om­men­da­tion of some beloved teacher, nor was there any Von­negut on our home shelves, despite the fact that he was a local author. What­ev­er drew me to that book, thank god it did. It was the begin­ning of a life­long romance.
What grabbed me so? His genius idea for bestow­ing an arti­fi­cial extend­ed fam­i­ly on every cit­i­zen, via the assign­ment of mid­dle names:
I told him, 'your new mid­dle name would con­sist of a noun, the name of a flower or fruit or nut or veg­etable or legume, or a bird or a rep­tile or a fish, or a mol­lusk, or a gem or a min­er­al or a chem­i­cal ele­ment — con­nect­ed by a hyphen to a num­ber between one and twen­ty.' I asked him what his name was at the present time.
'Elmer Glenville Gras­so,' he said.
'Well,' I said, 'you might become Elmer Uranium‑3 Gras­so, say. Every­body with Ura­ni­um as a part of their mid­dle name would be your cousin.'
This held enor­mous appeal for me as the only child of an only child. Lone­some No More!
It also con­tained the most won­der­ful pro­fan­i­ty I had ever heard:
You ask him his mid­dle name, and when he tells you "Oys­ter-19" or "Chickadee‑1" or "Hol­ly­hock-13" you say to him: Buster — I hap­pen to be a Uranium‑3. You have one hun­dred and nine­ty thou­sand cousins and ten thou­sand broth­ers and sis­ters. You're not exact­ly alone in this world. I have rel­a­tives of my own to look after. So why don't you take a fly­ing fuck at a rolling dough­nut? Why don't you take a fly­ing fuck at the moooooooooooon?
Imag­ine my dis­may when just two books lat­er, Von­negut gave Slap­stick the low­est pos­si­ble mark in a lit­er­ary self eval­u­a­tion pub­lished in Palm Sun­day, below.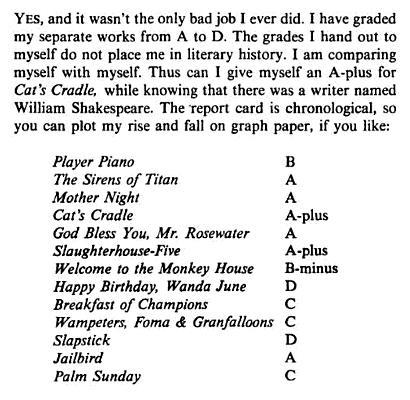 He wasn't describ­ing the dif­fer­ence between a B and a B+. In Vonnegut's mind, Slap­stick was a D. In oth­er words, a min­i­mal­ly accept­able, deeply below aver­age per­for­mance.
(Slaugh­ter­house Five, which also con­tains the rolling dough­nut line, received an A+. Break­fast of Cham­pi­ons, my oth­er favorite, earned a C.)
He lat­er reflect­ed to jour­nal­ist Char­lie Rose that he'd been over­ly hard on the title. But the crit­ics had trashed it when it first appeared, and pre­sum­ably crit­ics knew best. So much for Von­negut the rebel and class clown. This was a clear case of give the teacher the answer you think she wants.
I give it an A+, and so would you, if you'd dis­cov­ered it when I did.
How about you? Any marks you'd change on Vonnegut's report card?
Relat­ed Con­tent:
Kurt Vonnegut's 8 Tips on How to Write a Good Short Sto­ry
Kurt Von­negut Maps Out the Uni­ver­sal Shapes of Our Favorite Sto­ries
Hear Kurt Von­negut Read Slaugh­ter­house-Five, Cat's Cra­dle & Oth­er Nov­els
Ayun Rasp­ber­ry-19 Hal­l­i­day cel­e­brates the new edi­tion of her book, No Touch Mon­key and Oth­er Trav­el Lessons Learned Too Late. Fol­low her @AyunHalliday