I love turning teenagers on to the work of author Kurt Vonnegut.
I want their minds to be blown the way mine was at 15, when I picked up Slapstick, his 8th novel, for reasons I no longer remember. It wasn't on recommendation of some beloved teacher, nor was there any Vonnegut on our home shelves, despite the fact that he was a local author. Whatever drew me to that book, thank god it did. It was the beginning of a lifelong romance.
What grabbed me so? His genius idea for bestowing an artificial extended family on every citizen, via the assignment of middle names:
 I told him, 'your new middle name would consist of a noun, the name of a flower or fruit or nut or vegetable or legume, or a bird or a reptile or a fish, or a mollusk, or a gem or a mineral or a chemical element — connected by a hyphen to a number between one and twenty.' I asked him what his name was at the present time.
  'Elmer Glenville Grasso,' he said.
  'Well,' I said, 'you might become Elmer Uranium-3 Grasso, say. Everybody with Uranium as a part of their middle name would be your cousin.'
This held enormous appeal for me as the only child of an only child. Lonesome No More!
It also contained the most wonderful profanity I had ever heard:
You ask him his middle name, and when he tells you "Oyster-19" or "Chickadee-1" or "Hollyhock-13" you say to him: Buster – I happen to be a Uranium-3. You have one hundred and ninety thousand cousins and ten thousand brothers and sisters. You're not exactly alone in this world. I have relatives of my own to look after. So why don't you take a flying fuck at a rolling doughnut? Why don't you take a flying fuck at the moooooooooooon?
Imagine my dismay when just two books later, Vonnegut gave Slapstick the lowest possible mark in a literary self evaluation published in Palm Sunday, below.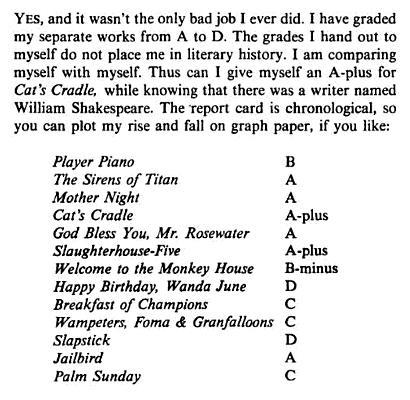 He wasn't describing the difference between a B and a B+. In Vonnegut's mind, Slapstick was a D. In other words, a minimally acceptable, deeply below average performance.
(Slaughterhouse Five, which also contains the rolling doughnut line, received an A+. Breakfast of Champions, my other favorite, earned a C.)
He later reflected to journalist Charlie Rose that he'd been overly hard on the title. But the critics had trashed it when it first appeared, and presumably critics knew best. So much for Vonnegut the rebel and class clown. This was a clear case of give the teacher the answer you think she wants.
I give it an A+, and so would you, if you'd discovered it when I did.
How about you? Any marks you'd change on Vonnegut's report card?
Related Content:
Kurt Vonnegut's 8 Tips on How to Write a Good Short Story
Kurt Vonnegut Maps Out the Universal Shapes of Our Favorite Stories
Hear Kurt Vonnegut Read Slaughterhouse-Five, Cat's Cradle & Other Novels
Ayun Raspberry-19 Halliday celebrates the new edition of her book, No Touch Monkey and Other Travel Lessons Learned Too Late. Follow her @AyunHalliday