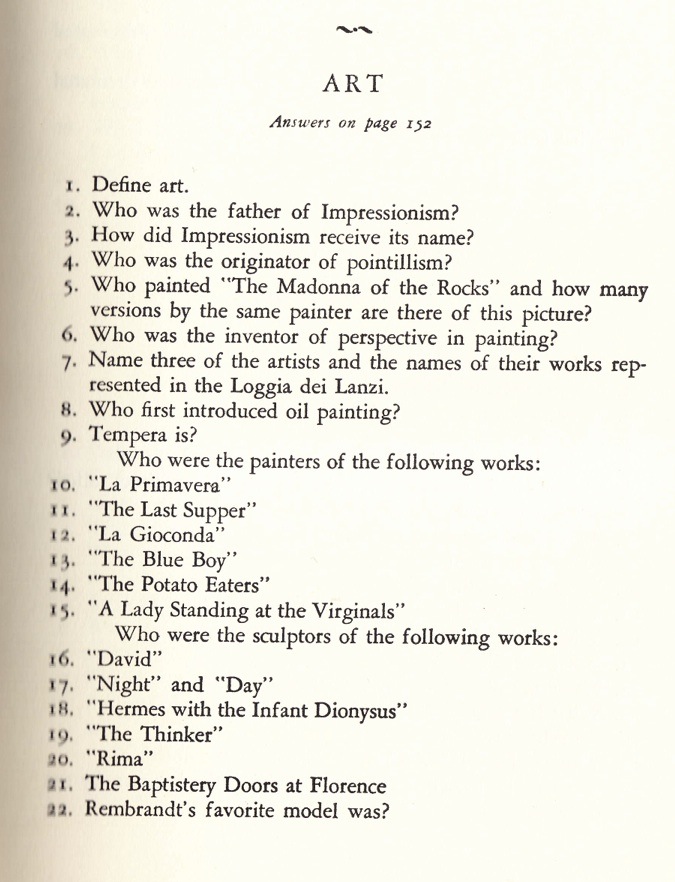 Do you con­sid­er your­self well-edu­cat­ed? Cul­tured, even? By whose stan­dards?
We may super­fi­cial­ly assume these terms name immutable qual­i­ties, but they are in any analy­sis depen­dent on where and when we hap­pen to be sit­u­at­ed in his­to­ry. The most sophis­ti­cat­ed of Medieval doctors—a title then clos­er to the Euro­pean "docent" than our gen­er­al use of Dr.—would appear pro­found­ly igno­rant to us; and we, with our painful­ly inad­e­quate grasp of church Latin, Aris­totelian­ism, and arcane the­o­log­i­cal argu­ments, would appear pro­found­ly igno­rant to him.
What does it mean to be cul­tured? Is it the acqui­si­tion of most­ly use­less cul­tur­al cap­i­tal for its own sake, or of a set of codes that helps us nav­i­gate the world suc­cess­ful­ly? In an attempt to address these fraught ques­tions, Ash­ley Mon­tagu, a stu­dent of huge­ly influ­en­tial Ger­man-born anthro­pol­o­gist Franz Boas, wrote The Cul­tured Man in 1958. Rebec­ca Onion at Slate describes the book as con­tain­ing "quizzes for 50 cat­e­gories of knowl­edge in the arts and sci­ences, with 30 ques­tions each." In the page above, we have the first 22 ques­tions of Montagu's "Art" quiz (with the answers here).
You'll prob­a­bly notice right away that while most of the ques­tions have def­i­nite, unam­bigu­ous answers, oth­ers like "Define art," seem patent­ly unan­swer­able in all but the most gen­er­al and unsat­is­fac­to­ry ways. Mon­tagu defines art in one suc­cinct sen­tence: "Art is the mak­ing or doing of things that have form and beauty"—which strikes me as ane­mic, though func­tion­al enough.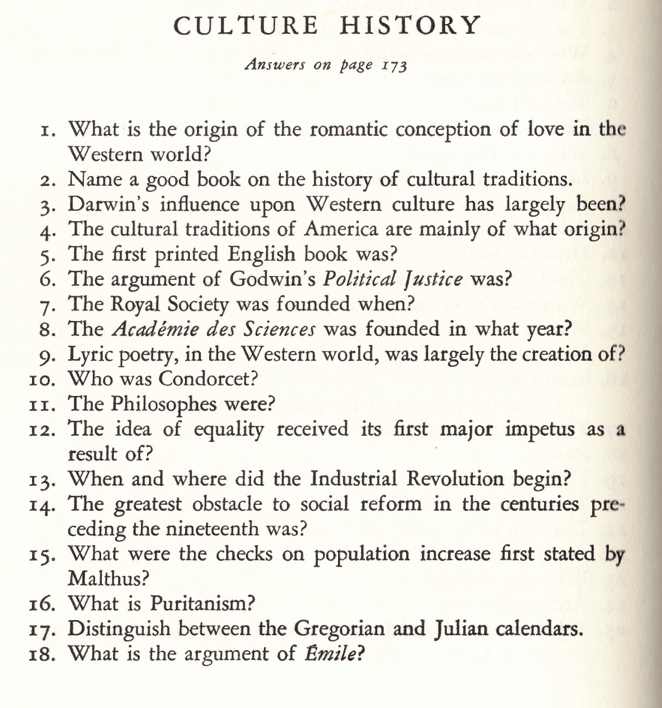 Mon­tagu intend­ed his book to test not only knowl­edge of cul­tur­al facts, but also of "atti­tudes": a per­son "con­sid­ered 'cul­tured,'" writes Onion, "would not just be able to read­i­ly sum­mon facts, but also to access humane feel­ings, which would nec­es­sar­i­ly come about after con­tact with cul­ture." Many admin­is­tra­tors of "culture"—curators, art his­to­ri­ans, lit­er­a­ture pro­fes­sors, etc—would agree with the premise: ide­al­ly, the more cul­tur­al knowl­edge we acquire, the more empa­thy and under­stand­ing of oth­er peo­ples and cul­tures we should man­i­fest. Whether this rou­tine­ly occurs in prac­tice is anoth­er mat­ter. For Mon­tagu, Onion remarks, a "cul­tured man" is "curi­ous, unprej­u­diced, ratio­nal, and eth­i­cal."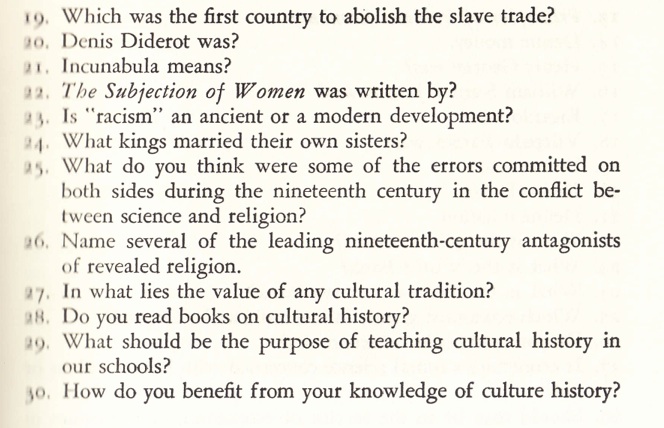 Giv­en Montagu's enlight­ened philo­soph­i­cal bent, we can char­i­ta­bly ascribe lan­guage in his book that itself seems prej­u­diced to our view­ing this arti­fact from a dis­tance of almost sev­en­ty years in the future. We might also find that many of his ques­tions push us to exam­ine our 21st cen­tu­ry bias­es more care­ful­ly. His approach may remind us of friv­o­lous inter­net diver­sions or the stan­dard­ized tests we've grown to think of as the pre­cise oppo­site of live­ly, crit­i­cal­ly-engaged edu­ca­tion­al tools. Yet Mon­tagu intend­ed his quizzes to be "both dynam­ic and con­struc­tive," to alert read­ers to areas of igno­rance and encour­age them to fill gaps in their cul­tur­al knowl­edge. Many of his answers offer ref­er­ences for fur­ther study. "No one grows who stands still," he wrote.
To see more of Montagu's quiz questions—such as those above from the "Cul­ture His­to­ry" cat­e­go­ry (get the answers here)—and find out how you stack up against the cul­tured elite of the 50s, head over to Rebec­ca Onion's post at Slate.
Relat­ed Con­tent:
Watch Har­vard Stu­dents Fail the Lit­er­a­cy Test Louisiana Used to Sup­press the Black Vote in 1964
Her­mann Rorschach's Orig­i­nal Rorschach Test: What Do You See? (1921)
Take the 146-Ques­tion Knowl­edge Test Thomas Edi­son Gave to Prospec­tive Employ­ees (1921)
Josh Jones is a writer and musi­cian based in Durham, NC. Fol­low him at @jdmagness