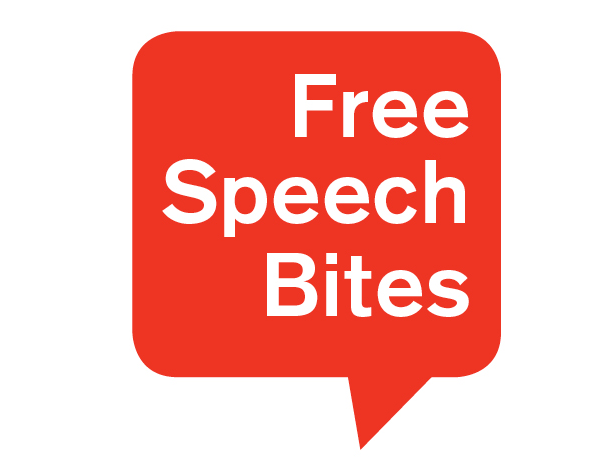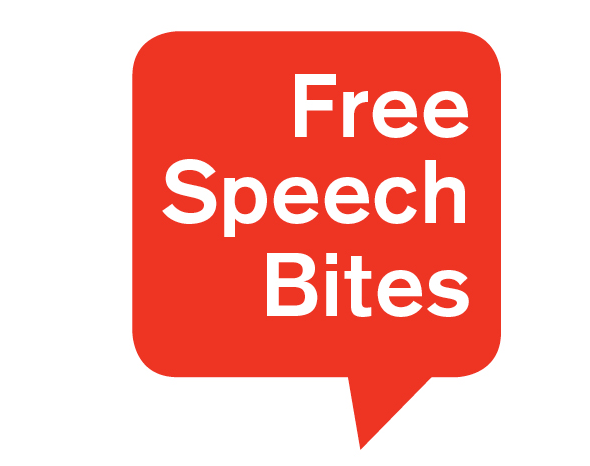 In ostensibly liberal democracies in the West, attitudes towards free speech vary widely given different historical contexts, and can shift dramatically over time. We're living in the midst of a generational shift on the issue in the U.S.; a recent Pew survey found that 40 percent of millennials—18-34 year olds—favor government bans on offensive speech. The usual caveats apply when reading this data; New York magazine's Science of Us blog breaks down the demographics and points out problems with definitions, particularly with that of the word "offensive." They write, "plenty of folks freak out about anti-cop sentiments but are fine with racially loaded language—or insert your own examples." As commentators note almost daily, various free speech advocates show all manner of partiality when it comes to whose speech they choose to defend and whose they, unwittingly perhaps, suppress.
European countries, of course, already have all sorts of laws that curb offensive speech and impose harsh penalties, from large fines to jail time. Those laws are extending to the internet as well, a speech domain long censored by Chinese authorities.
Whether European measures against racist and xenophobic speech actually lessen racism and xenophobia is an open question, as is the problem of exceptions to the laws that seem to allow certain kinds of prejudices as they strongly censor others. Much more extreme examples of the suppression of free speech have recently come to light under autocratic regimes in the Middle East. In Syria, software developer and free speech advocate Bassel Khartabil has been held in prison since 2012 for his activism. In Saudi Arabia, artist, poet, and Palestinian refugee Ashraf Fayadh has been sentenced to death for "renouncing Islam."
We could add to all of these examples hundreds of others, from all over the world, but in addition to the statistics and the disturbing individual cases, it is worth asking broader, more philosophical questions about free speech as we draw our own conclusions about the issues. What exactly do we mean by "free speech"? Should all speech be protected, even that meant to libel individuals or whole groups or to deliberately incite violence? Should we tolerate a public discourse made up of lies, misinformation, prejudicial invective, and personal attacks? Should citizens and the press have the right to question official government narratives and to demand transparency?
To help us think through these politically and emotionally fraught discussions, we could listen to Free Speech Bites, a podcast sponsored by the Index on Censorship and hosted by freelance philosopher Nigel Warburton, who also hosts the popular podcast Philosophy Bites. The format is identical to that long-standing show, but instead of short conversations with philosophers, Warburton has brief, lively discussions with free speech advocates, including authors, artists, politicians, journalists, comedians, cartoonists, and academics. In the episode above, Warburton talks with DJ Taylor, biographer of the man considered almost a saint of free speech, George Orwell.
Of his subject, Taylor remarks, "I think it's true to say that most of Orwell's professional life, large amounts of the things that he wrote, are to do with the suppression of the individual voice." At the same time, he points out that Orwell's "view of free speech is by no means clear cut." The "whole free speech issue became much more delicately shaded than it would otherwise have been" during the extraordinary times of the Spanish Civil War and World War II. Taylor refers to the "classic liberal dilemma: how far do we tolerate something that, if tolerated, will cease to tolerate us…. If you are living in a democracy and somebody's putting out fascist pamphlets encouraging the end of that democracy, how much rope do you give them?"
In another episode, Irshad Manji—feminist, self-described "Muslim refusenik," and author of The Trouble with Islam Today—talks free speech and religion, and offers a very different perspective than what we're used to hearing reported from Islamic thinkers. When Warburton says that Islam and free expression sound "like two incompatible things," Manji counters that as a "person of faith" she believes "free expression is as much a religious obligation as it is a human right." In her estimation, "no human being can legitimately behave as if he or she owns a monopoly on truth." Anything less than a society that tolerates civil disagreement, she says, means that "we're playing God with one another." In her religious perspective, "devoting yourself to one god means that you must defend human liberty." Manji sounds much more like Enlightenment Christian reformers like John Locke than she does many interpreters of Islam, and she is well aware of the unpopularity of her point of view in much of the Islamic world.
Addressing the question of why free speech matters, broadcaster and writer Jonathan Dimbleby—former chair of the Index on Censorship—inaugurated the podcast in 2012 with a more classically philosophical discussion of John Stuart Mill's On Liberty and the liberal argument against censorship Mill and others articulated. For Dimbleby, "freedom of expression [is] not only a right but a defining characteristic of what it means to be a civilized individual." It's a view he holds "very strongly," but he admits that the valid exceptions to the rule are "where the difficult territory starts." Dimbleby points to "very obvious circumstances when you don't have freedom of expression and should not have freedom of expression." One of the exceptions involves "laws that say that if you express yourself freely, you are directly putting someone else's life at risk." This is not as clear-cut as it seems. The "dangerous territory," he argues, begins with circumscribing language that incites anger or offense in others. We are back to the question of offense, and it is not a uncomplicated one. Although activists very often need to be uncivil to be heard at all, there's also a necessary place for public discussions that are as thoughtful and careful as we can manage. And for that reason, I'm grateful for the intervention of Free Speech Bites and the international variety of views it represents.
For more of those views, see the Index on Censorship's website to stream or download seven more Free Speech Bites podcasts.
Related Content:
What "Orwellian" Really Means: An Animated Lesson About the Use & Abuse of the Term
George Orwell's Final Warning: Don't Let This Nightmare Situation Happen. It Depends on You!
Introduction to Political Philosophy: A Free Yale Course
Great Writers on Free Speech and the Environment
Josh Jones is a writer and musician based in Durham, NC. Follow him at @jdmagness