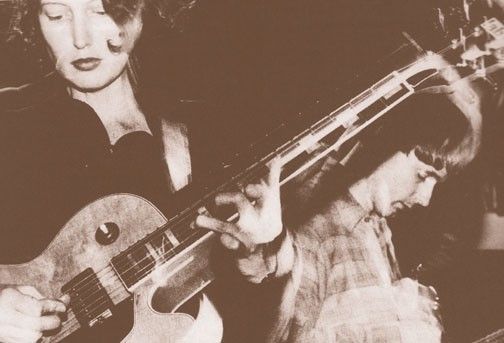 In the time it's taken me to grow out of my wayward 90s youth and into mostly solid citizen adulthood, cultural memories of that decade have crystalized around a few genres that have seen some renewal of late. I'm more than pleased to find current musicians reviving shoegaze, 90s electronica, and neo-soul. And with so many artists who peaked twenty or so years ago still releasing records or getting back together for impressive reunions, it often seems like the music I grew up with never left, even if a whole raft of stars I couldn't pick out of a lineup have emerged in the meantime.
And yet, though the veneration of 90s music has become a thing in recent years, the perspective of it by people perhaps not even born when the decade ended tends to be somewhat limited. Perhaps all of us forget how strange and eclectic 90s music was. Even at the time, pop and alternative cultures were almost instantly reduced in films, compilation albums, and more-or-less every show on MTV. It was an era when subcultures were quickly commodified, sanitized, and sold back to us in theaters and on record shelves.
To remind ourselves of just how wide-ranging the 90s were, we might turn to the expansive "giant 90s alt/indie/etc" playlist here, compiled by Aroon Korvna (born in 1982, but precociously "musically conscious" during the decade). The journey begins with the nasal chamber pop of They Might Be Giants' "Birdhouse in Your Soul"—a classic of DIY dork-rock—and ends with Jay Z's "Big Pimpin," a song heralding the triumph of radio-ready rap and club hits over the decades' many quirky rock and hip-hop guises.
Hear the playlist in three parts: Part I (1990-94) and II (1995-96) above; Part III (1997-99) below. (If you need Spotify's software, download it here.) Along the way, we run into forgotten songs by under-the-radar bands like The Dwarves, Red House Painters, Guided By Voices, The Beta Band, and The Microphones; leftfield choices from one-hit wonders like Ned's Atomic Dustbin and Information Society; the first stirrings from now-superstars like Daft Punk and Jack White; and cuts from just about every other artist on college or alternative radio throughout the decade.
"The inspiration for this playlist," writes Korvna, "came from seeing one too many of those nostalgia-bait pieces aimed at my cohort: 'You totally forgot about these 20 amazing hits from the 90's…. After the 6th or 7th of these articles all listing off the same obvious things, you start to think you really have heard everything from the 90s. But we all know that's not true."
By doing a bit of internet research to fill gaps in memory, Korvna compiled "a mix of things everyone is familiar with, and more obscure artifacts, the sorts of songs you might have only been familiar with if you were, say, listening to college rock in 1991."
If the 90s is to you an unknown country, you'll find that this three-part Spotify playlist offers a comprehensive walk-through of the decades' diverse musical culture—and it doesn't just play the hits. If you're a gentleman or lady of a certain age, it will refresh a few memories, make you smile and wince with nostalgia, and perhaps fill you with indignation over all the songs you think need to be on there but aren't.
Feel free to leave your suggestions in the comments—or to make your own 90s playlist. And while you're at it, you might want to take a look at Flavorwire's surprising list of "105 '90s Alternative Bands that Still Exist."
via Metafilter/Medium
Related Content:
1,000 Recordings to Hear Before You Die: Stream a Huge Playlist of Songs Based on the Bestselling Book
62 Psychedelic Classics: A Free Playlist Created by Sean Lennon
Radio David Byrne: Stream Free Music Playlists Created Every Month by the Frontman of Talking Heads
Josh Jones is a writer and musician based in Durham, NC. Follow him at @jdmagness