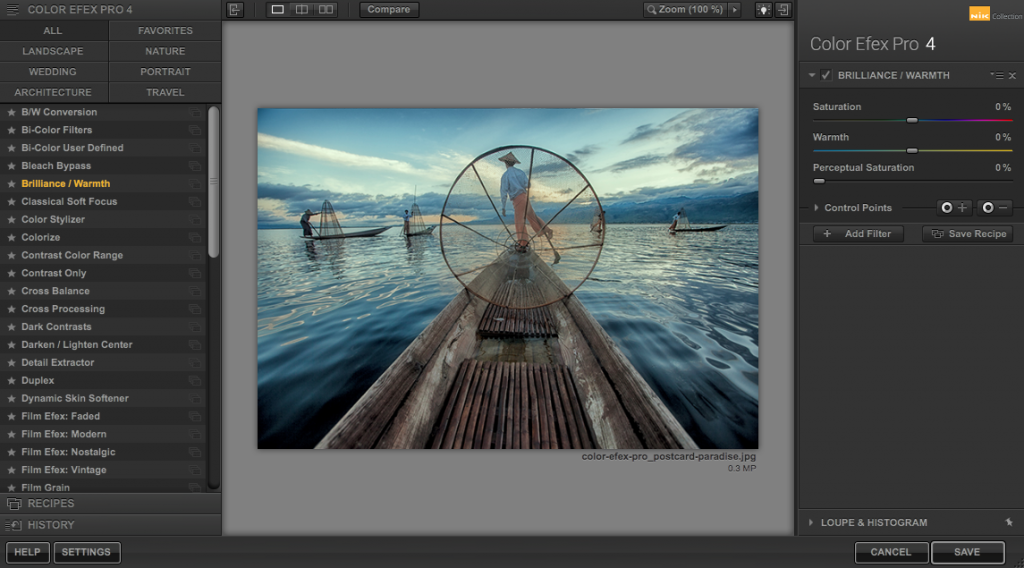 Google's Nik Col­lec­tion, a pho­to edit­ing soft­ware pack­age designed for pro­fes­sion­al pho­tog­ra­phers, once retailed for $149. Today it's absolute­ly free to down­load, for both Win­dows and Mac users.
Here you can read Google's announce­ment, which includes more infor­ma­tion on the soft­ware pack­age and its capa­bil­i­ties.
Today we're mak­ing the Nik Col­lec­tion avail­able to every­one, for free.

Pho­to enthu­si­asts all over the world use the Nik Col­lec­tion to get the best out of their images every day. As we con­tin­ue to focus our long-term invest­ments in build­ing incred­i­ble pho­to edit­ing tools for mobile, includ­ing Google Pho­tos and Snapseed, we've decid­ed to make the Nik Col­lec­tion desk­top suite avail­able for free, so that now any­one can use it.

The Nik Col­lec­tion is com­prised of sev­en desk­top plug-ins that pro­vide a pow­er­ful range of pho­to edit­ing capa­bil­i­ties — from fil­ter appli­ca­tions that improve col­or cor­rec­tion, to retouch­ing and cre­ative effects, to image sharp­en­ing that brings out all the hid­den details, to the abil­i­ty to make adjust­ments to the col­or and tonal­i­ty of images.

Start­ing March 24, 2016, the lat­est Nik Col­lec­tion will be freely avail­able to down­load: Ana­log Efex Pro, Col­or Efex Pro, Sil­ver Efex Pro, Viveza, HDR Efex Pro, Sharp­en­er Pro and Dfine. If you pur­chased the Nik Col­lec­tion in 2016, you will receive a full refund, which we'll auto­mat­i­cal­ly issue back to you in the com­ing days.

We're excit­ed to bring the pow­er­ful pho­to edit­ing tools once only used by pro­fes­sion­als to even more peo­ple now.
Once you've down­loaded the soft­ware, head over to the Nik Col­lec­tion chan­nel on YouTube where you'll find video tuto­ri­als, includ­ing the one below called "Intro­duc­tion to the Nik Com­plete Col­lec­tion." It's a good place to start.
PS: Some read­ers have asked whether this soft­ware can work as a stand­alone pro­gram, or whether it needs to run with a pro­gram like Pho­to­shop. Here's what PC Mag­a­zine has to say about that: "Though you can run the sev­en dif­fer­ent plu­g­ins in the col­lec­tion as stand­alone prod­ucts, they tend to work bet­ter when you inte­grate them into an exist­ing image edit­ing pro­gram, like Adobe's Pho­to­Shop. '(On Win­dows) You can make short­cuts to the indi­vid­ual .exe files on your desk­top and then just drag stacks of images onto them,' sug­gest­ed one Google+ user." In short, you have some options.
If you would like to sign up for Open Culture's free email newslet­ter, please find it here.
If you would like to sup­port the mis­sion of Open Cul­ture, con­sid­er mak­ing a dona­tion to our site. It's hard to rely 100% on ads, and your con­tri­bu­tions will help us con­tin­ue pro­vid­ing the best free cul­tur­al and edu­ca­tion­al mate­ri­als to learn­ers every­where. You can con­tribute through Pay­Pal, Patre­on, and Ven­mo (@openculture). Thanks!
Relat­ed Con­tent:
Muse­um of Mod­ern Art (MoMA) Launch­es Free Course on Look­ing at Pho­tographs as Art
Soft­ware Used by Hayao Miyazaki's Ani­ma­tion Stu­dio Becomes Open Source & Free to Down­load
Down­load Free NASA Soft­ware and Help Pro­tect the Earth from Aster­oids!