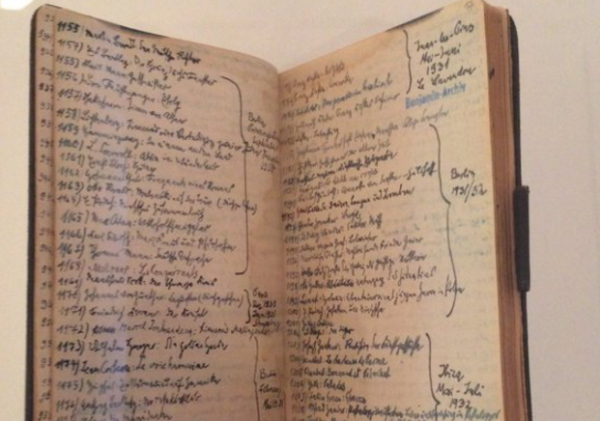 If you're in Berlin, stop by the Galerie Max Hetzler, which is currently staging an exhibition where the Jewish mystic philosopher Walter Benjamin plays a prominent role. Here's how the gallery sets the scene:
[British artist British artist Edmund] De Waal first came to know the city of Berlin through the writings of Walter Benjamin, particularly his autobiographical fragments in A Berlin Childhood around 1900. The exhibition title, Irrkunst, has been taken from Benjamin's concept of the art of getting lost, the art of noticing what has been disregarded.

In the Bleibtreustrasse gallery, offering a room with a view on Walter Benjamin's former school, [De Waal] will show works that reflect Benjamin's childhood, his passion for gathering objects and the idea of collecting as memory work. Here, amongst others, de Waal will present a major new series of vitrines. Furthermore, a selection of original notes and manuscripts from the Walter Benjamin archive in Berlin will be on view at Bleibtreustrasse and illustrate Benjamin's own way of working as well as de Waal's deep fascination with the œuvre of this thinker.
One such item on display, we discovered through Julia Michalska's Twitter stream, is "Walter Benjamin's notebook in which he noted all the books he read since he was 18"–a picture of which you can find above. When I zoomed into the image, I couldn't make out the books on the list. But I did get this detail: By 1931/32, the 40-year-old Benjamin had amassed 1200 books on his list, which means he was reading, on average, 54 books per year. No doubt, they weren't light ones. If anyone stops by Galerie Max Hetzler and identifies actual titles in the notebook, we'd love it if you could note some in the comments section below.
Update: Some titles were added to the comments below–books by Cocteau, Hemingway, Malraux and more. Check them out.
Looking for free, professionally-read audio books from Audible.com? Here's a great, no-strings-attached deal. If you start a 30 day free trial with Audible.com, you can download two free audio books of your choice. Get more details on the offer here.
If you would like to sign up for Open Culture's free email newsletter, please find it here.
If you would like to support the mission of Open Culture, consider making a donation to our site. It's hard to rely 100% on ads, and your contributions will help us continue providing the best free cultural and educational materials to learners everywhere. You can contribute through PayPal, Patreon, and Venmo (@openculture). Thanks!
Related Content:
Walter Benjamin's 13 Oracular Writing Tips
Walter Benjamin's Radio Plays for Kids (1929-1932)
Walter Benjamin's Philosophical Thought Presented by Two Experimental Films