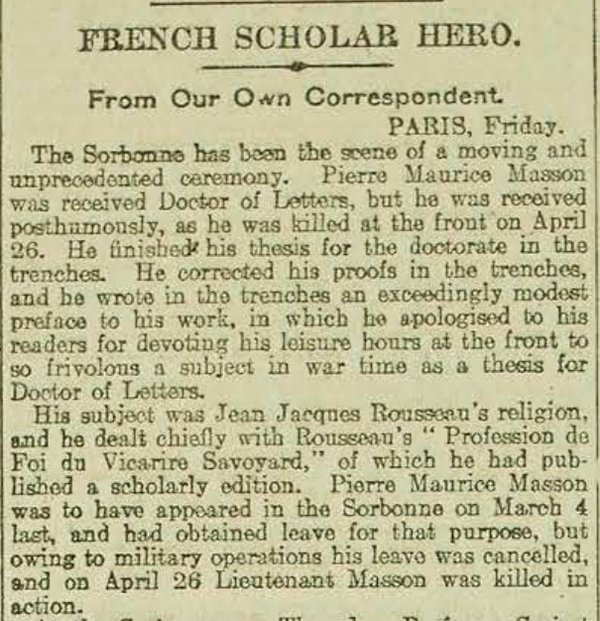 Connie Ruzich, a WWI poetry blogger, recently highlighted on Twitter a historic newspaper clipping that will put the travails of academe into perspective. Getting a Ph.D. is always hard. But hard is relative.
Case in point…
100 years ago, Pierre Maurice Masson, a young scholar, found himself fighting in north-eastern France. Drafted in 1914, Masson rose through the military ranks, moving from sergeant, to sub-lieutenant, to lieutenant. Meanwhile, in the discomfort of the trenches, he continued working on his doctoral thesis–a long dissertation on the religious training of Jean-Jacques Rousseau. By the spring of 1916, he had completed the text, corrected the proofs, and drafted an introduction (of course, that comes last). Finally, he announced to friends, "The monster is ready!" And he sought a leave of absence to return to the Sorbonne to receive his doctorate.
Alas, that didn't happen. The newspaper clip above tells the rest of the poignant story.
You can read Masson's posthumously published thesis, La formation religieuse de Rousseau, free online.
If you would like to sign up for Open Culture's free email newsletter, please find it here.
If you would like to support the mission of Open Culture, consider making a donation to our site. It's hard to rely 100% on ads, and your contributions will help us continue providing the best free cultural and educational materials to learners everywhere. You can contribute through PayPal, Patreon, and Venmo (@openculture). Thanks!
Related Content:
The Illustrated Guide to a Ph.D.
Read John Nash's Super Short PhD Thesis with 26 Pages & 2 Citations: The Beauty of Inventing a Field
Serial Entrepreneur Damon Horowitz Says "Quit Your Tech Job and Get a Ph.D. in the Humanities"