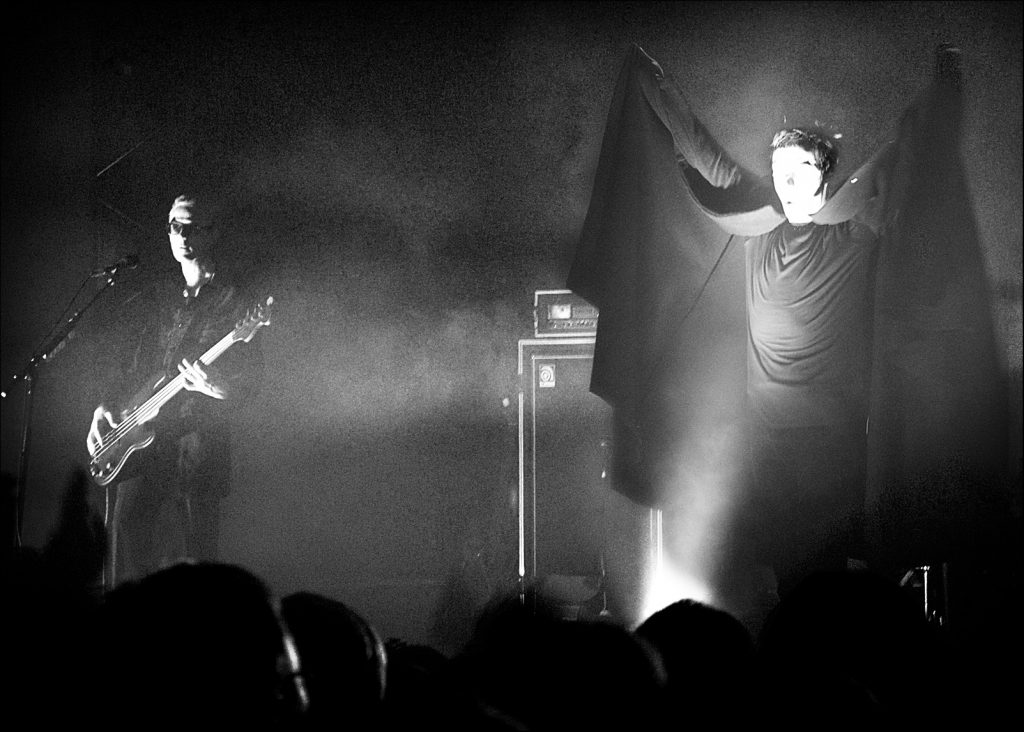 Image by Pedro Figueiredo, via Wikimedia Commons
Why, in my day we called it "post-punk" and we walked miles to find it in catacombs with secret passwords, far away from any mall apparel stores or beverage-sponsored music festivals….
Mostly rubbish, though I have heard many an old campaigner say as much, decrying Goth rock as a recent, devolution from more serious, avant-garde trends. Some amalgam of The Doors, Leonard Cohen, Nico and the Velvet Underground, The Damned, Screamin' Jay Hawkins, and Hammer horror films, early goth rock went spare, atmospheric, and punky, like the early Cure, or baroque, morose, and cabaret like Bauhaus, or any other number of respectable art-rock directions.
These bands, many of my cohort believe, had integrity, and much better taste than kids today. All that get off my lawn-ness makes an easy target, as does the increasing popularity of a genre of music made for and by unpopular people.
Mix blog Secret Thirteen, curator of the goth rock mix above, admits as much. "Goth has never been an easy affair to discuss," reads the mix intro in idiosyncratic English: "Kitschy atmosphere of massive contemporary goth festivals and stereotyping discourses usually overwhelmed the textural and emotional core of goth." Contemporary perceptions, fair or not, obscure the diversity—stylistically, that is… of the music, with its "diverse elements including Dada movement, surrealist aesthetics, post-modernism, French 'fin-de-siecle' poetry, 19th century romanticism, punk, kraut, glam, shoegaze, ambient, folk, etc…."
Indeed, it's all there, when a band with the abrasive low-camp, grindhouse punk of Nick Cave's The Birthday Party shares a musical lineage with the early synthpop of Ministry (with DJ-scratching!) and the medieval- and world music-obsessed Dead Can Dance. But the key operator in these extremes is theatricality. Since Siouxsie Sioux's fishnets and swastikas, Dave Vanian's vampire costumes and pancake makeup, and Robert Smith's enormous weeping willow hair and onstage mist-shrouded cathedrals of despair, goth has had to make overwrought spectacles of itself, at times horribly tacky ones.
But the Secret Thirteen mix, compiled by founder Justinas Mikulskis, reminds us it's really about the music, by putting together "the deep cuts," writes Electronic Beats, "none of this 'Bela's Lugosi's Dead' stuff" (referring to Bauhaus' biggest hit).
Here instead we find "the boisterous deathrock of Mighty Sphincter, Specimen's Batcave thrashiness, the artsy weirdness of Red Wedding and early 4AD stalwarts Mass." It's a very 80s mix, but unless you were digging deep in the crates of alternative record stores at the time, few names may be familiar. The Birthday Party shows up, and a band called Kommunity FK that had a very minor hit. Former Sex Pistol John Lydon's Public Image Ltd. appears with their pounding rant "Religion II." The Virgin Prunes also make the cut, number 42 in the mix—a very much overlooked, and very disturbing band, often only known for their childhood and family association with U2. Find a complete list of the tracks at the bottom of this page.
It is overall, I think, an excellent way to approach "goth"—or one definition of it—free from the wardrobe squabbles and generational condescension. The mix, writes Secret Thirteen, isn't intended as "encyclopedic or anthological" in nature, but is "rather presented as a narrative with unexpected twists and turns showcasing a wide variety of elements, moods." Sort of like a good story by Poe, or a good B horror movie.
via Electronic Beats
Related Content:
A Massive 800-Track Playlist of 90s Indie & Alternative Music, in Chronological Order
The 120 Minutes Archive Compiles Clips & Playlists from 956 Episodes of MTV's Alternative Music Show (1986-2013)
Stream 15 Hours of the John Peel Sessions: 255 Tracks by Syd Barrett, David Bowie, Siouxsie and the Banshees & Other Artists
Josh Jones is a writer and musician based in Durham, NC. Follow him at @jdmagness