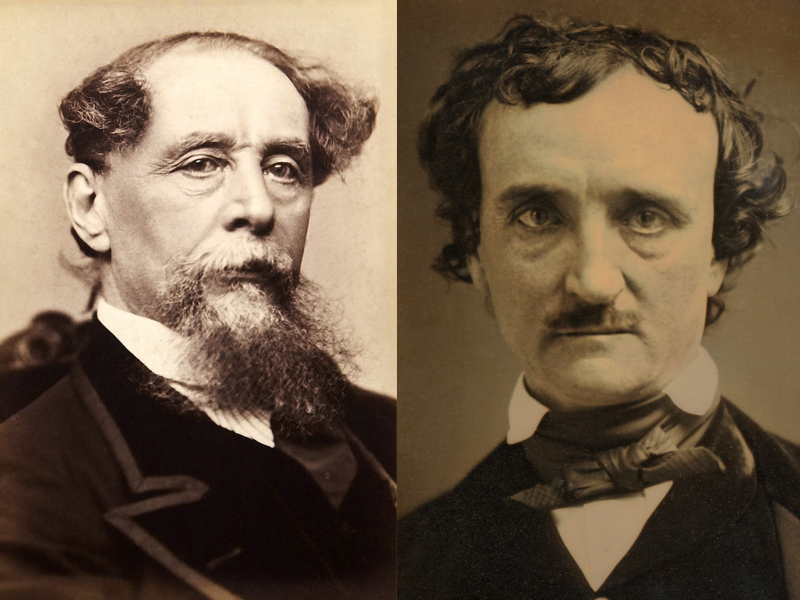 "There comes Poe with his raven," wrote the poet James Rus­sell Low­ell in 1848, "like Barn­a­by Rudge, / Three-fifths of him genius and two-fifths sheer fudge." Barn­a­by Rudge, as you may know, is a nov­el by Charles Dick­ens, pub­lished seri­al­ly in 1841. Set dur­ing the anti-Catholic Gor­don Riots of 1780, the book stands as Dick­ens' first his­tor­i­cal nov­el and a pre­lude of sorts to A Tale of Two Cities. But what, you may won­der, does it have to do with Poe and "his raven"?
Quite a lot, it turns out. Poe reviewed the first four chap­ters of Dick­ens' Barn­a­by Rudge for Graham's Mag­a­zine, pre­dict­ing the end of the nov­el and find­ing out lat­er he was cor­rect when he reviewed it again upon com­ple­tion. He was par­tic­u­lar­ly tak­en with one char­ac­ter: a chat­ty raven named Grip who accom­pa­nies the sim­ple-mind­ed Barn­a­by. Poe described the bird as "intense­ly amus­ing," points out Atlas Obscu­ra, and also wrote that Grip's "croak­ing might have been prophet­i­cal­ly heard in the course of the dra­ma."
It chanced the fol­low­ing year the two lit­er­ary greats would meet, when Poe learned of Dick­ens' trip to the U.S.; he wrote to the nov­el­ist, and the two briefly exchanged let­ters (which you can read here). Along with Dick­ens on his six-month jour­ney were his wife Cather­ine, his chil­dren, and Grip, his pet raven. When the two writ­ers met in per­son, writes Lucin­da Hawk­sley at the BBC, Poe "was enchant­ed to dis­cov­er [Grip, the char­ac­ter] was based on Dickens's own bird."
Indeed Dick­ens' raven, "who had an impres­sive vocab­u­lary," inspired what Dick­ens called the "very queer char­ac­ter" in Barn­a­by Rudge, not only with his loqua­cious­ness, but also with his dis­tinc­tive­ly ornery per­son­al­i­ty. Dick­ens' daugh­ter Mamie described the raven as "mis­chie­vous and impu­dent" for its habit of bit­ing the chil­dren and "dom­i­nat­ing" the family's mas­tiff, such that the bird was ban­ished to the car­riage house.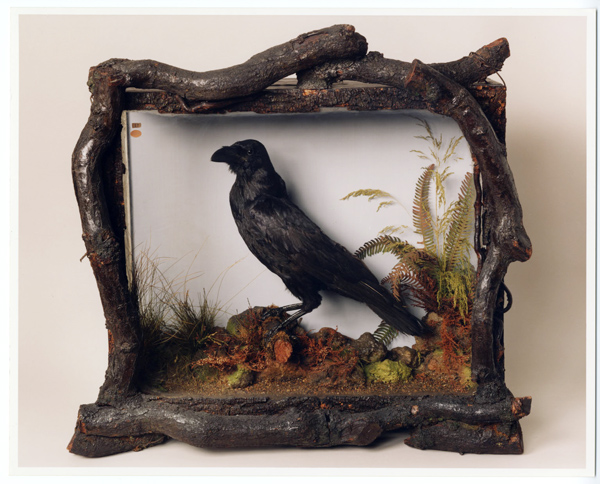 Image cour­tesy of the Free Library of Philadel­phia.
But Dickens—who Jonathan Lethem calls the "great­est ani­mal nov­el­ist of all time"—loved the bird, so much that he wrote mov­ing­ly and humor­ous­ly of Grip's death, and had him stuffed. (A not unusu­al prac­tice for Dick­ens; we've pre­vi­ous­ly fea­tured a let­ter open­er Dick­ens had made from the paw of his cat, Bob.) The remains of the his­tor­i­cal Grip now reside in the rare book sec­tion of the Free Library of Philadel­phia, "a stuffed raven" writes The Wash­ing­ton Post's Ray­mond Lane, "about the size of a big cat." (See Grip above.)
Of the lit­er­ary Grip's influ­ence on Poe, Janine Pol­lack, head of the library's rare books depart­ment, tells Philadel­phia mag­a­zine, "It is sort of a unique moment in lit­er­a­ture when these two great writ­ers are sort of think­ing about the same thing. You think about how much the two men were look­ing at each other's work. It's almost a col­lab­o­ra­tion with­out them real­iz­ing it." But can we be sure that Dick­ens' Grip, real and imag­ined, direct­ly inspired Poe's "The Raven"? "Poe knew about it," says his­to­ri­an Edward Pet­tit, "He wrote about it. And there's a talk­ing raven in it. So the link seems fair­ly obvi­ous to me."
Lane adduces some clear evi­dence of pas­sages in the the nov­el that sound very much like Poe: "At the end of the fifth chap­ter," for exam­ple, "Grip makes a noise and some­one asks, 'What was that—him tap­ping at the door?' Anoth­er char­ac­ter responds, ''Tis some­one knock­ing soft­ly at the shut­ter.'" Hawk­sley notes even more sim­i­lar­i­ties. "Although there is no con­crete proof," she writes, "most Poe schol­ars are in agree­ment that the poet's fas­ci­na­tion with Grip was the inspi­ra­tion for his 1845 poem The Raven."
Where we often find sur­pris­ing lin­eages of influ­ence from author to author, it's unusu­al that the con­nec­tions are so direct, so per­son­al, and so odd, as those between Poe, Dick­ens, and Grip the talk­ing raven. I'm espe­cial­ly struck by an irony in this sto­ry: Poe court­ed Dick­ens in 1842 "to impress the nov­el­ist," writes Sid­ney Moss of South­ern Illi­nois Uni­ver­si­ty, "with his worth and ver­sa­til­i­ty as a crit­ic, poet, and writer of tales," and with the aim of estab­lish­ing a lit­er­ary rep­u­ta­tion, and pub­lish­ing con­tracts, in Eng­land.
While Dick­ens seemed duly impressed, and will­ing to help, noth­ing com­mer­cial came of their exchange. Instead, Dick­ens and his raven inspired Poe to write the most famous poem of his life, "The Raven," for which he will be remem­bered forever­more.
Relat­ed Con­tent:
Charles Dick­ens Gave His Cat "Bob" a Sec­ond Life as a Let­ter Open­er
The His­toric Meet­ing Between Dick­ens and Dos­to­evsky Revealed as a Great Lit­er­ary Hoax
Édouard Manet Illus­trates Edgar Allan Poe's The Raven, in a French Edi­tion Trans­lat­ed by Stephane Mal­lar­mé (1875)
Josh Jones is a writer and musi­cian based in Durham, NC. Fol­low him at @jdmagness