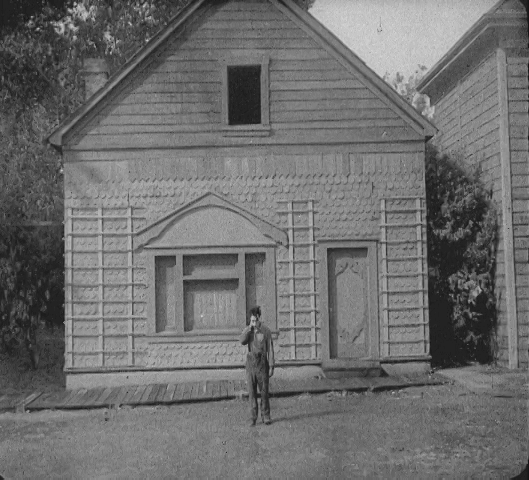 In the days of silent com­e­dy, jokes by neces­si­ty con­sist­ed of phys­i­cal rou­tines. Char­lie Chaplin's mourn­ful expres­sions, slumped shoul­ders, and fun­ny walks imme­di­ate­ly come to mind, as well as his slap­stick bits and prat­falls. Just as mem­o­rable are the dare­dev­il, death-defy­ing stunts of Harold Lloyd and Buster Keaton, who com­pet­ed with each oth­er through­out their careers. The stone­faced Keaton "suf­fered most when the talkies arrived," notes Jana Prikryl in The New York Review of Books, and "nev­er com­mand­ed the wealth or pop­u­lar­i­ty" of Chap­lin or Lloyd in his day.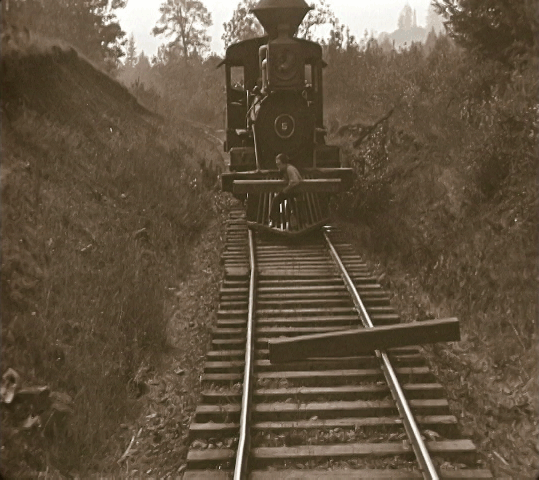 Nonethe­less, as Tony Zhou demon­strat­ed recent­ly in his video essay series Every Frame a Paint­ing, Keaton has since become one of those film­mak­ers who are "so influ­en­tial that no mat­ter where you look, you see traces of them every­where." His fram­ing crops up in Wes Anderson's care­ful set-pieces; his "acro­bat­ics and stunts" in Jack­ie Chan's action sequences; and his dead­pan demeanor in Bill Murray's endear­ing sad-sack per­for­mances. Keaton was, said Orson Welles, "the great­est of all the clowns in the his­to­ry of the cin­e­ma." In the silent era, that also meant he was the great­est of all the stunt­men.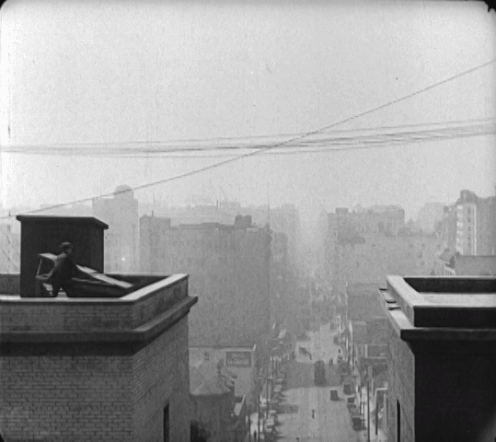 "No silent star did more dan­ger­ous stunts than Buster Keaton," Roger Ebert wrote with deep admi­ra­tion. Even Harold Lloyd's ver­ti­go-induc­ing clock scenes in 1923's Safe­ty Last used trick sets to lessen the risks. Keaton not only took on the full risk him­self in his most famous stunt scenes—many of which you can see in gif form here—he also "dou­bled for some of his actors, doing their stunts as well as his own." In Steam­boat Bill, Jr. (1928, top), Keaton stands in the exact spot of an upper win­dow of the façade of a house that comes down around him. In his 1926 clas­sic The Gen­er­al, fur­ther down, he per­forms a jaw-drop­ping feat—using one rail­road tie to push aside anoth­er while rid­ing on the cow catch­er of a mov­ing loco­mo­tive.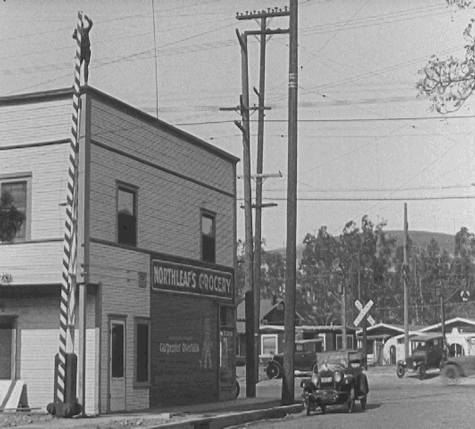 Fur­ther up, in 1923's Three Ages—the first film Keaton wrote, direct­ed, and starred in—he per­forms an authen­ti­cal­ly ter­ri­fy­ing stunt that gives acro­pho­bic view­ers instant chills. Just above, from the fol­low­ing year's Sher­lock Jr., we see a sim­i­lar­ly heart-rac­ing feat as Keaton clutch­es a road­block gate and falls two sto­ries into a speed­ing car. And in 1928's The Cam­era­man, below, he goes down with a tall col­laps­ing plat­form. Keaton's visu­al com­e­dy was superb; "he's air­i­ly nim­ble," Char­lie Fox writes in a Cab­i­net essay on the silent star's fall into alco­holism after the talkies left his career strand­ed; "Nobody else's body yield­ed so smooth­ly to the sub­lime mind­less­ness that the best phys­i­cal com­e­dy requires."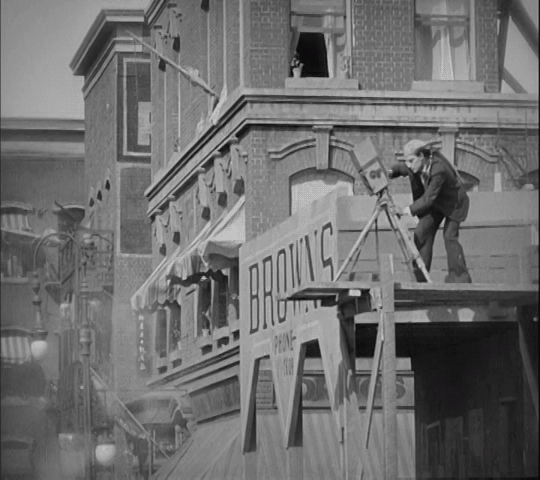 In just these few key scenes, we see how Keaton's stunts stripped away what Prikryl calls the "sap­py, bla­tant slap­stick [he] dis­dained" in oth­er actors' work ("I didn't like over­act­ing," he remarked). But part of the dry­ness of Keaton's high-wire visu­al com­e­dy came from the fact that many of these scenes were unre­hearsed first takes, which "gave the action sequences a doc­u­men­tary fla­vor… because what was cap­tured on film was a bold attempt at some­thing real­ly dan­ger­ous or dif­fi­cult, not a prac­ticed slam dunk."
In his lat­er years, Keaton's career saw some­thing of a resur­gence after he beat his chron­ic drink­ing. "His job," late in life, Fox writes, "became mak­ing quick appear­ances in unex­pect­ed places"—a Smirnoff Vod­ka ad in 1957, a brief role in Sun­set Boule­vard. "Always, in these lat­er per­for­mances, he arrives from and returns to a becalmed region of the past." Per­haps nowhere was Keaton's phys­i­cal expres­sive­ness put to more use in this peri­od than in a role which, in many ways, he found at least as chal­leng­ing as his ear­ly silent-era stunt­work: a 1965 col­lab­o­ra­tion with Samuel Beck­ett in the mod­ernist writer's only for­ay into film (excerpt above): a short trib­ute to the silent era that is unsur­pris­ing­ly, "far more com­plex" con­cep­tu­al­ly than its fore­bears, but no less evoca­tive of the exis­ten­tial plight embod­ied by Keaton's lone­ly, embat­tled-yet-sto­ic char­ac­ters.
Relat­ed Con­tent:
The Gen­er­al, "Per­haps the Great­est Film Ever Made," and 20 Oth­er Buster Keaton Clas­sics Free Online
Buster Keaton: The Won­der­ful Gags of the Found­ing Father of Visu­al Com­e­dy
101 Free Silent Films: The Great Clas­sics
Josh Jones is a writer and musi­cian based in Durham, NC. Fol­low him at @jdmagness