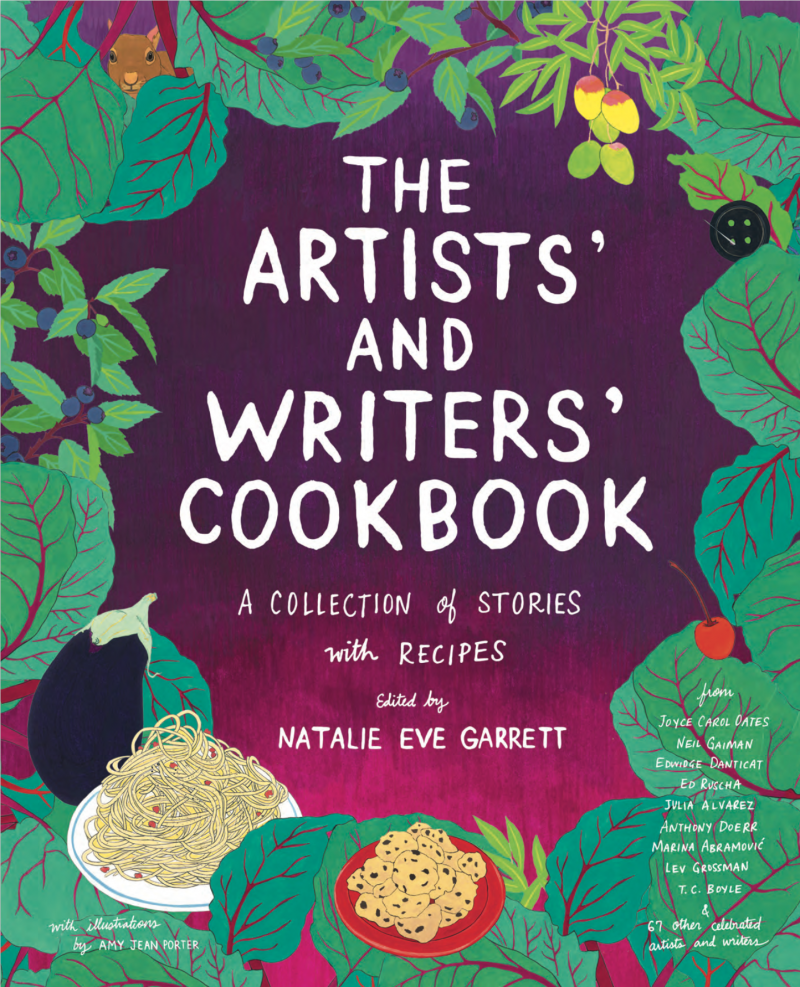 The Artists' and Writers' Cookbook: A Collection of Stories with Recipes © 2016, edited by Natalie Eve Garrett, illustrated by Amy Jean Porter, published by powerHouse Books..
There will never not be a market for the cookbook, with all its various subcategories, from fad diet to celebrity chef. While The Onion's proposed "Nietzschean Diet" (which "lets you eat whatever you fear most") may never catch on, one unusual cookbook niche does involve the recipes of famous writers, artists, musicians and other high- and pop-culture figures. The genre flourished in the sixties and seventies, with Swingers & Singers in the Kitchen in 1967, Salvador Dalí's Les Diners de Gala in 1973, and the MoMA's Artists' Cookbook in 1978.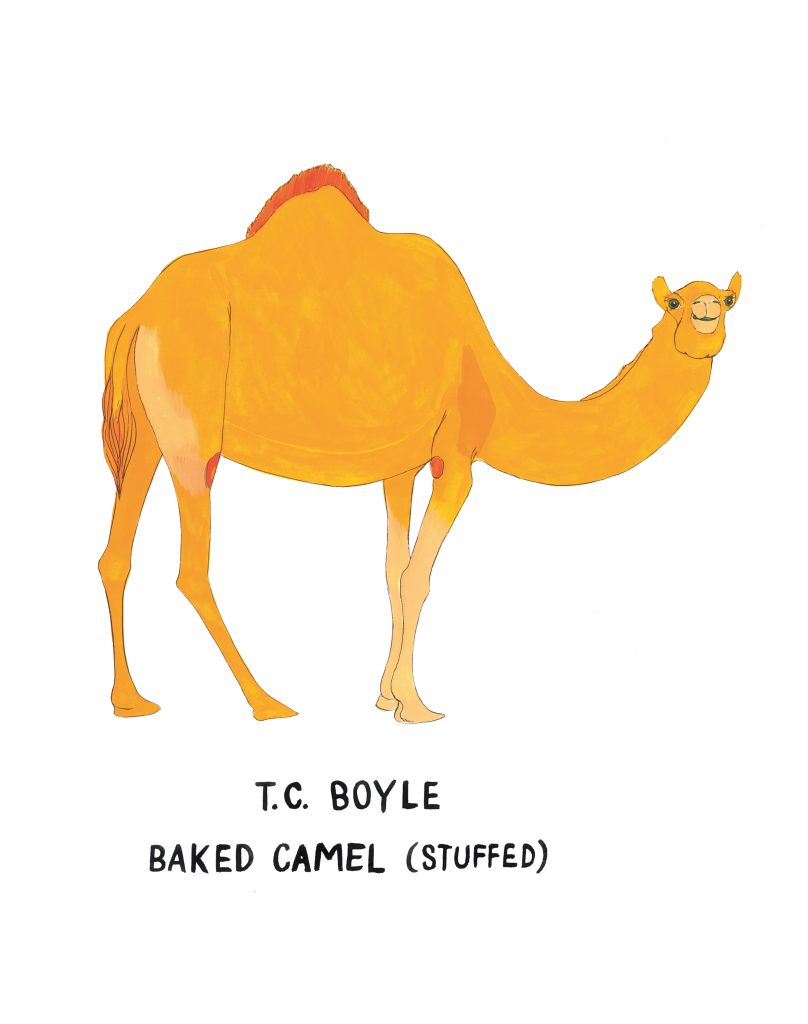 Predating these celebrity recipe books, The Artists' & Writers' Cookbook appeared in 1961. Brain Pickings describes the book as "a lavish 350-page vintage tome, illustrated with 19th-century engravings and original drawings by Marcel Duchamp, Robert Osbourn, and Alexandre Istrati." It featured 220 recipes by painters, novelists, poets, and sculptors like Man Ray, John Keats, Robert Graves, Harper Lee, Georges Simenon, and more. What's old has become new again, with the recent reprinting of Dalí's cookbook by Taschen and, on October 11th, the publication of an updated Artists' and Writers' Cookbook, edited by Natalie Eve Garrett and illustrated by Amy Jean Porter.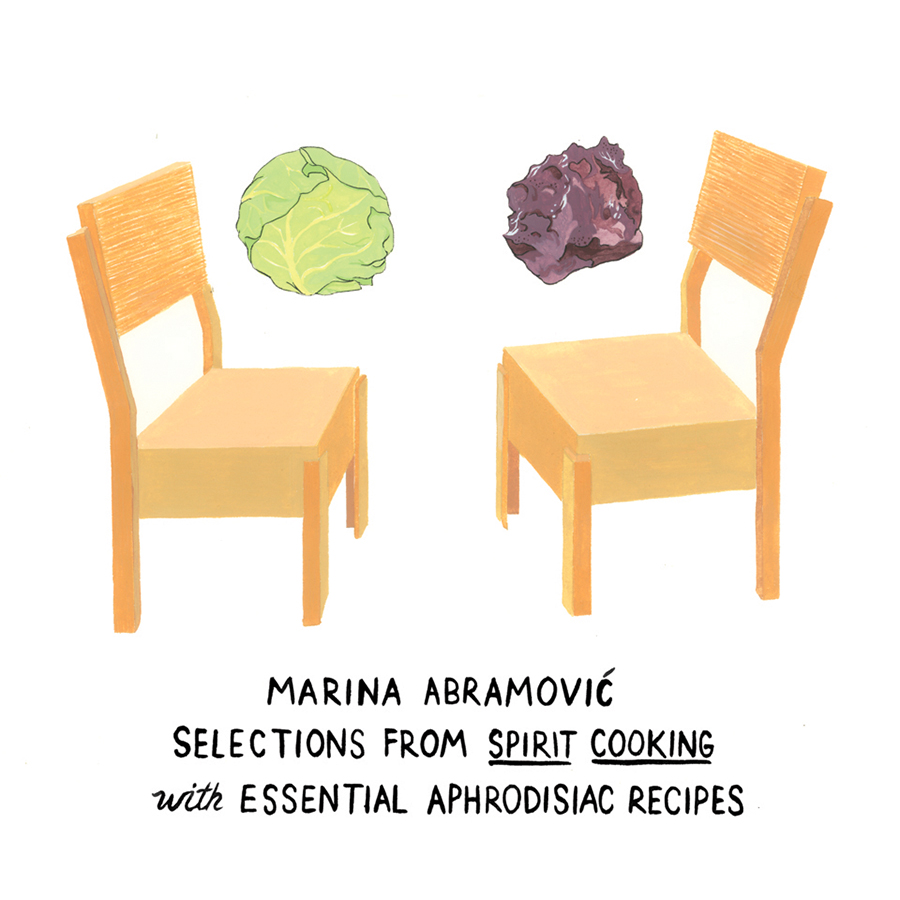 The 2016 version includes recipes from such living artists as Edwidge Danticat, Ed Ruscha, Neil Gaiman, Joyce Carol Oates, James Franco, Nikki Giovanni, Marina Abramović, and many more. The recipes range from the whimsical (see T.C. Boyle's "Baked Camel (Stuffed)" further up) to the thoroughly metaphorical (as in Abramović's "Essential Aphrodisiac Recipes," above). In-between, we have such standard fare as "The Utilitarian, American-Style PB&J: An Artist's Best Friend," courtesy of Franco, which calls for the following ingredients:
wheat bread
peanut butter
jelly
ginger ale (optional)
pickles (optional)
Haitian novelist Edwidge Danticat takes a serious approach with a traditional recipe for "Soup Joumou." She prefaces this more extensive dish with a poetic description of its national importance, concluding that it is consumed "as a sign of our independence, as a celebration of a new beginning…." The recipe may send you to the grocery, but—especially this time of year—you'll find all of the ingredients at your nearest chain store:
1 pumpkin between 2-3 pounds, peeled and cut into small pieces
1 pound cabbage, sliced and chopped
4 carrots, peeled and sliced
3 stalks celery, sliced and chopped
1 large onion, cut into small pieces
5 potatoes, peeled and cubed
2 turnips, peeled and cubed (optional)
1 lime cut in half and squeezed for a much juice as you can get from it
¼ pound macaroni
3 garlic cloves, crushed or cut into small pieces
1 sprig thyme
1 sprig parsley
2 teaspoons salt
2 teaspoons ground pepper
1 Scotch bayonet pepper
Sounds delicious.
Neil Gaiman keeps things very simple with "Coraline's Cheese Omelette," introduced with an excerpt from that dark children's fantasy. For this, you likely have all you need on hand:
2 eggs
butter
cheese
1 tablespoon milk
a pinch of salt
The essays and narratives in the new The Artists' and Writers' Cookbook are "at turns," writes editor Natalie Eve Garrett, "comedic and heart-wrenching, personal and apocalyptic, with recipes that are enchanting to read and recreate." As you can see from the small sampling here, you need not have any pretentions to haute cuisine to follow most of them. And as the book's subtitle—"A Collection of Stories with Recipes"—suggests, you needn't cook at all to find joy in this diverse assemblage of artists and writers' associations with food, that most personal and intimate, yet also culturally defining and communal of subjects. Pick up a copy of The Artists' and Writers' Cookbook on Amazon.
Related Content:
1967 Cookbook Features Recipes by the Rolling Stones, Simon & Garfunkel, Barbra Streisand & More
Salvador Dalí's 1973 Cookbook Gets Reissued: Surrealist Art Meets Haute Cuisine
MoMA's Artists' Cookbook (1978) Reveals the Meals of Salvador Dalí, Willem de Kooning, Andy Warhol, Louise Bourgeois & More
Josh Jones is a writer and musician based in Durham, NC. Follow him at @jdmagness