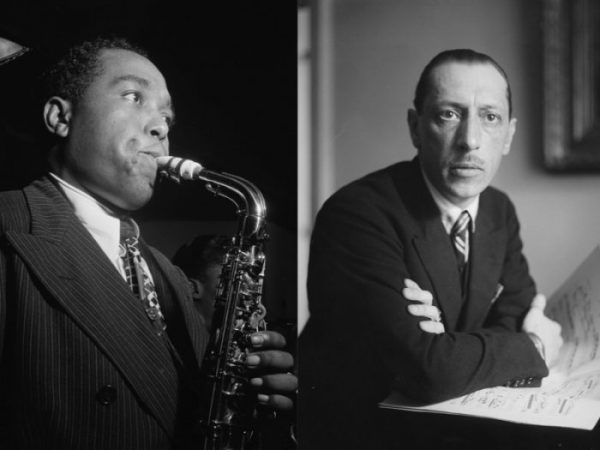 Image (left) by William P. Gottlieb, image (right) by Library of Congress, via Wikimedia Commons
The history of 20th-century music offers plenty of stories of luminaries meeting, playing together, and sometimes even entering into long-term collaboration. But it typically only happened within traditions: encounters between rock and rock, jazz and jazz, modernism and modernism. And so it still thrills to hear of the time in 1951 when Charlie Parker added one more story to the most storied jazz club of all by performing for Igor Stravinsky at Birdland. Alfred Appel tells it definitively in his book Jazz Modernism: From Ellington and Armstrong to Matisse and Joyce:
The house was almost full, even before the opening set — Billy Taylor's piano trio — except for the conspicuous empty table to my right, which bore a RESERVED sign, unusual for Birdland. After the pianist finished his forty-five-minute set, a party of four men and a woman settled in at the table, rather clamorously, three waiters swooping in quickly to take their orders as a ripple of whispers and exclamations ran through Birdland at the sight of one of the men, Igor Stravinsky. He was a celebrity, and an icon to jazz fans because he sanctified modern jazz by composing Ebony Concerto for Woody Herman and his Orchestra (1946) — a Covarrubias "Impossible Interview" come true.

As Parker's quintet walked onto the bandstand, trumpeter Red Rodney recognized Stravinsky, front and almost center. Rodney leaned over and told Parker, who did not look at Stravinsky. Parker immediately called the first number for his band, and, forgoing the customary greeting to the crowd, was off like a shot. At the sound of the opening notes, played in unison by trumpet and alto, a chill went up and down the back of my neck.

They were playing "KoKo," which, because of its epochal breakneck tempo — over three hundred beats per minute on the metronome — Parker never assayed before his second set, when he was sufficiently warmed up. Parker's phrases were flying as fluently as ever on this particular daunting "Koko." At the beginning of his second chorus he interpolated the opening of Stravinsky's Firebird Suite as though it had always been there, a perfect fit, and then sailed on with the rest of the number. Stravinsky roared with delight, pounding his glass on the table, the upward arc of the glass sending its liquor and ice cubes onto the people behind him, who threw up their hands or ducked.
Parker didn't just happen to know a few bits of Stravinsky to whip out as a novelty; he had, at that point, already deeply internalized the work of the man who composed The Rite of Spring (1913), the most rhythmically complex piece of orchestral music to date.
"Jazz musicians sat up in their seats when Stravinsky's music started playing; he was speaking something close to their language," writes New Yorker music critic Alex Ross in his book The Rest Is Noise: Listening to the Twentieth Century. "When Charlie Parker came to Paris in 1949, he marked the occasion by incorporating the first notes of the Rite into his solo on 'Salt Peanuts'."
In a piece on why jazz musicians love The Rite of Spring, NPR's Patrick Jarenwattananon discusses other instances where Parker quoted (or paid musical tribute to) Stravinsky: "A personal favorite comes from 1947, when Parker was a guest soloist on trumpeter and arranger Neal Hefti's 'Repetition,' as heard on a compilation called The Jazz Scene. Not only does Hefti's arrangement quote the transitional horn motif which signals the second half of the 'Augurs of Spring' movement from The Rite, but Parker riffs on the same motif to start his solo."
Dylan Thomas: A Centenary Celebration contains a chapter by Daniel G. Williams on Dylan Thomas and Charlie Parker, which, in establishing Parker's engagement in "revivifying the vocabulary of jazz," gets into how that got him drawing from Stravinsky, whose work Parker called "music at its best." Williams quotes Parker's trumpeter Howard McGhee as remembering that Parker "knew everything, and he hipped me to, like, Stravinsky and all those guys. I didn't now nothin' about Stravinsky." When Parker brought The Rite of Spring over to listen to at McGhee's house, he prefaced the experience with these words: "Yeah, this cat, he's kind of cool, you know; he knows what he's doing." And the more we learn about what went into Parker's music, the more we realize that he, too, knew even more thoroughly what he was doing than we'd ever realized.
via Jerry Jazz Musician/Dangerous Minds
Related Content:
Charlie Parker Plays with Dizzy Gillespie in Only Footage Capturing the "Bird" in True Live Performance
Animated Sheet Music of 3 Charlie Parker Jazz Classics: "Confirmation," "Au Privave" & "Bloomdido"
Watch 82-Year-Old Igor Stravinsky Conduct The Firebird, the Ballet Masterpiece That First Made Him Famous (1965)
Hear 46 Versions of Stravinsky's Rite of Spring in 3 Minutes: A Classic Mashup
Stravinsky's "Illegal" Arrangement of "The Star Spangled Banner" (1944)
Stravinsky's The Rite of Spring, Visualized in a Computer Animation for Its 100th Anniversary
Based in Seoul, Colin Marshall writes and broadcasts on cities and culture. He's at work on a book about Los Angeles, A Los Angeles Primer, the video series The City in Cinema, the crowdfunded journalism project Where Is the City of the Future?, and the Los Angeles Review of Books' Korea Blog. Follow him on Twitter at @colinmarshall or on Facebook.