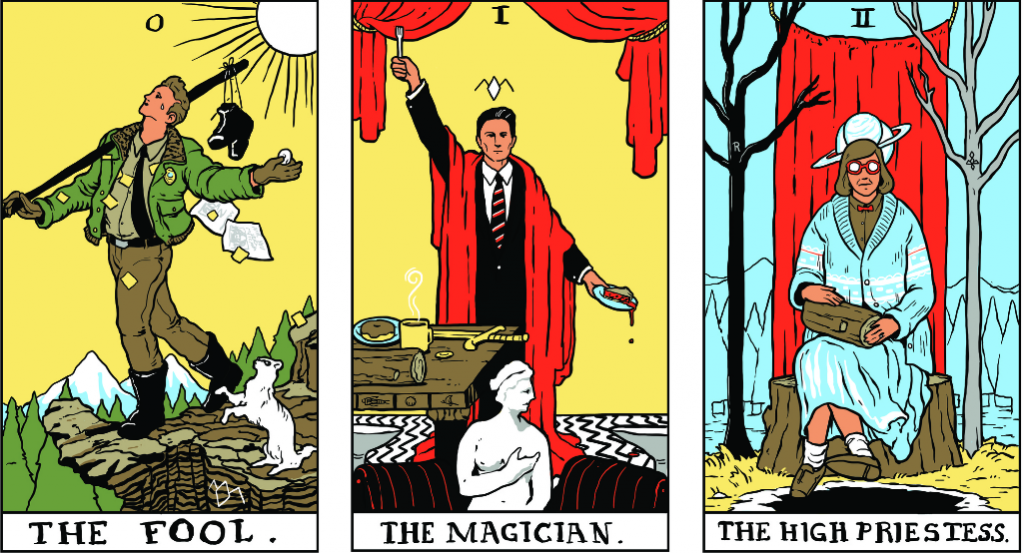 Through the darkness of future's past, the magician longs to see…
The incantation that kicks off Detective Cooper's dream vision in Twin Peaks is part abstract clue and part divination, and occult elements reoccur through the David Lynch-Mark Frost created series. So it makes sense that pop artist Benjamin Mackey would look at combining characters from the show with the designs of the well known and well loved Rider-Waite-Smith Tarot deck from 1910.
Initially, Mackey created just the 22 Major Arcana from the deck and sold them as prints. Detective Cooper is the Magician, Sheriff Truman is Justice, the Log Lady is the High Priestess, Benjamin Horne is the Emperor and so on. (Guess who the Devil is!)
Not too surprisingly considering the show's devoted fan-base, the Twin Peaks Tarot was a hit, and Mackey focused on completing the full deck of 78 tarot cards (view them all here), riffing on the Rider-Waite-Smith deck's penchant for enigmatic and mystic tableaux. And now, 10 months later, he's offering the entire deck for sale through an Indiegogo campaign for what looks like a very affordable price.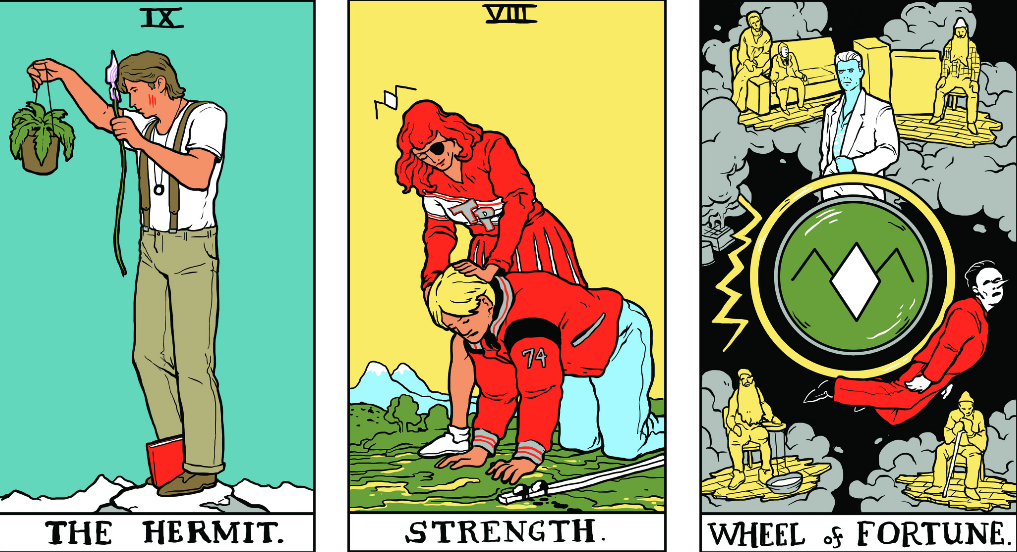 The initial campaign ask of $5,000 was reached within days, and now is heading towards $50,000. There are also extra goodies too for those who want to give more, including a booklet and an original sketch.
The Minor Arcana shows Mackey's deep love for the television show and film, and gives a chance for even minor characters to have their own card, from Lili with the Blue Rose to Donna Hayward's sister Harriet.
"The Magician Longs to See" decks are scheduled to arrive by December, just in time to help you tell your friends' fortunes while reading the upcoming Twin Peaks book, waiting for the new series, or drinking some damn fine coffee.
Related Content:
Alejandro Jodorowsky Explains How Tarot Cards Can Give You Creative Inspiration
David Lynch Directs a Mini-Season of Twin Peaks in the Form of Japanese Coffee Commercials
David Lynch's Twin Peaks Title Sequence, Recreated in an Adorable Paper Animation
Ted Mills is a freelance writer on the arts who currently hosts the artist interview-based FunkZone Podcast. You can also follow him on Twitter at @tedmills, read his other arts writing at tedmills.com and/or watch his films here.