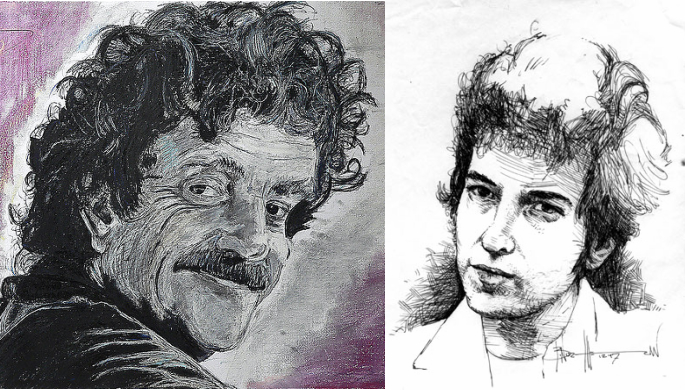 Image by Daniele Pratitand Ben Northern via Flckr Commons
As if life weren't fraught enough, we're barreling toward the 10th anniversary of author Kurt Vonnegut's death.
So it goes.
Several years before he died, Vonnegut penned an essay called "Knowing What's Nice," in which he stated:
If I should ever die, God forbid, let this be my epitaph: 'The only proof he needed for the existence of God was music.'
"If I should ever…God forbid…"
Bless his cranky humanist heart, if that isn't nice, I don't know what is.
Those outside the inner circle can only speculate as to whether his remains rest eternally beneath his preferred epitaph. Their whereabouts are not a matter of public record. As one Internet wag surmised, he "probably didn't want some vandal sonofabitch writing Everything was Beautiful and Nothing Hurt on it."
The widely circulated Armistice Day passage from Vonnegut's novel Breakfast of Champions supports the notion of music as something he revered universally:
What else is sacred? Oh, Romeo and Juliet, for instance. And all music is. 
In reality, the amateur clarinet player's ear was a bit more discerning:
 I hate rap. The Beatles have made a substantial contribution. Bob Dylan, however, is the worst poet alive. He can maybe get one good line in a song, and the rest is gibberish.
So he told Hustler in 1991, in response to a question about his musical tastes. Never did get around to telling the interviewer what he actually liked. According to his daughter, Nannette, the list would've included Dave Brubeck, the Statler Brothers, and The Music Man soundtrack.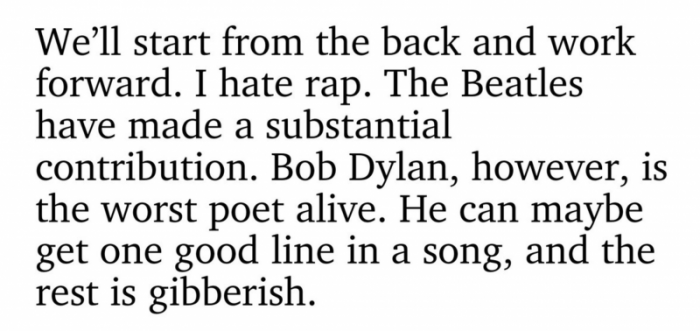 Vonnegut didn't live to see Dylan win the Nobel Prize for Literature last year, but several commentators exhumed his dismissive quote to underscore that not everyone was happy to see a singer-songwriter awarded such a prestigious literary prize.
Meanwhile, Dylan's fans are not waiting for him to die to talk about the ways in which his music has helped them navigate through life, much as the jazzmen Vonnegut saw playing live in Depression-era Indianapolis transported him to a better place:

…what music is, I don't know. But it helps me so.
Fans have created eleven playlists inspired by Vonnegut on the music sharing site 8tracks, including one that features Dylan's A Hard Rain's A-Gonna Fall. ("Perfect for capturing Vonnegut's vibe" enthused one innocent young commenter.)
Related Content:
Kurt Vonnegut Explains "How to Write With Style"
In 1988, Kurt Vonnegut Writes a Letter to People Living in 2088, Giving 7 Pieces of Advice
Discover Ray Bradbury & Kurt Vonnegut's 1990s TV Shows: The Ray Bradbury Theater and Welcome to the Monkey House
Ayun Halliday is an author, illustrator, theater maker and Chief Primatologist of the East Village Inky zine.  Follow her @AyunHalliday.