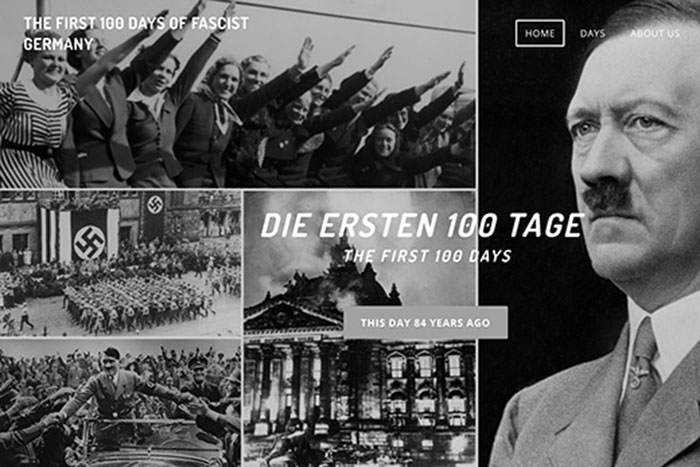 From Emory University comes The First 100 Days of Fascist Germany, an attempt to document online what happened on each day–from January 30, 1933 through May 9, 1933–when Hitler was named Reichskanzler of Germany.
As you can perhaps imagine, the motivation for the project isn't entirely divorced from current events. The grad students behind The First 100 Days explain:
During the highly contentious political climate in this country, the terms "fascism" and "Nazi Germany" have been tossed around quite freely by both sides of the political spectrum. As a response to this and in an effort to provide some clarity of what fascism in Nazi Germany actually looked like, we at the Emory University German Department initiated a research project that aims to document the first 100 days of National Socialism- from the day that Adolf Hitler was named Reichskanzler on January 30, 1933 until May 9, 1933.
They continue:
The general plan for our project is that our research team will work its way through the 100 days, investigating and documenting the events of each day and then posting the findings on a daily basis for public consumption.
As the daily calendar shows, Hitler didn't waste a lot of time. By Day 51, Dachau–one of the first concentration camps–opened and received its first prisoners, notes Emory News. By Day 60, all new stories critical of the government were censored. And, by Day 88, the press expelled from its ranks all Marxists and Jews. That was just the beginning.
Meanwhile, on Day 88 over here, Trump's initiatives (some relatively innocuous, some alarming) have met civil, judicial and political resistance, or collapsed under their own weight. The concern of January has given way to comedy in April. So far, it's more farce than fascism:
But don't get complacent, terror might be the operative word in May.
You can learn more about Emory's historical project here.
If you would like to sign up for Open Culture's free email newsletter, please find it here.
If you would like to support the mission of Open Culture, consider making a donation to our site. It's hard to rely 100% on ads, and your contributions will help us continue providing the best free cultural and educational materials to learners everywhere. You can contribute through PayPal, Patreon, and Venmo (@openculture). Thanks!
Related Content:
Harvard Students Launch a Free Course on How to Resist Trump
Hitler Was 'Blitzed' On Cocaine & Opiates During World War II: Hear a Wide-Ranging Interview with Best-Selling Author Norman Ohler
Fritz Lang Tells the Riveting Story of the Day He Met Joseph Goebbels and Then High-Tailed It Out of Germany
How Did Hitler Rise to Power? : New TED-ED Animation Provides a Case Study in How Fascists Get Democratically Elected
The New York Times' First Profile of Hitler: His Anti-Semitism Is Not as "Genuine or Violent" as It Sounds (1922)
Leni Riefenstahl's Triumph of the Will Wasn't a Cinematic Masterpiece; It Was a Staggeringly Effective Piece of Propaganda