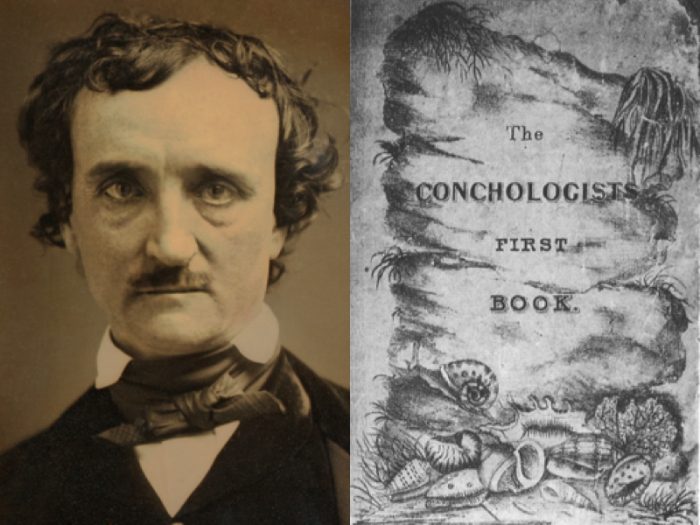 A fas­ci­nat­ing 20th cen­tu­ry lit­er­ary strain, "doc­u­men­tary poet­ics," melds jour­nal­is­tic accounts, pho­tog­ra­phy, offi­cial texts and mem­os, pol­i­tics, and sci­en­tif­ic and tech­ni­cal writ­ing with lyri­cal and lit­er­ary lan­guage. Per­haps best exem­pli­fied by Muriel Rukeyser, the cat­e­go­ry also includes, at cer­tain times, James Agee, Langston Hugh­es, Richard Wright, Zora Neale Hurston, and—currently—Claudia Rank­ine and "pow­er­house" new poet Sol­maz Sharif. It does not include Edgar Allan Poe, famous­ly alco­holic 19th cen­tu­ry mas­ter of the macabre and "father of the detec­tive sto­ry."
But you'll for­give me for think­ing, excit­ed­ly, that it just might, when I learned Poe had pub­lished a text called The Conchologist's First Book (1839), a con­den­sa­tion, rearrange­ment, and "remix­ing," as Rebec­ca Onion writes at Slate, of "an exist­ing… beau­ti­ful and expen­sive" sci­ence text­book, Thomas Wyatt's Man­u­al of Con­chol­o­gy, includ­ing the orig­i­nal plates and a "new pref­ace and intro­duc­tion."
My mind reeled: what won­drous hor­rors might the morose, roman­tic Poe have con­tributed to such an enter­prise, his best-sell­ing work, it turns out, in his life­time. (For which Poe was paid $50 and, typ­i­cal­ly, received no roy­al­ties). What kind of exper­i­men­tal mad­ness might these cov­ers con­tain?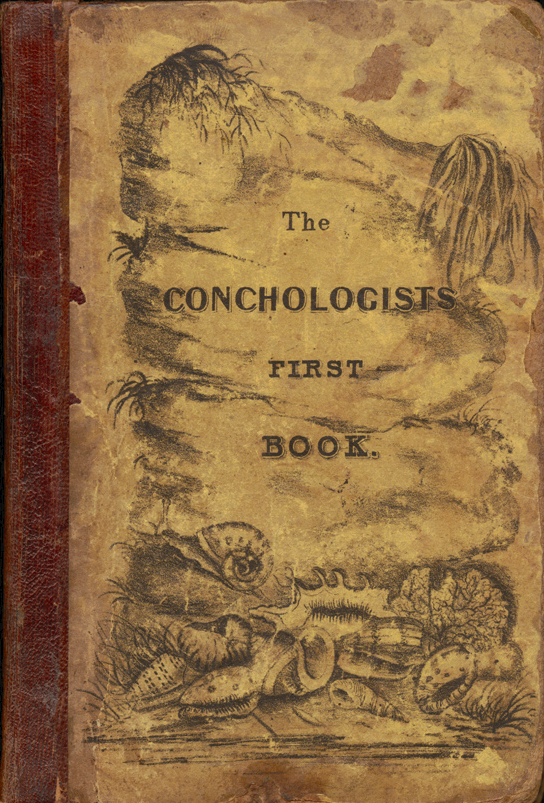 As I might have assumed from the book's total obscu­ri­ty, Poe's writer­ly con­tri­bu­tions to the project were mea­ger. For all his genius as a sto­ry­teller, he could be a long-wind­ed bore as an essay­ist. It seems he thought this aspect of his voice was best suit­ed to the orig­i­nal writ­ing he did for Conchologist's First. His biog­ra­phers, notes Uni­ver­si­ty of Hous­ton pro­fes­sor emer­i­tus John H. Lien­hard, all "mut­ter an embar­rassed apol­o­gy for Poe's shady side-track—then hur­ry back to talk about The Raven." Onion quotes one biog­ra­ph­er Jef­frey Mey­ers, who writes, "Poe's bor­ing pedan­tic and hair-split­ting Pref­ace was absolute­ly guar­an­teed to tor­ment and dis­cour­age even the most pas­sion­ate­ly inter­est­ed school­boy."
As for its "shadi­ness," the book also elic­its embar­rass­ment from Poe devo­tees because, as esteemed biol­o­gist and his­to­ri­an of sci­ence Stephen J. Gould wrote in his excul­pa­to­ry essay "Poe's Great­est Hit," it was "basi­cal­ly a scam," though "not so bad­ly done" as most allege. The nat­u­ral­ist Wyatt, a friend of Poe's, had begged his pub­lish­er to release an abridged stu­dent edi­tion of his orig­i­nal lav­ish and pricey $8 text­book, which had not sold well. When the pub­lish­er balked, Wyatt con­tract­ed Poe to lend his name and con­sid­er­able edi­to­r­i­al skill to a more-or-less boot­leg "Cliff­s­Notes" ver­sion to be sold for $1.50. To make mat­ters worse, Poe and Wyatt were both accused of pla­gia­rism, hav­ing "lift­ed chunks of their book from an Eng­lish nat­u­ral­ist, Thomas Brown," Lien­hard points out.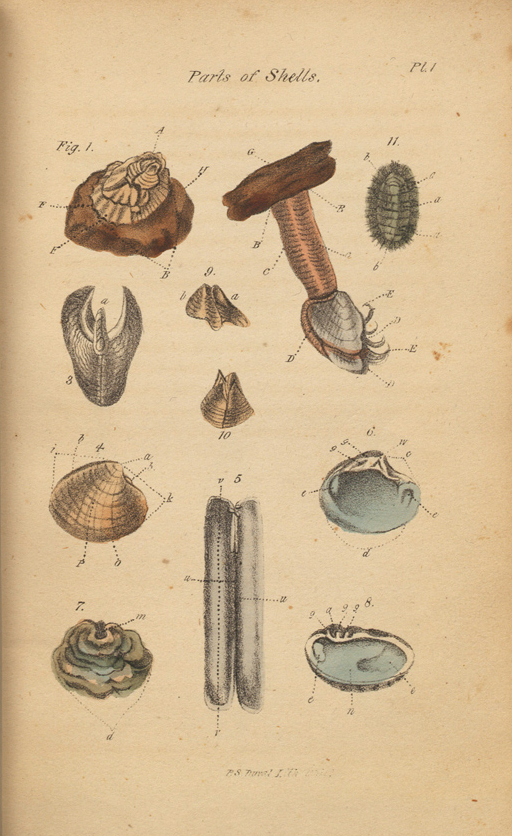 Gould defend­ed Poe as a rewriter of oth­ers' work. "Yes, Poe pla­gia­rized," as Lien­hard sum­ma­rizes the argu­ment. He pre­sent­ed Brown's, and Wyat­t's, work as his own, but, "flu­ent in French, [he] went back to read Georges Cuvi­er, the great French nat­u­ral­ist" and made his own trans­la­tions. He wrote his own intro­duc­to­ry mate­r­i­al, and he reor­ga­nized Wyatt's book in such a way as to pro­vide "gen­uine­ly use­ful insight into bio­log­i­cal tax­on­o­my." Poe's edition—with its "for­mi­da­ble sub­ti­tle," A Sys­tem of Tes­ta­ceous Mala­col­o­gy, arranged Express­ly for the Use of Schools—actu­al­ly proved a hit with stu­dents, and like­ly not only because it sold cheap. It was the only pub­li­ca­tion in Poe's life­time to make it to a sec­ond edi­tion.
Maybe human­ist read­ers approach the work with bias­es firm­ly in place, expect­ing a genre that's dry by its very nature to con­tain all the lit­er­ary bril­liance and enter­tain­ing intrigue of "The Tell-Tale Heart." Lien­hard sug­gests as much, describ­ing irri­ta­tion at how his "lit­er­ary friends" ignore the sci­en­tif­ic work of writ­ers like Thore­au, Thomas Paine, Goethe, and poet Oliv­er Gold­smith. "Poe's excur­sion into nat­ur­al phi­los­o­phy," he writes, "was an embar­rass­ment to peo­ple who are embar­rassed by sci­ence in the first place." Maybe.
Both Gould and Lien­hard shrug off the less-than-scrupu­lous cir­cum­stances of the book's cre­ation, the lat­ter cit­ing a "cyn­i­cal remark" by play­wright Wil­son Mizn­er: "If you steal from one author, it's pla­gia­rism. If you steal from many, it's research." At least he doesn't go as far as Mark Twain, who once wrote in defense of Helen Keller, after she was charged with lit­er­ary bor­row­ing, "the ker­nel, the soul—let us go fur­ther and say the sub­stance, the bulk, the actu­al and valu­able mate­r­i­al of all human utterance—is pla­gia­rism."
Read the first, 1839 edi­tion of The Conchologist's First Book, pub­lished under Edgar A. Poe, at the Inter­net Archive, and the revised sec­ond, 1840 edi­tion at Google Books.
Relat­ed Con­tent:
Down­load The Com­plete Works of Edgar Allan Poe: Macabre Sto­ries as Free eBooks & Audio Books
Mark Twain's Patent­ed Inven­tions for Bra Straps and Oth­er Every­day Items
Walt Whitman's Unearthed Health Man­u­al, "Man­ly Health & Train­ing," Urges Read­ers to Stand (Don't Sit!) and Eat Plen­ty of Meat (1858)
Josh Jones is a writer and musi­cian based in Durham, NC. Fol­low him at @jdmagness