In 1917, a handful of Europe's leading avant-garde artists collaborated on a project that it's hard to believe actually exists. Conceived "in the fertile, creative mind of Jean Cocteau," writes Museworthy, the ballet Parade combined the talents of Cocteau, Erik Satie, Pablo Picasso, and Sergei Diaghilev's dance company the Ballets Russes in a cubist slice of dreamlike life. Its brings popular entertainments into the high art of ballet, something simply not done at the time, and features a very early use of sound effects in the score, added by Cocteau, to Satie's annoyance. Parade was Satie's first ballet and the first (but not the only) time he would work with Picasso.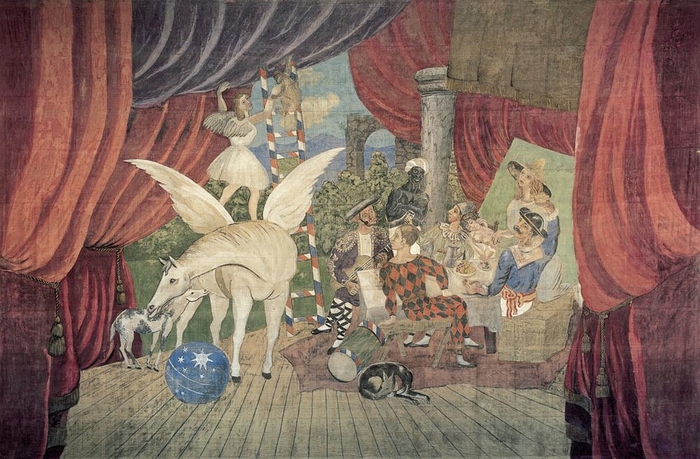 Cocteau's short, one-act scenario presents us with a troupe of carnival performers trying to entice passersby into their shows. They are unsuccessful, this troupe, consisting of a Chinese magician,  young American girl, a pair of acrobats, a horse, and several dancers in huge cardboard cubist costumes so heavy and awkward they can hardly move.
But "if anyone found Picasso's costume designs a bit wacky, they'd sure be pleased with his gorgeous set designs," Museworthy notes, pointing out the backdrop above. Indeed it was hardly unusual for an avant-garde modernist painter to design for the ballet; "Salvador Dali, Marc Chagall, Andre Derain, Joan Miro, and Léon Bakst all worked on costumes and scenery, much of it for the Ballets Russes."
But there was something especially infuriating about this piece for audiences. (You can see an excerpt from a recent production at the top, and a low quality video of a longer performance above.) The premiere provoked an even bigger riot than Stravinsky's The Rite of Spring had four years earlier. It's said that Erik Satie was slapped in the face by an angry attendee. "Critics weren't much kinder than the masses," Museworthy adds. After one scathing review, Satie sent the critic angry postcards calling him a "blockhead," "cretin," and an "arse." He was convicted of libel but managed to evade a prison sentence.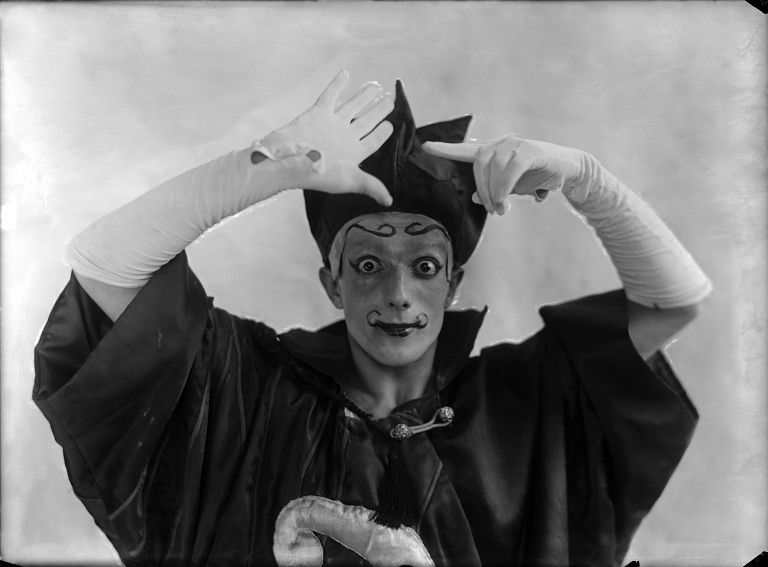 Picasso, on the other hand, "came out of the Parade debacle quite well" and would marry one of the dancers, Olga Khokhlova the following year. His highly-regarded design and costuming partly inspired the poet Guillaume Apollinaire to coin in his program notes the word "surrealism" before Surrealism became an artistic phenomenon in Paris. As such, Parade should maybe be required viewing for every student of Surrealist art, dance, film, etc. from Dali to David Lynch.
Related Content:
Watch an Avant-Garde Bauhaus Ballet in Brilliant Color, the Triadic Ballet First Staged by Oskar Schlemmer in 1922
A Sonic Introduction to Avant-Garde Music: Stream 145 Minutes of 20th Century Art Music, Including Modernism, Futurism, Dadaism & Beyond
Hear Igor Stravinsky's Symphonies & Ballets in a Complete, 32-Hour, Chronological Playlist
Josh Jones is a writer and musician based in Durham, NC. Follow him at @jdmagness