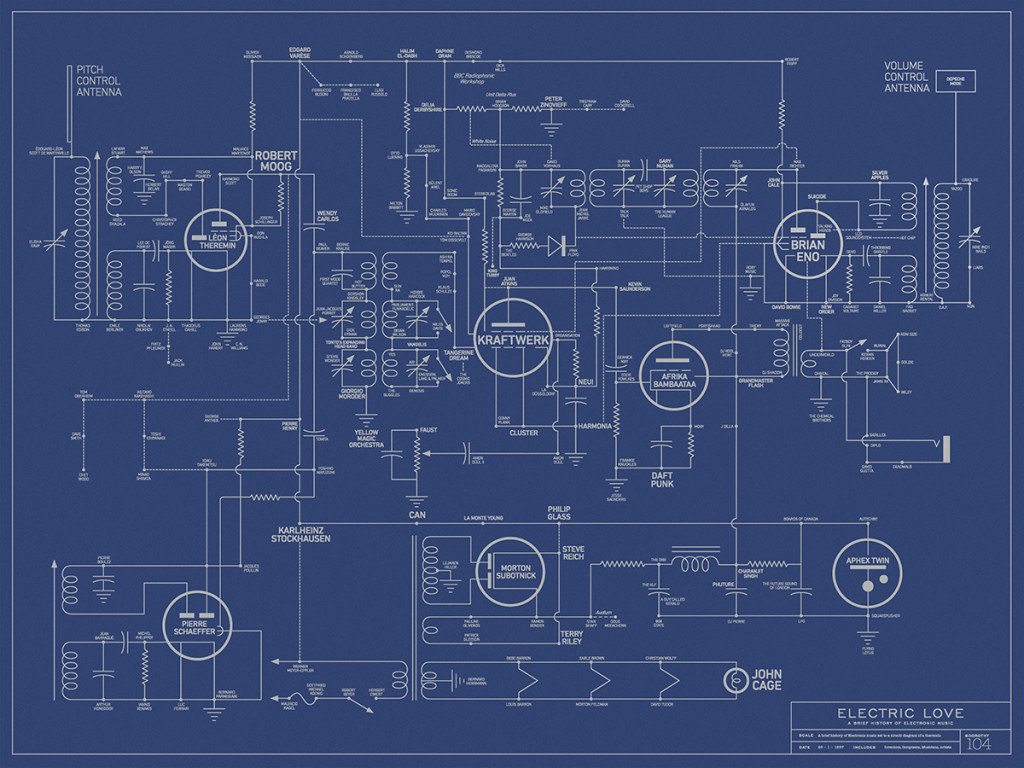 No his­tor­i­cal leap for­ward has changed human cul­ture more than the har­ness­ing and com­mer­cial­iza­tion of elec­tric­i­ty. It may seem banal to point out such a truism—of course, noth­ing in the mod­ern world would be what it is with­out the furi­ous activ­i­ty of Thomas Edi­son, Niko­la Tes­la, and so many oth­er inven­tors and ear­ly elec­tri­cal engi­neers. But the scope of electricity's role in the music of the past hun­dred plus years becomes tru­ly awe-inspir­ing when we see it mapped out in the blue­print-like graph­ic above, "Elec­tric Love," inspired by cir­cuit dia­grams from the 1950s for a Theremin. (You can view the graph­ic in a larg­er, zoomable fash­ion here.)
As we not­ed in an ear­li­er post, design­er of "Elec­tric Love" James Quail has cre­at­ed a sim­i­lar dia­gram for Alter­na­tive and Indie rock, based on the cir­cuit lay­out for a 1954 tran­sis­tor radio. In the elec­tron­ic music ver­sion here, not only does Quail draw on old­er tech­nol­o­gy, but he reach­es back to ear­li­er ances­tors as well: to Edi­son, Alexan­der Gra­ham Bell rival Elisha Gray, and Édouard-Léon Scott de Mar­t­inville, inven­tor of the obscure ear­ly record­ing device the pho­nau­to­graph.
It's a choice that fore­grounds just how much tech­ni­cians and engi­neers con­tributed direct­ly to the sound of the mod­ern world. Among them, of course, is the late Robert Moog, inven­tor of the portable ana­log syn­the­siz­er that become ubiq­ui­tous in near­ly every genre of mod­ern music, and whose work "was actu­al­ly based," notes Wired, "on tech­nol­o­gy from the 1800s."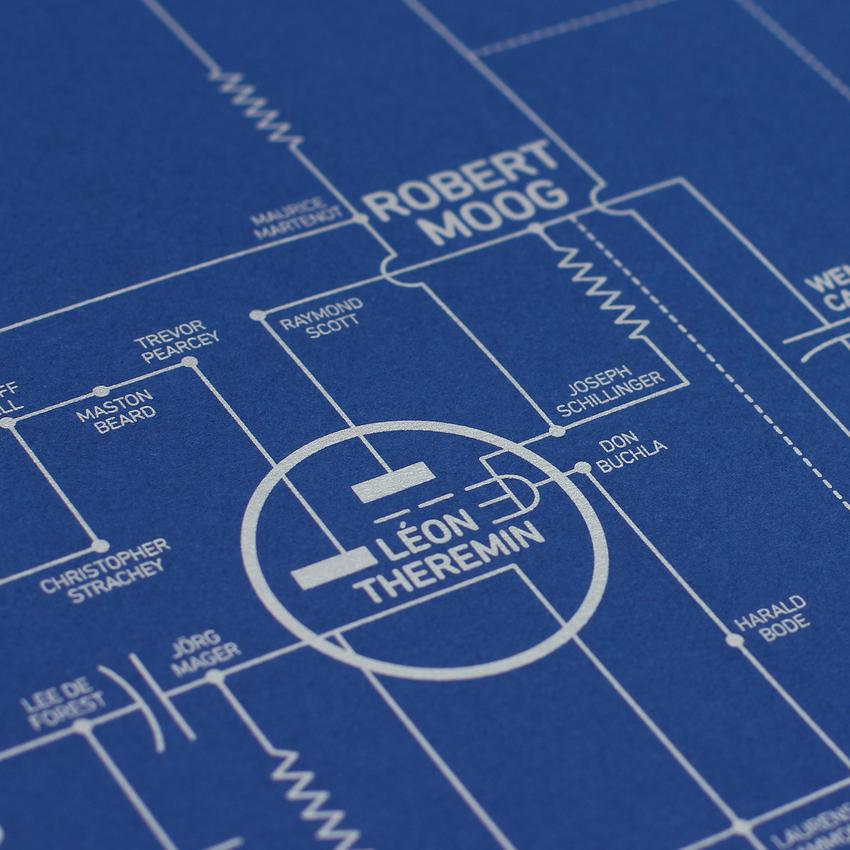 When it comes to the musi­cians who took this tech­nol­o­gy and trans­formed it into avant-gardism and dance records, the rela­tion­ships are com­plex and per­haps impos­si­ble to ful­ly rep­re­sent in sim­ple terms giv­en the num­ber of indi­rect influ­ences through sam­pling tech­nol­o­gy. But "Elec­tric Love" does an admirable job of show­ing how dif­fuse and diverse the music made by ana­log and dig­i­tal tech­nol­o­gy has been. From the musique con­crete of Pierre Schaf­fer, the exper­i­men­tal­ism of Karl­heinz Stock­hausen and Arnold Schoen­berg, com­mer­cial avant-garde of Delia Der­byshire and Wendy Car­los, min­i­mal­ism of Steve Reich and Philip Glass, new wave of Kraftwerk, house and hip hop of Der­rick May, Afri­ka Bam­baataa and Kool DJ Herc, ambi­ent sound­scapes of Bri­an Eno, jit­tery elec­tron­i­ca of Aphex Twin, syn­th­pop of Depeche Mode and New Order…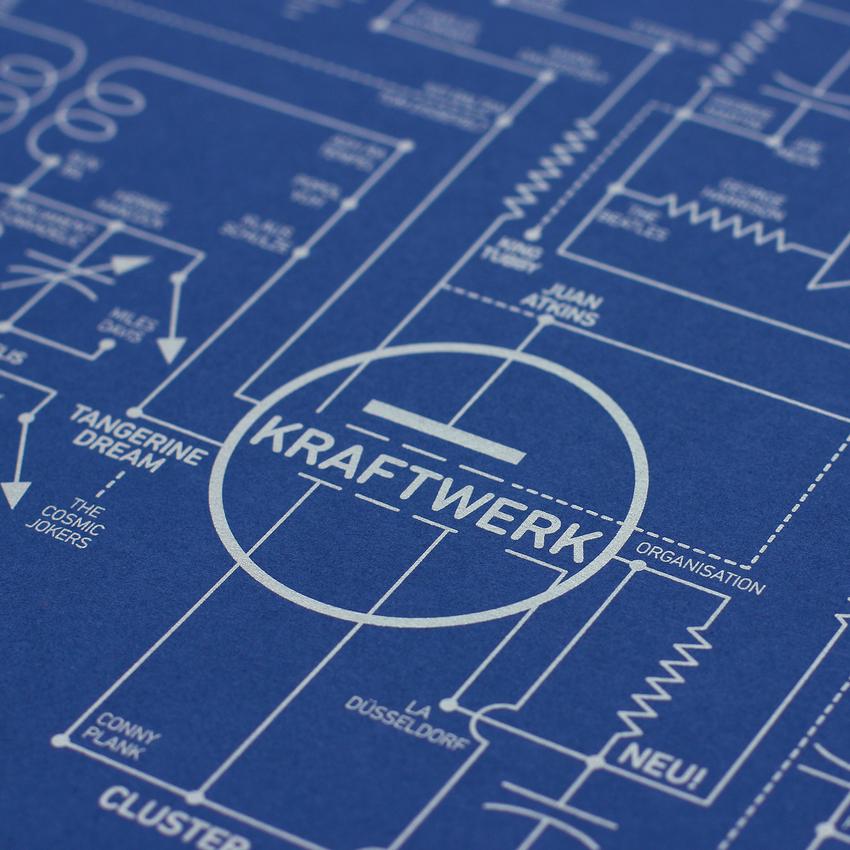 It's seem­ing­ly all there, and every­thing in-between, con­nect­ed, Quail says, accord­ing to "com­mon link[s]—whether that's a style, or an instru­ment, or an influ­ence on one anoth­er." Even The Bea­t­les and Pink Floyd show up, pre­sum­ably for their cre­ative stu­dio exper­i­ments. On the whole, how­ev­er, most of the small­er names here are much less famil­iar by com­par­i­son to Quail's Alter­na­tive chart, but for true fans of elec­tron­ic music, this only means there's more to dis­cov­er in this visu­al com­pendi­um of "over 200 inven­tors, inno­va­tors, artists, com­posers and musi­cians." You can pur­chase "Elec­tric Love" as a print from design house Dorothy.
Relat­ed Con­tent:
A His­to­ry of Alter­na­tive Music Bril­liant­ly Mapped Out on a Tran­sis­tor Radio Cir­cuit Dia­gram: 300 Punk, Alt & Indie Artists
The His­to­ry of Elec­tron­ic Music, 1800–2015: Free Web Project Cat­a­logues the Theremin, Fairlight & Oth­er Instru­ments That Rev­o­lu­tion­ized Music
The His­to­ry of Elec­tron­ic Music, 1800–2015: Free Web Project Cat­a­logues the Theremin, Fairlight & Oth­er Instru­ments That Rev­o­lu­tion­ized Music
The His­to­ry of Elec­tron­ic Music in 476 Tracks (1937–2001)
Josh Jones is a writer and musi­cian based in Durham, NC. Fol­low him at @jdmagness