Long before World of War­craft, before Everquest and Sec­ond Life, and even before Ulti­ma Online, com­put­er-gamers of the 1980s look­ing for an online world to explore with oth­ers of their kind could fire up their Com­modore 64s, switch on their dial-up modems, and log into Habi­tat. Brought out for the Com­modore online ser­vice Quan­tum Link by Lucas­film Games (lat­er known as the devel­op­er of such clas­sic point-and-click adven­ture games as Mani­ac Man­sion and The Secret of Mon­key Island, now known as Lucasarts), Habi­tat debuted as the very first large-scale graph­i­cal vir­tu­al com­mu­ni­ty, blaz­ing a trail for all the mas­sive­ly mul­ti­play­er online role-play­ing games (or MMORPGs) so many of us spend so much of our time play­ing today.
Designed, in the words of cre­ators Chip Morn­ingstar and F. Ran­dall Farmer, to "sup­port a pop­u­la­tion of thou­sands of users in a sin­gle shared cyber­space," Habi­tat pre­sent­ed "a real-time ani­mat­ed view into an online sim­u­lat­ed world in which users can com­mu­ni­cate, play games, go on adven­tures, fall in love, get mar­ried, get divorced, start busi­ness­es, found reli­gions, wage wars, protest against them, and exper­i­ment with self-gov­ern­ment." All that hap­pened and more with­in the ser­vice's vir­tu­al real­i­ty dur­ing its pilot run from 1986 to 1988. The fea­tures both cau­tious­ly and reck­less­ly imple­ment­ed by Habi­tat's devel­op­ers, and the feed­back they received from its users, laid down the tem­plate for all the more advanced graph­i­cal online worlds to come.
At the top of the post, you can watch Lucas­film's orig­i­nal Habi­tat pro­mo­tion­al video promise a "strange new world where names can change as quick­ly as events, sur­pris­es lurk at every turn, and the keynotes of exis­tence are fan­ta­sy and fun," one where "thou­sands of avatars, each con­trolled by a dif­fer­ent human, can con­verge to shape an imag­i­nary soci­ety." (All per­formed, the nar­ra­tor notes, "with the coop­er­a­tion of a huge main­frame com­put­er in Vir­ginia.") The form this soci­ety even­tu­al­ly took impressed Habi­tat's cre­ators as much as any­one, as Farmer writes in his "Habi­tat Anec­dotes" from 1988, an exam­i­na­tion of the most mem­o­rable hap­pen­ings and phe­nom­e­na among its users.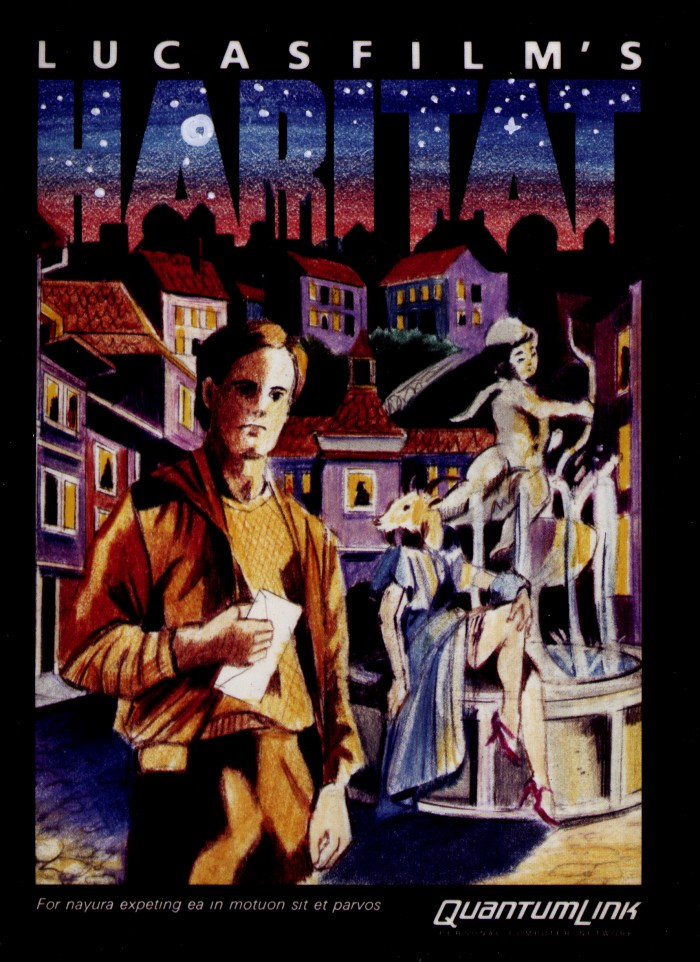 Farmer found he could group those users into five now-famil­iar cat­e­gories: the Pas­sives (who "want to 'be enter­tained' with no effort, like watch­ing TV"), the Active (whose "biggest prob­lem is over­spend­ing"), the Moti­va­tors (the most valu­able users, for they "under­stand that Habi­tat is what they make of it"), the Care­tak­ers (employ­ees who "help the new users, con­trol per­son­al con­flicts, record bugs" and so on), and the Geek Gods (the vir­tu­al world's all-pow­er­ful admin­is­tra­tors). Some­times every­one got along smooth­ly, and some­times — inevitably, giv­en that every­one had to define the prop­er­ties of this brand new medi­um even as they expe­ri­enced it — they did­n't.
"At first, dur­ing ear­ly test­ing, we found out that peo­ple were tak­ing stuff out of oth­ers' hands and shoot­ing peo­ple in their own homes," Farmer writes. Lat­er, a Greek Ortho­dox Min­is­ter opened Habi­tat's first church, but "I had to even­tu­al­ly put a lock on the Church's front door because every time he dec­o­rat­ed (with flow­ers), some­one would steal and pawn them while he was not logged in!" This cit­i­zen-gov­erned vir­tu­al soci­ety even­tu­al­ly elect­ed a sher­iff from among its users, though the design­ers could nev­er quite decide what pow­ers to grant him. Oth­er sur­pris­ing­ly "real world" insti­tu­tions devel­oped, includ­ing a news­pa­per whose user-pub­lish­er "tire­less­ly spent 20–40 hours a week com­pos­ing a 20, 30, 40 or even 50 page tabloid con­tain­ing the lat­est news, events, rumors, and even fic­tion­al arti­cles."
Though devel­op­ing this then-advanced soft­ware for "the ludi­crous Com­modore 64" posed a seri­ous tech­ni­cal chal­lenge, write Farmer and Morn­ingstar in their 1990 paper "The Lessons of Lucas­film's Habi­tat," the real work began when the users logged on. All the avatars need­ed hous­es, "orga­nized into towns and cities with asso­ci­at­ed traf­fic arter­ies and shop­ping and recre­ation­al areas" with "wilder­ness areas between the towns so that every­one would not be jammed togeth­er into the same place." Most of all, they need­ed inter­est­ing places to vis­it, "and since they can't all be in the same place at the same time, they need­ed a lot of inter­est­ing places to vis­it. [ … ] Each of those hous­es, towns, roads, shops, forests, the­aters, are­nas, and oth­er places is a dis­tinct enti­ty that some­one needs to design and cre­ate. Attempt­ing to play the role of omni­scient cen­tral plan­ners, we were swamped."
All this, the cre­ators dis­cov­ered, required them to stop think­ing like the engi­neers and game design­ers they were, giv­ing up all hope of rig­or­ous cen­tral plan­ning and world-build­ing in favor of fig­ur­ing out the trick­er prob­lem of how, "like the cruise direc­tor on an ocean voy­age," to make Habi­tat fun for every­one. Farmer faces that ques­tion again today, hav­ing launched the open-source Neo­Hab­i­tat project ear­li­er this year with the aim of reviv­ing the Habi­tat world for the 21st cen­tu­ry. As much progress as graph­i­cal mul­ti­play­er online games have made in the past thir­ty years, the con­clu­sion Farmer and Morn­ingstar reached after their expe­ri­ence cre­at­ing the first one holds as true as ever: "Cyber­space may indeed change human­i­ty, but only if it begins with human­i­ty as it real­ly is."
Relat­ed Con­tent:
Free: Play 2,400 Vin­tage Com­put­er Games in Your Web Brows­er
Long Live Glitch! The Art & Code from the Game Now Released into the Pub­lic Domain
Tim­o­thy Leary Plans a Neu­ro­mancer Video Game, with Art by Kei­th Har­ing, Music by Devo & Cameos by David Byrne
Based in Seoul, Col­in Mar­shall writes and broad­casts on cities and cul­ture. He's at work on a book about Los Ange­les, A Los Ange­les Primer, the video series The City in Cin­e­ma, the crowd­fund­ed jour­nal­ism project Where Is the City of the Future?, and the Los Ange­les Review of Books' Korea Blog. Fol­low him on Twit­ter at @colinmarshall or on Face­book.