Have you prepared yourself to return, this Sunday, to Twin Peaks, that small Washington town, so well known for its coffee and cherry pie, once rocked by the murder of homecoming queen Laura Palmer? Fans of the eponymous television series, which first made surreal prime-time television history on ABC in 1990, have binge-watched and re-binge-watched its original two seasons in advance of the new Twin Peaks' May 21st debut on Showtime. Even fans who disliked the second season, in which series creators David Lynch and Mark Frost gave in to network pressure to resolve the story of Palmer's murder, have re-watched it, and with great excitement.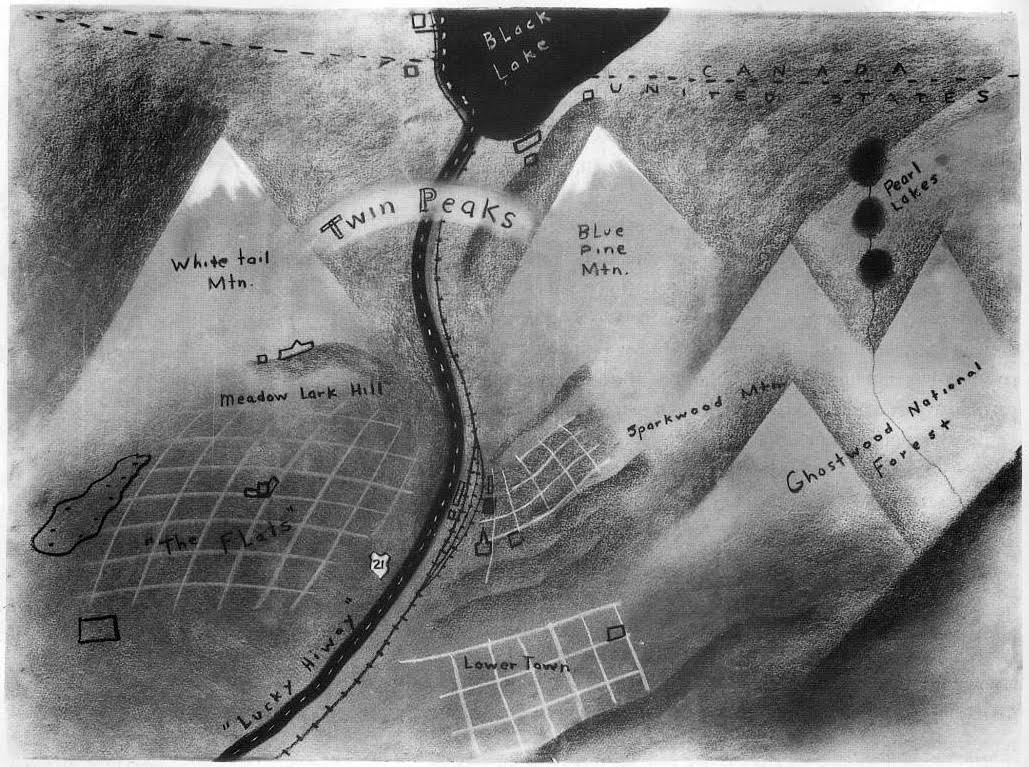 But can simply watching those first thirty episodes (and maybe the follow-up feature film Twin Peaks: Fire Walk with Me, once booed at Cannes, the very same festival which will screen the first two parts of the new Twin Peaks on the 25th) suffice?
Get $100 off of Coursera Plus until January 20. Details here.
To get yourself as deep into the show's reality as possible, we recommend dipping into the Twin Peaks material we've posted over the years here at Open Culture, beginning with the four-hour video essay on the series' making and mythology we featured just this past January. You can orient yourself by keeping an eye on Lynch's hand-drawn map of the the town of Twin Peaks, which he used to pitch the show to ABC in the first place, and which appears just above.
But Twin Peaks has its foundation as much in music as in geography. Just above, you can hear composer Angelo Badalamenti, a frequent collaborator with Lynch, tell the story of how he and the director composed the show's famous "Love Theme," which not only made an impact on the televisual zeitgeist but set the tone for the everything to follow.  "It's the mood of the whole piece," Lynch once said of the composition, "It is Twin Peaks." Badalamenti has scored the new series as well, joining the long list of returnees to the project that includes not just Lynch and Frost, but Kyle MacLachlan as FBI Special Agent Dale Cooper and many others from the original cast as well, including the late Miguel Ferrer and Warren Frost.
"There's so much more to Twin Peaks than a riveting murder mystery," says Alan Thicke, another performer no longer with us, hosting the 1990 behind-the-scenes preview of the show's second season just above. "There's a whole look and a feel and a texture," an experience "180 degrees away from anything else on television." As dramatically as televisual possibilities have expanded over the past 27 years, it seems safe to say that the continuation of Twin Peaks, which comes after such expansions of its fictional universe as Frost's Secret History of Twin Peaks, will maintain a similar creative distance from the rest of what's on the air. "The one thing I feel I can say with total confidence," to paraphrase David Foster Wallace writing about Lost Highway twenty years ago, is that the new Twin Peaks will be… Lynchian.
Above, you can watch a mini-season of Twin Peaks, which also doubles as a series of Japanese coffee commercials. They, too, come courtesy of David Lynch. And below, watch "Previously, on Twin Peaks…", an abbreviated, 55-minute refresher on what happened during the first two seasons of the show. (It comes to us via WelcometoTwinPeaks.) Also you can read a recap of every episode over at The New York Times.
Related Content:
Watch an Epic, 4-Hour Video Essay on the Making & Mythology of David Lynch's Twin Peaks
Hear 20 Minutes of Mark Frost's New Secret History of Twin Peaks, the Book Fans Have Waited 25 Years to Read
David Lynch Draws a Map of Twin Peaks (to Help Pitch the Show to ABC)
Angelo Badalamenti Reveals How He and David Lynch Composed the Twin Peaks' "Love Theme"
David Lynch Directs a Mini-Season of Twin Peaks in the Form of Japanese Coffee Commercials
Based in Seoul, Colin Marshall writes and broadcasts on cities and culture. He's at work on a book about Los Angeles, A Los Angeles Primer, the video series The City in Cinema, the crowdfunded journalism project Where Is the City of the Future?, and the Los Angeles Review of Books' Korea Blog. Follow him on Twitter at @colinmarshall or on Facebook.