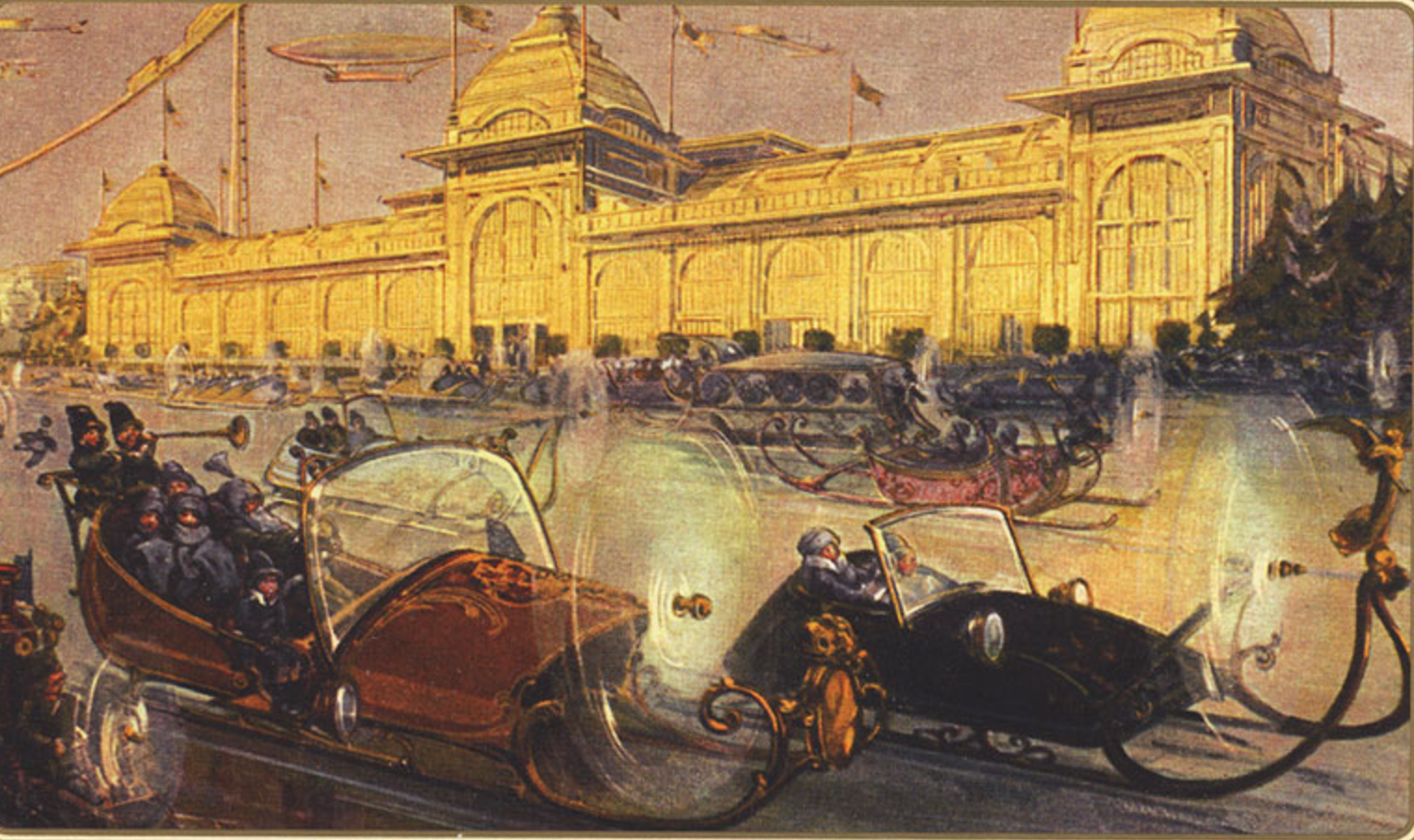 In the days of popular retrofuturism—say, the first half of the twentieth century—people tended to imagine the world of tomorrow looking very much like the world of today, only with a lot more flying cars, monorails, and videophones. This is true whether those doing the imagining were titans of industry, marketing mavens, idealistic Soviets, or subjects of the Tsar, though we might think that people living under an ancient monarchical system might not expect much change. In some ways we might be right, but as we can see in the 1914 postcards here—printed as Russia entered World War I—the country did anticipate a modern, technological future, though one that still closely resembled its present.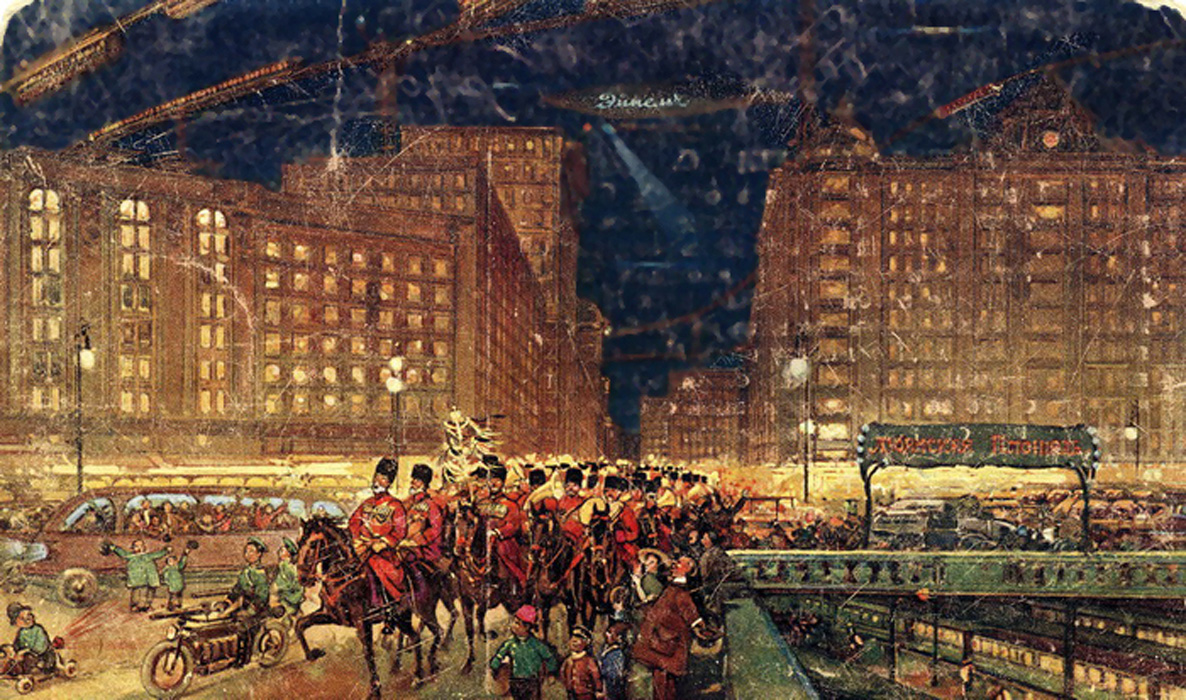 Perhaps few but the most far-sighted of Russians predicted what the ailing empire would endure in the years to come—the disaster of the Great War, and the waves of Revolution and Civil War. Certainly, whoever painted these images foresaw no such catastrophic upheaval.
Although purporting to show us a view of Moscow in the 23rd century, they show the city very happily "still under monarchical rule," writes A Journey Through Russian Culture, going about its daily life just as it did over three hundred years earlier, "with the addition of everything from subways to airborne public transportation, things probably seen as standard methods of transport for the future."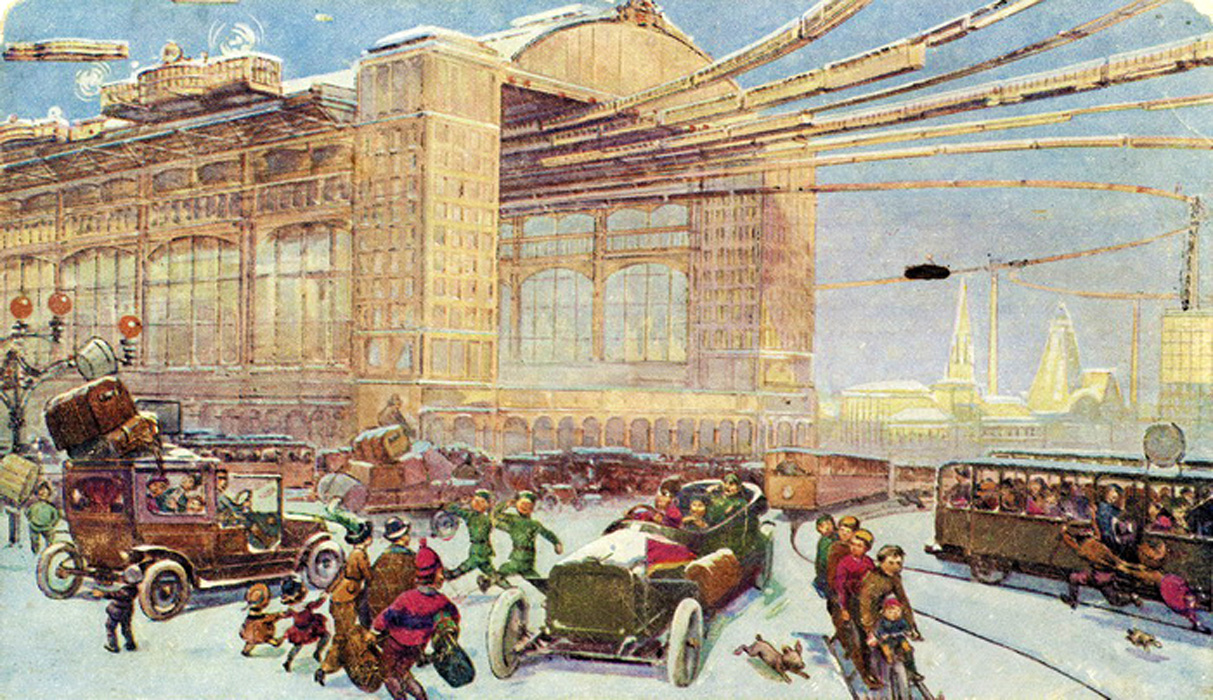 Of course, there would be hot-rodded sleds on St. Petersburg Highway with headlights, fancy windshields, and what look like Christmas elves perched in them. Lubyanska Square, further up, would still host military parades of men on horseback, as children whizzed by on motorbikes and subway trains rumbled underneath. The Central Railway Station, above, might seem entirely unchanged, until one looks up, and sees elevated trams streaming out of the terminal like spider's silk. Red Square, however, just below, would apparently host drag races, while people in trams and giant dirigibles looked on from above.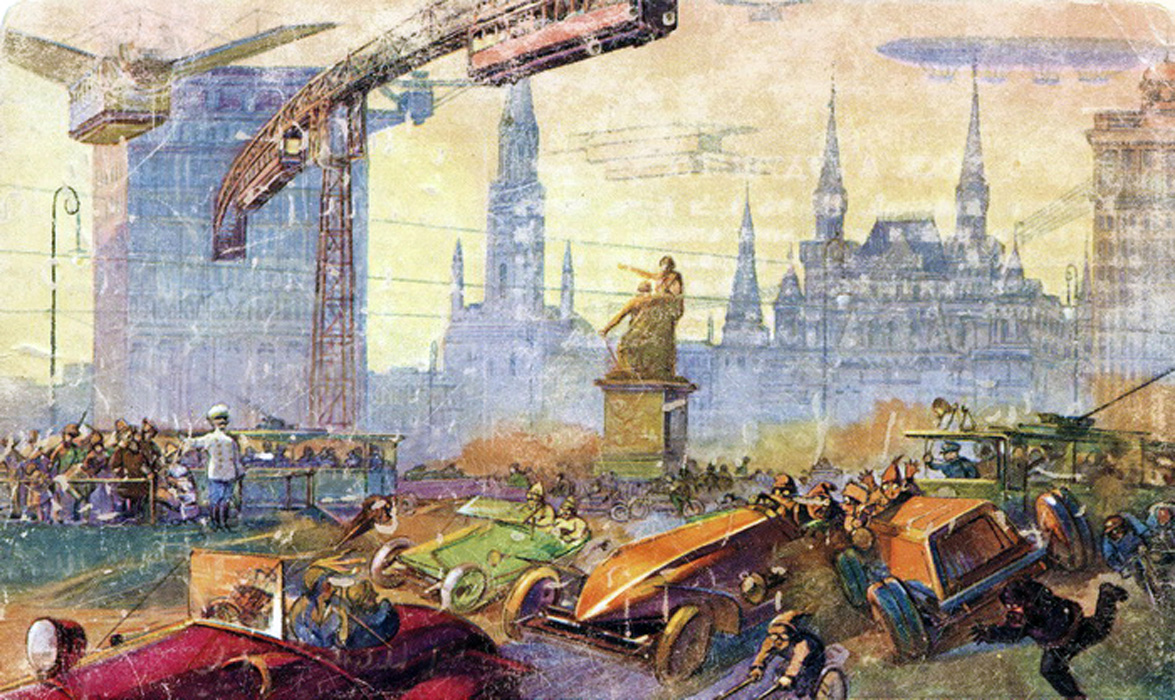 The images have a children's book quality about them and the festive air of holiday cards. (If you read Russian, you can learn more about them here and here.) They were apparently rediscovered only recently when a chocolate company called Eyinem reprinted them on their packaging. Like so much retrofuturism, these seem—in their bustling, yet safe, cheerful orderliness—tailor-made for nostalgic trips through Petrovsky Park, rather than imaginative leaps into the great unknown. For that, we must turn to Russian Futurism, which, both before and after World War and the Revolution, imagined, helped bring about, but didn't quite survive the massive technological and political disruption of the next two decades.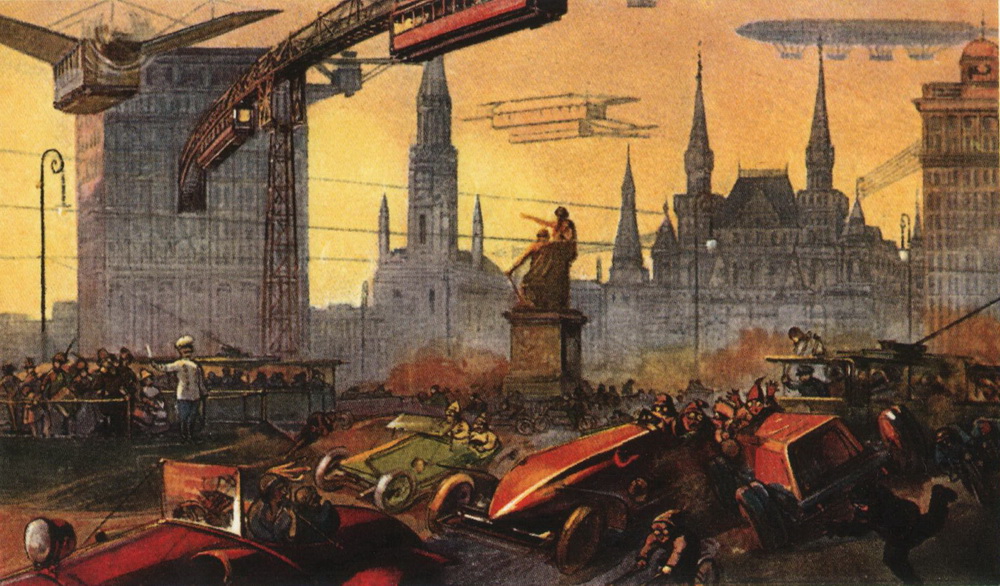 See more of these Tsarist-futurist postcards at the site Meet the Slavs.
Related Content:
Soviet Artists Envision a Communist Utopia in Outer Space
How the Soviets Imagined in 1960 What the World Would Look in 2017: A Gallery of Retro-Futuristic Drawings
Download Russian Futurist Book Art (1910-1915): The Aesthetic Revolution Before the Political Revolution
Josh Jones is a writer and musician based in Durham, NC. Follow him at @jdmagness