Leonardo da Vinci, the most accomplished example of the polymathic, artist-engineer "Renaissance man," came up with an astonishing number of inventions great and small in the late 15th and early 16th century, from the helicopter to the musical viola organista, the tank to the automated bobbin winder. Even the devices he was born too late to invent, he improved: humans had crossed the humble bridge, for instance, for countless centuries, but then Leonardo created a new, self-supporting variety whose design, as followed by a kid and his dad in the video above, still impresses today.
"With a series of wooden poles and beams, 'Stick-Boy' shows his Dad how to build Leonardo da Vinci's self-supporting arch bridge, also known as the emergency bridge," say the description by Rion Nakaya at The Kid Should See This. "No nails, screws, rope, glues, notches, or other fasteners are holding the bridge in place… just friction and gravity."
Clearly it works, but how? According to a post at the blog ArchiScriptor on self-supporting structures, all such bridges, from Leonardo's on down, really do rely on only those two forces. "Notches in the members make it easier to construct, but strictly speaking aren't necessary as long as there is some friction. Gravity will do the rest."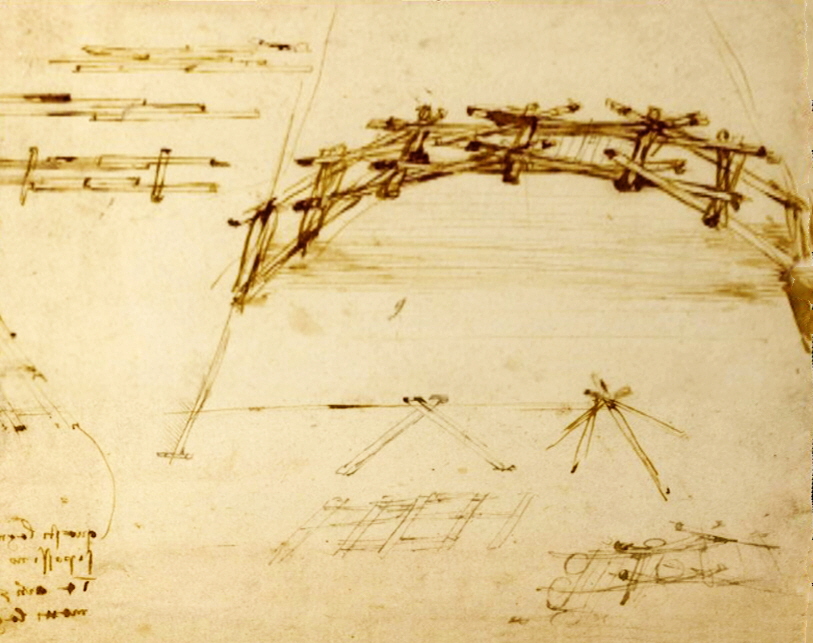 Leonardo, the post continues, "explored two forms of the structure – a bridge and a dome. His work was commissioned by the Borgia family, with the mandate to design light and strong structures which could be built and taken down quickly. This was to aid them in their constant struggle for power with the Medici family in Renaissance Italy." The site of the Leonardo3 Museum adds, "we do not know whether this bridge was ever put to practical use, but it is not hard to believe that such a modular construction, extremely easy to transport and to assemble, must have met with great favor from the Renaissance lords who were always on the lookout for new technologies to put to military use."
Leonardo himself called this "the bridge of safety," and it counts as only one of the ingenious bridges he designed in his lifetime. For the Duke Sforza he also invented several others including a revolving bridge which, according to Leonardo da Vinci Inventions, "could be quickly packed up and transported for use by armies on the move to pass over bodies of water," could "swing across a stream or moat and set down on the other side so that soldiers could pass with little trouble," and "incorporated a rope-and-pulley system for both quick employment and easy transport." All useful tools indeed for those who once sought military dominance in Italy, but even more beneficial as inspiration for the Renaissance boys and girls of the 21st century.
Related Content:
Leonardo Da Vinci's To Do List (Circa 1490) Is Much Cooler Than Yours
Leonardo da Vinci Draws Designs of Future War Machines: Tanks, Machine Guns & More
Watch Leonardo da Vinci's Musical Invention, the Viola Organista, Being Played for the Very First Time
The Anatomical Drawings of Renaissance Man, Leonardo da Vinci
Leonardo da Vinci's Handwritten Resume (1482)
An Animated History Of Aviation: From da Vinci's Sketches to Apollo 11
Did Leonardo da Vinci Paint a First Mona Lisa Before The Mona Lisa?
Based in Seoul, Colin Marshall writes and broadcasts on cities and culture. He's at work on the book The Stateless City: a Walk through 21st-Century Los Angeles, the video series The City in Cinema, the crowdfunded journalism project Where Is the City of the Future?, and the Los Angeles Review of Books' Korea Blog. Follow him on Twitter at @colinmarshall or on Facebook.