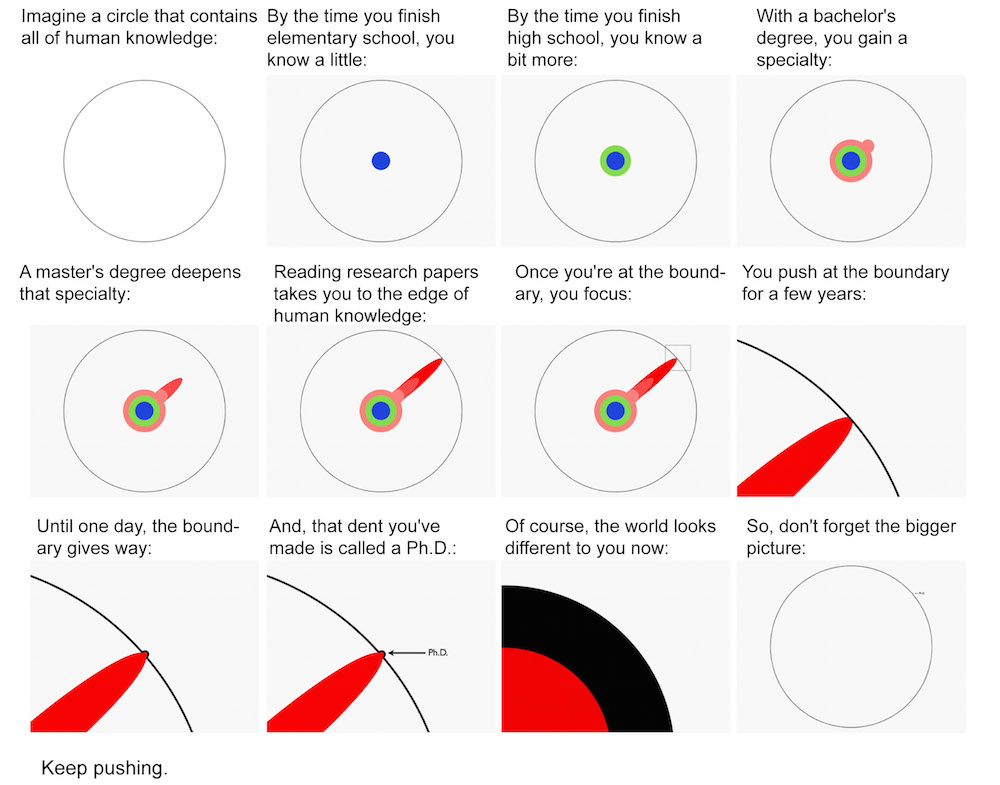 Matthew Might, a com­put­er sci­ence pro­fes­sor at the Uni­ver­si­ty of Utah, writes: "Every fall, I explain to a fresh batch of Ph.D. stu­dents what a Ph.D. is. It's hard to describe it in words. So, I use pic­tures." In his Illus­trat­ed Guide to the PhD, Pro­fes­sor Might cre­ates a visu­al nar­ra­tive that puts the daunt­ing degree into per­spec­tive. Any­one who has already pur­sued a Ph.D. will see the wis­dom in it. (Or at least I did.) And young, aspir­ing aca­d­e­mics would be wise to pay it heed.
You can see a con­densed ver­sion of the the illus­trat­ed guide above. Or fol­low it in a larg­er for­mat below.
Imag­ine a cir­cle that con­tains all of human knowl­edge:
By the time you fin­ish ele­men­tary school, you know a lit­tle:
By the time you fin­ish high school, you know a bit more:
With a bach­e­lor's degree, you gain a spe­cial­ty:
A mas­ter's degree deep­ens that spe­cial­ty:
Read­ing research papers takes you to the edge of human knowl­edge:
Once you're at the bound­ary, you focus:
You push at the bound­ary for a few years:
Until one day, the bound­ary gives way:
And, that dent you've made is called a Ph.D.:
Of course, the world looks dif­fer­ent to you now:
So, don't for­get the big­ger pic­ture:
Keep push­ing.
You can find Mat­t's Illus­trat­ed Guide host­ed on his web site. This guide/reality check is pub­lished under a Cre­ative Com­mons License. You can also buy a print ver­sion for $6.50. The mon­ey goes to char­i­ty.
This guide first appeared on our site in 2012. But, with all of the wis­dom it packs into a small space, it seemed worth bring­ing back.