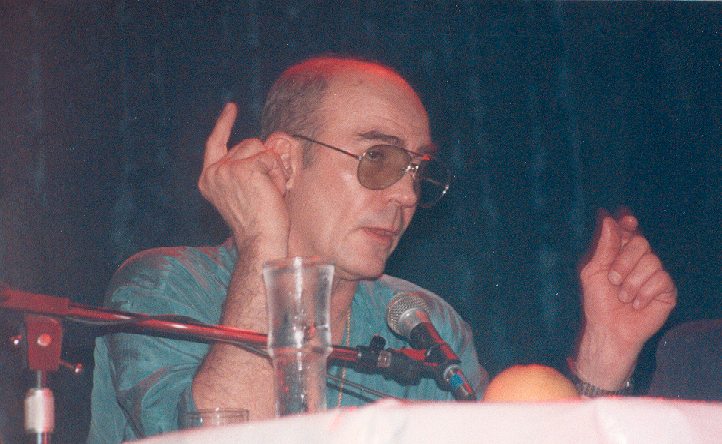 Image via Wiki­me­dia Com­mons
Half a cen­tu­ry ago, Hunter S. Thomp­son got his big jour­nal­is­tic break with a book called Hel­l's Angels: The Strange and Ter­ri­ble Saga of the Out­law Motor­cy­cle Gangs. In it he pro­vid­ed a curi­ous and fear­ful pub­lic with a look into the inner work­ings of one of the most out­ward­ly men­ac­ing social move­ments of the day, based on knowl­edge gained not by mere­ly observ­ing the Hel­l's Angels but by get­ting on a hog and spend­ing a year as a qua­si-mem­ber him­self. This gave him oppor­tu­ni­ty both to devel­op what would become his style of "gonzo jour­nal­ism" in the long form and to catch an ear­ly glimpse of big­ger trou­ble ahead in Amer­i­ca.
"To see the Hell's Angels as care­tak­ers of the old 'indi­vid­u­al­ist' tra­di­tion 'that made this coun­try great' is only a pain­less way to get around see­ing them for what they real­ly are," Thomp­son writes in that book, call­ing them "the first wave of a future that noth­ing in our his­to­ry has pre­pared us to cope with. The Angels are pro­to­types. Their lack of edu­ca­tion has not only ren­dered them com­plete­ly use­less in a high­ly tech­ni­cal econ­o­my, but it has also giv­en them the leisure to cul­ti­vate a pow­er­ful resent­ment… and to trans­late it into a destruc­tive cult which the mass media insists on por­tray­ing as a sort of iso­lat­ed odd­i­ty" des­tined for extinc­tion.
Studs Terkel, after read­ing that pas­sage out loud in a 1967 inter­view with Thomp­son (stream it online here), calls it "the key" to the entire book. "Here we have tech­nol­o­gy, we have the com­put­er, we have labor-sav­ing devices," he says to Thomp­son, but we also "have the need for more and more col­lege edu­ca­tion for almost any kind of job, and we have this tremen­dous mass of young who find them­selves obso­lete." But Thomp­son replies that the real con­se­quences have only start­ed to man­i­fest: "The peo­ple who are being left out and put behind won't be obvi­ous for years. Christ only knows what'll hap­pen in, say, 1985 — a mil­lion Hel­l's Angels. They won't be wear­ing the col­ors; they'll be peo­ple who are just look­ing for vengeance because they've been left behind."
The Angels, wrote Susan McWilliams in a much-cir­cu­lat­ed Nation piece late last year, "were clunky and out­classed and scorned, just like the Harley-David­sons they chose to dri­ve." And "just as there was no ratio­nal way to defend Harleys against for­eign-made chop­pers, the Angels saw no ratio­nal grounds on which to defend their own skills or loy­al­ties against the emerg­ing new world order of the late 20th cen­tu­ry." The result? An "eth­ic of total retal­i­a­tion. The Angels, rather than grace­ful­ly accept­ing their place as losers in an increas­ing­ly tech­ni­cal, intel­lec­tu­al, glob­al, inclu­sive, pro­gres­sive Amer­i­can soci­ety, stuck up their fin­gers at the whole enter­prise. If you can't win, you can at least scare the bejeesus out of the guy wear­ing the medal."
Six years lat­er, Terkel invit­ed Thomp­son back into his stu­dio for anoth­er inter­view (click here to lis­ten) that fol­lowed straight on from the first. Osten­si­bly there to talk about Thomp­son's book Fear and Loathing on the Cam­paign Trail '72 (which fol­lowed his best-known work, Fear and Loathing in Las Vegas), the two, hav­ing cracked open a beer, get into what the Studs Terkel Radio Archive blog describes as "the sense of sur­re­al­ism in 'real' life," which becomes "a very seri­ous con­ver­sa­tion about the direc­tion in which our coun­try was head­ing. After Thomp­son recount­ed his expe­ri­ence of talk­ing to Richard Nixon about foot­ball" — the only sub­ject per­mit­ted — "Studs responds, 'Isn't this what we're faced with now? … That fan­ta­sy and fact become one.' "
What's a reporter to do in such an envi­ron­ment? Terkel seems to see in Thomp­son the per­fect kind of "sub­jec­tive" jour­nal­ist, one "who can make lit­er­al what is psy­chic in our lives," for a time that has lost its own objec­tiv­i­ty. "Has there ever been any such thing as objec­tive jour­nal­ism?" he asks. "It's prob­a­bly the high­est kind of jour­nal­ism, if you can do it." Thomp­son replies. "Nobody I know has ever done it, and I don't have time to learn it." But the dis­tinc­tive suite of jour­nal­is­tic skills he did pos­sess primed him to per­ceive cer­tain real­i­ties — and per­ceive them with a dis­tinc­tive vivid­ness — that have only become more real in the decades since. What, for instance, did he learn from cov­er­ing the 1972 pres­i­den­tial cam­paign? "Pow­er cor­rupts… but it's also a fan­tas­tic high."
Relat­ed Con­tent:
New Ani­ma­tion: Hunter S. Thomp­son Talks with Studs Terkel About the Hell's Angels & The Out­law Life
Hunter S. Thomp­son Gets Con­front­ed by The Hell's Angels: Where's Our Two Kegs of Beer? (1967)
Hunter S. Thompson's Con­spir­a­to­r­i­al 9/11 Inter­view: "The Pub­lic Ver­sion of the News is Nev­er Real­ly What Hap­pened"
Hunter S. Thomp­son Gets in a Gun­fight with His Neigh­bor & Dis­pens­es Polit­i­cal Wis­dom: "In a Democ­ra­cy, You Have to Be a Play­er"
Read 18 Lost Sto­ries From Hunter S. Thompson's For­got­ten Stint As a For­eign Cor­re­spon­dent
Read 11 Free Arti­cles by Hunter S. Thomp­son That Span His Gonzo Jour­nal­ist Career (1965–2005)
Based in Seoul, Col­in Mar­shall writes and broad­casts on cities and cul­ture. He's at work on the book The State­less City: a Walk through 21st-Cen­tu­ry Los Ange­les, the video series The City in Cin­e­ma, the crowd­fund­ed jour­nal­ism project Where Is the City of the Future?, and the Los Ange­les Review of Books' Korea Blog. Fol­low him on Twit­ter at @colinmarshall or on Face­book.