It's become increasingly clear how much we've underestimated the Neanderthals, the archaic humans who evolved in Europe and went extinct about 40,000 years ago. Though we've long used them as a byword for a lumbering, beast-like lack of development and intelligence — compared, of course, to we glorious examples of Homo sapiens — evidence has come to reveal a greater similarity between us and Homo neanderthalensis than we'd imagined. Not only did they develop stone tools, they even invented a kind of "super glue," one that, as you can see in the NOVA segment above, we have difficulty replicating even today.
"Archaeologists first found tar-covered stones and black lumps at Neanderthal sites across Europe about two decades ago," writes the New York Times' Nicholas St. Fleur. "The tar was distilled from the bark of birch trees some 200,000 years ago, and seemed to have been used for hafting, or attaching handles to stone tools and weapons. But scientists did not know how Neanderthals produced the dark, sticky substance, more than 100,000 years before Homo sapiens in Africa used tree resin and ocher adhesives." But in a new study in Scientific Reports, "a team of archaeologists has used materials available during prehistoric times to demonstrate three possible ways Neanderthals could have deliberately made tar."
The process might have looked something like that in the video above, an attempt by archaeologists Wil Roebroeks and Friedrich Palmer to make this of oldest known synthetic material just as the Neanderthals might have executed it. Their only materials: "an upturned animal skull to catch the pitch; a small stone on which the pitch would condense; some rolls of birch bark, the source of the pitch; and a layer of ash, to exclude oxygen and prevent the bark from burning."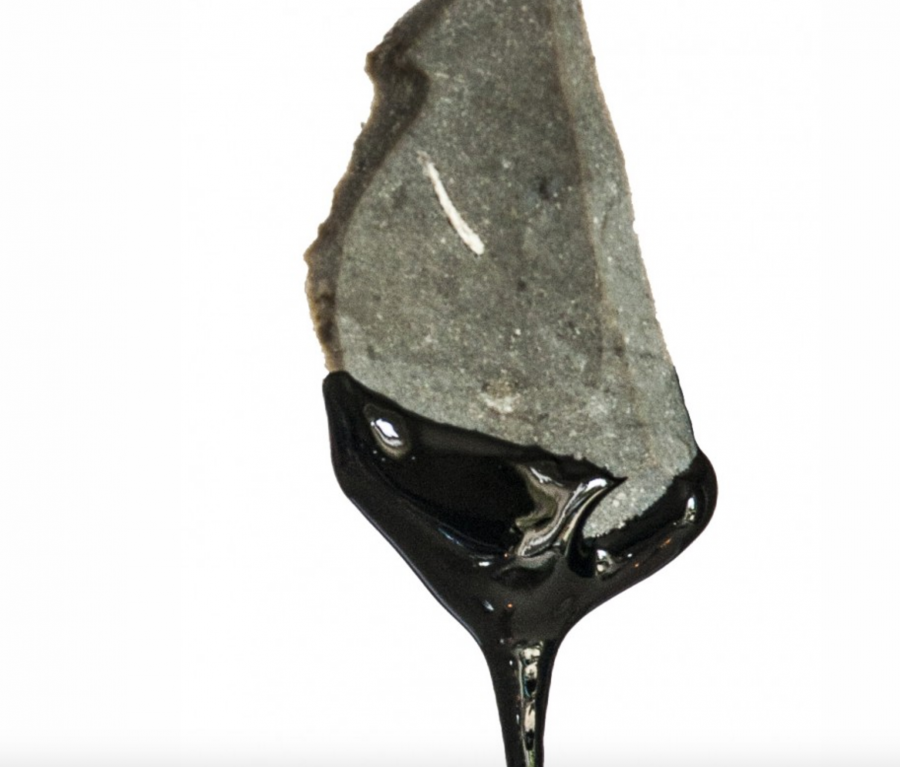 Image by Paul Kozowyk
They technically get it to work, managing to heat the bark to just the right temperature, but the experiment doesn't produce very much of this ancient super glue — certainly not as much as Neanderthals would have used to make spears, which might turn out to have been the very first industrial process in history. Innovation, in the 21st century as well as 250,000 years ago, does tend to come from unexpected places.
You can read more about archeologists latest theories on the making of Neanderthal super glue over at Scientific Reports.
Related Content:
What Did the Voice of Neanderthals, Our Distant Cousins, Sound Like?: Scientists Demonstrate Their "High Pitch" Theory
Hear the World's Oldest Instrument, the "Neanderthal Flute," Dating Back Over 43,000 Years
Richard Dawkins Explains Why There Was Never a First Human Being
Based in Seoul, Colin Marshall writes and broadcasts on cities and culture. He's at work on the book The Stateless City: a Walk through 21st-Century Los Angeles, the video series The City in Cinema, the crowdfunded journalism project Where Is the City of the Future?, and the Los Angeles Review of Books' Korea Blog. Follow him on Twitter at @colinmarshall or on Facebook.