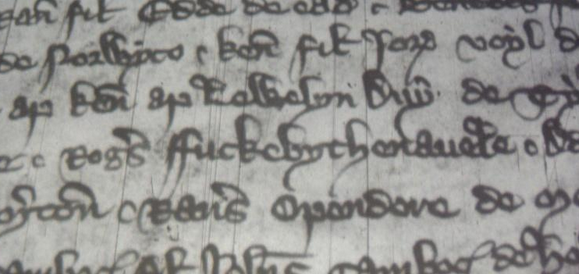 Pho­to by Paul Booth
You val­ue deco­rum, pro­pri­ety, elo­quence, you trea­sure le mot juste and ago­nize over dic­tion as you com­pose polite but strong­ly-word­ed let­ters to the edi­tor. But alas, my lit­er­ate friend, you have the mis­for­tune of liv­ing in the age of Twit­ter, Tum­blr, et al., where the favored means of com­mu­ni­ca­tion con­sists of ready­made mimet­ic words and phras­es, pho­tos, videos, and ani­mat­ed gifs. World lead­ers trade insults like 5th graders—some of them do not know how to spell. Respect­ed sci­en­tists and jour­nal­ists debate anony­mous strangers with car­toon avatars and work-unsafe pseu­do­nyms. Some of them are robots.
What to do?
Embrace it. Insert well-placed pro­fan­i­ties into your com­mu­niqués. Indulge in bawdi­ness and rib­aldry. You may notice that you are doing no more than writ­ers have done for cen­turies, from Rabelais to Shake­speare to Voltaire. Pro­fan­i­ty has evolved right along­side, not apart from, lit­er­ary his­to­ry. T.S. Eliot, for exam­ple, knew how to go low­brow with the best of them, and gets cred­it for the first record­ed use of the word "bull­shit." As for anoth­er, even more fre­quent­ly used epi­thet in 24-hour online commentary?—well, the word "F*ck" has a far longer his­to­ry, grant­i­ng its apt pub­lic use recent­ly by seis­mol­o­gist Steven Gib­bons an added author­i­ty.
Not long ago we alert­ed you to the first known use of the ver­sa­tile obscen­i­ty in a 1528 mar­gin­al note scrib­bled in Cicero's De Offici­is by a monk curs­ing his abbot. Not long after this dis­cov­ery, notes Medievalists.net, anoth­er schol­ar found the word in a 1475 poem called Flen fly­ys. This was thought to be the ear­li­est appear­ance of "f*ck" as a pure­ly sex­u­al ref­er­ence until medieval his­to­ri­an Paul Booth of Keele Uni­ver­si­ty dis­cov­ered an instance dat­ing over a hun­dred years ear­li­er. Rather than with­in, or next to, a work of lit­er­a­ture, how­ev­er, the word appears in a set of 1310 Eng­lish court records. And no, it is decid­ed­ly not a legal term.
The doc­u­ments con­cern the case of "a man named Roger Fucke­bythenavele." Used three times in the record, the name, says Booth, is prob­a­bly not a joke made by the scribe but some kind of bizarre nick­name, though one hopes not a descrip­tion of the crime. "Either it refers to an inex­pe­ri­enced cop­u­la­tor, refer­ring to some­one try­ing to have sex with a navel," says Booth, stat­ing the obvi­ous, "or it's a rather extrav­a­gant expla­na­tion for a dimwit, some­one so stu­pid they think that this is the way to have sex." Our medieval gent had oth­er prob­lems as well. He was called to court three times with­in a year before being pro­nounced "out­lawed," which The Inde­pen­dent's Loul­la-Mae Eleft­he­ri­ou-Smith sug­gests exe­cu­tion but prob­a­bly refers to ban­ish­ment.
For the word to have such casu­al­ly hilar­i­ous or insult­ing cur­ren­cy in the ear­ly 14th cen­tu­ry, it must have come from an even ear­li­er time. Indeed, "f*ck is a word of Ger­man ori­gin," notes Jesse Shei­d­low­er, author of an ety­mo­log­i­cal his­to­ry called The F Word, "relat­ed to words in sev­er­al oth­er Ger­man­ic lan­guages, such as Dutch, Ger­man, and Swedish, that have sex­u­al mean­ings as well as mean­ing such as 'to strike' or 'to move back and forth'" (nat­u­ral­ly). So, in oth­er words, it's just a word. But in this case it might have also been a weapon, Booth spec­u­lates, wield­ed "by a revenge­ful for­mer girl­friend. Four­teenth-cen­tu­ry revenge porn per­haps…" If that's not evi­dence for you that the present may not be unlike the past, then maybe take note of the appear­ance of the word "twerk" in 1820.
Relat­ed Con­tent:
Young T.S. Eliot Writes "The Tri­umph of Bullsh*t" and Gives the Eng­lish Lan­guage a New Exple­tive (1910)
Steven Pinker Explains the Neu­ro­science of Swear­ing (NSFW)
Stephen Fry, Lan­guage Enthu­si­ast, Defends The "Unnec­es­sary" Art Of Swear­ing
Josh Jones is a writer and musi­cian based in Durham, NC. Fol­low him at @jdmagness