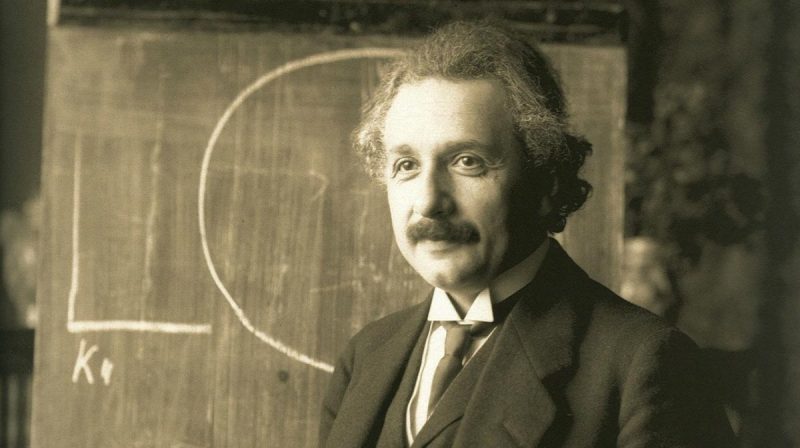 Image by Fer­di­nand Schmutzer, via Wiki­me­dia Com­mons
The con­cept of one-world gov­ern­ment has long been a sta­ple of vio­lent apoc­a­lyp­tic prophe­cy and con­spir­a­cy the­o­ries involv­ing var­i­ous popes, the UN, FEMA, the Illu­mi­nati, and lizard peo­ple. In the real world, one-world gov­ern­ment has been a goal of the glob­al Com­intern and many of the cor­po­rate oli­garchs who tri­umphed over the Sovi­ets in the Cold War. For good rea­son, perhaps—with the excep­tion of sci-fi utopias like Gene Roddenberry's Star Trek—we gen­er­al­ly tend to think of glob­al gov­ern­ment as a threat­en­ing idea. But that has not always been the case, or least it wasn't for Albert Ein­stein who pro­posed glob­al gov­er­nance after the drop­ping of atom­ic bombs on Hiroshi­ma and Nagasa­ki.
Einstein's role in the devel­op­ment of those weapons may have been min­i­mal, accord­ing to the physi­cist him­self (the truth is a lit­tle more com­pli­cat­ed). But he lat­er expressed regret, or at least a total rethink­ing of the issue, in his many inter­views, let­ters, and speech­es. In 1952, for exam­ple, Ein­stein wrote a short essay called "On My Par­tic­i­pa­tion in the Atom Bomb Project" in which he rec­om­mend­ed that all nations "abol­ish war by com­mon action" and referred to the paci­fist exam­ple of Gand­hi, "the great­est polit­i­cal genius of our time."
Five years ear­li­er, we find Ein­stein in a less than hope­ful mood. In a 1947 open let­ter to the Gen­er­al Assem­bly of the Unit­ed Nations, he laments that "since the vic­to­ry over the Axis pow­ers… no appre­cia­ble progress has been made either toward the pre­ven­tion of war or toward agree­ment in spe­cif­ic fields such as con­trol of atom­ic ener­gy and eco­nom­ic coop­er­a­tion." The solu­tion as he saw it required a "mod­i­fi­ca­tion of the tra­di­tion­al con­cept of nation­al sov­er­eign­ty." It's a clause that might have launched a thou­sand mili­tia man­i­festoes. Ein­stein elab­o­rates:
For as long as atom­ic ener­gy and arma­ments are con­sid­ered a vital part of nation­al secu­ri­ty no nation will give more than lip ser­vice to inter­na­tion­al treaties. Secu­ri­ty is indi­vis­i­ble. It can be reached only when nec­es­sary guar­an­tees of law and enforce­ment obtain every­where, so that mil­i­tary secu­ri­ty is no longer the prob­lem of any sin­gle state. There is no com­pro­mise pos­si­ble between prepa­ra­tion for war, on the one hand, and prepa­ra­tion of a world soci­ety based on law and order on the oth­er.
So far this sounds not sim­ply like a one-world gov­ern­ment but like a one-world police state. But Einstein's pro­pos­al gets a much more com­pre­hen­sive treat­ment in an ear­li­er Atlantic Month­ly edi­to­r­i­al pub­lished in 1945. Here, he admits that many of his ideas are "abstrac­tions" and lays out a scheme to osten­si­bly pro­tect against glob­al total­i­tar­i­an­ism.
Mem­ber­ship in a supra­na­tion­al secu­ri­ty sys­tem should not, in my opin­ion, be based on any arbi­trary demo­c­ra­t­ic stan­dards. The one require­ment from all should be that the rep­re­sen­ta­tives to supra­na­tion­al organization—assembly and council—must be elect­ed by the peo­ple in each mem­ber coun­try through a secret bal­lot. These rep­re­sen­ta­tives must rep­re­sent the peo­ple rather than any government—which would enhance the pacif­ic nature of the orga­ni­za­tion.
The great­est obsta­cle to a glob­al gov­ern­ment was not, Ein­stein thought, U.S. mis­trust, but Russ­ian unwill­ing­ness. After mak­ing every effort to induce the Sovi­ets to join, he writes in his UN let­ter, oth­er nations should band togeth­er to form a "par­tial world Gov­ern­ment… com­pris­ing at least two-thirds of the major indus­tri­al and eco­nom­ic areas of the world." This body "should make it clear from the begin­ning that its doors remain wide open to any non-mem­ber."
Ein­stein cor­re­spond­ed with many peo­ple on the issue of one-world gov­ern­ment, rec­om­mend­ing in one let­ter that a "per­ma­nent world court" be estab­lished to "con­strain the exec­u­tive branch of world gov­ern­ment from over­step­ping its man­date which, in the begin­ning, should be lim­it­ed to the pre­ven­tion of war and war-pro­vok­ing devel­op­ments." He does not fore­see the prob­lem of an exec­u­tive who seizes pow­er through nefar­i­ous means and ignores insti­tu­tion­al checks on pow­er and priv­i­lege. As for the not-insignif­i­cant mat­ter of the econ­o­my, he writes that "the free­dom of each coun­try to devel­op eco­nom­ic, polit­i­cal and cul­tur­al insti­tu­tions of its own choice must be guar­an­teed at the out­set."
Ide­o­log­i­cal con­flicts over eco­nom­ics seemed to him "quite irra­tional," as he wrote in his Atlantic edi­to­r­i­al. "Whether the eco­nom­ic life of Amer­i­ca should be dom­i­nat­ed by rel­a­tive­ly few indi­vid­u­als, as it is, or these indi­vid­u­als should be con­trolled by the state, may be impor­tant, but it is not impor­tant enough to jus­ti­fy all the feel­ings that are stirred up over it." Like any hon­est intel­lec­tu­al, Ein­stein reserved the right to change his mind. By 1949 he had come to see social­ism as a nec­es­sary anti­dote to the "grave evils of cap­i­tal­ism"—the gravest of which, he wrote, is "an oli­garchy of pri­vate cap­i­tal the enor­mous pow­er of which can­not be effec­tive­ly checked even by a demo­c­ra­t­i­cal­ly orga­nized polit­i­cal society"—even one, pre­sum­ably, with glob­al leg­isla­tive reach.
Relat­ed Con­tent:
Albert Ein­stein Writes the 1949 Essay "Why Social­ism?" and Attempts to Find a Solu­tion to the "Grave Evils of Cap­i­tal­ism"
Albert Ein­stein Express­es His Admi­ra­tion for Mahat­ma Gand­hi, in Let­ter and Audio
Albert Ein­stein Explains How Slav­ery Has Crip­pled Everyone's Abil­i­ty (Even Aristotle's) to Think Clear­ly About Racism
Josh Jones is a writer and musi­cian based in Durham, NC. Fol­low him at @jdmagness