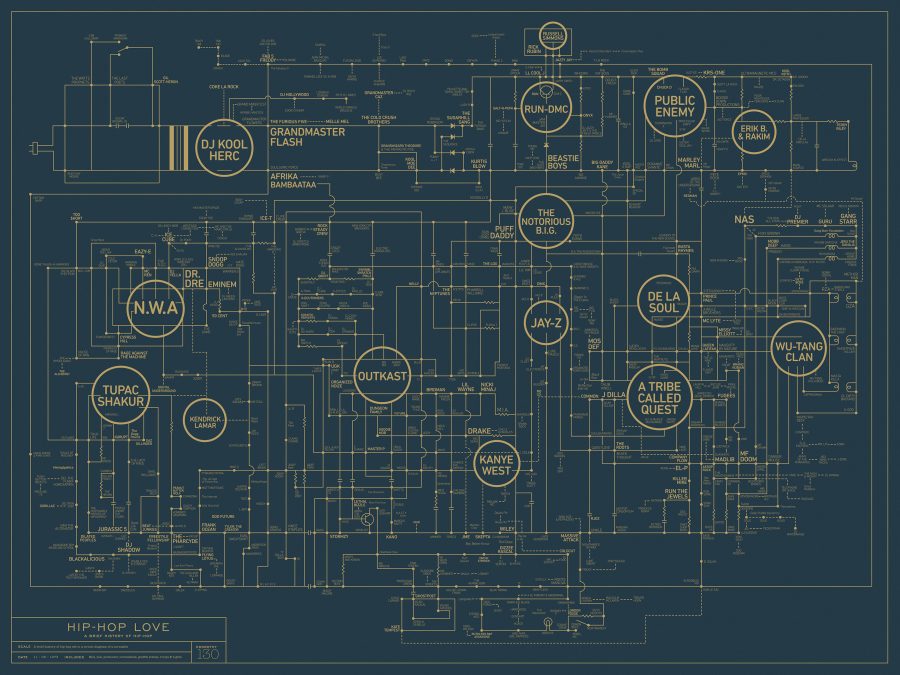 Every genre of music has its lineages and filiations, and each generation tries to outdo its predecessors. In no genre of music are these relationships so clearly defined as in hip-hop, where good-natured battles, furious beefs, nostalgic tributes, and guest appearances explicitly connect rappers from different eras, cities, and styles. Since the earliest days of hip-hop, groups have formed crews and loose alliances, built their own labels and media empires together, and defined the sounds of their region. At the center of it all was the turntable, which founding fathers like Kool DJ Herc repurposed from consumer playback machines to electronic instruments and proto-samplers. No matter how far the music has come in its sophisticated adaptations of digital studio technology, hip-hop's essential architecture came from the meeting of two turntables, a mixer, and a microphone.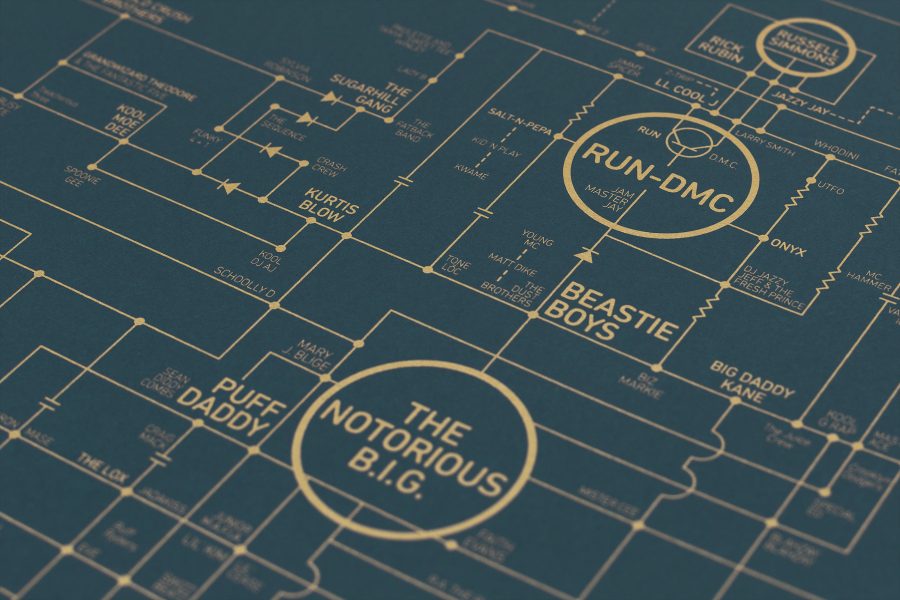 Paying homage to that humble origin, the Hip-Hop Love Blueprint by design house Dorothy takes the circuit diagram of a turntable as the basis for a map connecting 700 of hip-hop's major players, from godfathers like Cab Calloway, Gil Scott-Heron, and the Last Poets, to originators like Herc and Grandmaster Flash, golden age heroes like Run-DMC and Eric B. and Rakim, political artists like Public Enemy and KRS-One, West Coast giants like N.W.A. and Dr. Dre, underground and indie rappers, turntablists and star producers, and everything in-between.
Contemporary stars like Kendrick Lamar, Drake, Jay-Z, and Kanye appear, as, of course, do the martyred icons Biggie and Tupac. The Beastie Boys, De La Soul, Eminem, Nas, Jurassic 5, J Dilla, Mos Def, MF Doom, Kool Keith, Run the Jewels… you name 'em, they've probably made the cut. The diagram–viewable online for free, and purchasable for £35.00–even features the names of early breakdancers like the Rock Steady Crew and graffiti artists like Lady Pink and Futura 2000.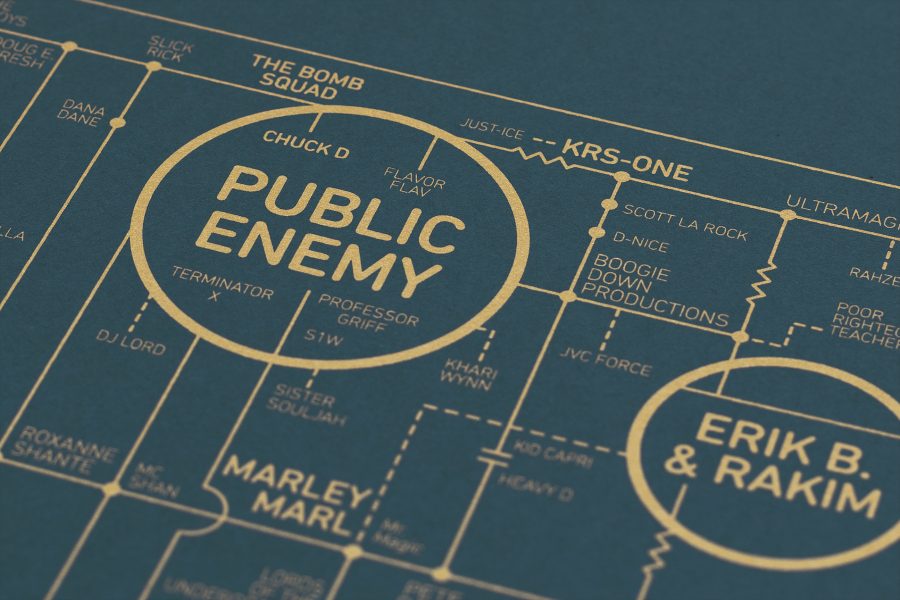 As in earlier such charts from Dorothy, like Alternative Love and Electric Love, fans may find fault with the placement of certain figures and groups, and with the choice of emphasis. Rap abounds in masculine bravado—and at times no small amount of misogyny—but it should go without saying that female stars like Salt 'n' Pepa, MC Lyte, Queen Latifah, Missy Elliott, and Lauryn Hill are as influential as many of the biggest male names on the chart. Yet not one of them gets top billing, so to speak, here. This unfortunate fact aside, Hip-Hop Love does a very impressive job of cataloguing and connecting the most commercially successful, big-name artists with some of the most underground and experimental. Though we associate artists with particular regions—Outkast epitomizes the South, for example, Wu-Tang Clan is New York to the core—the blueprint pulls them all together, reaching out even to UK grime and trip-hop, in a schematic that resembles one huge, interconnected electric city. You can get your own copy of the poster online here.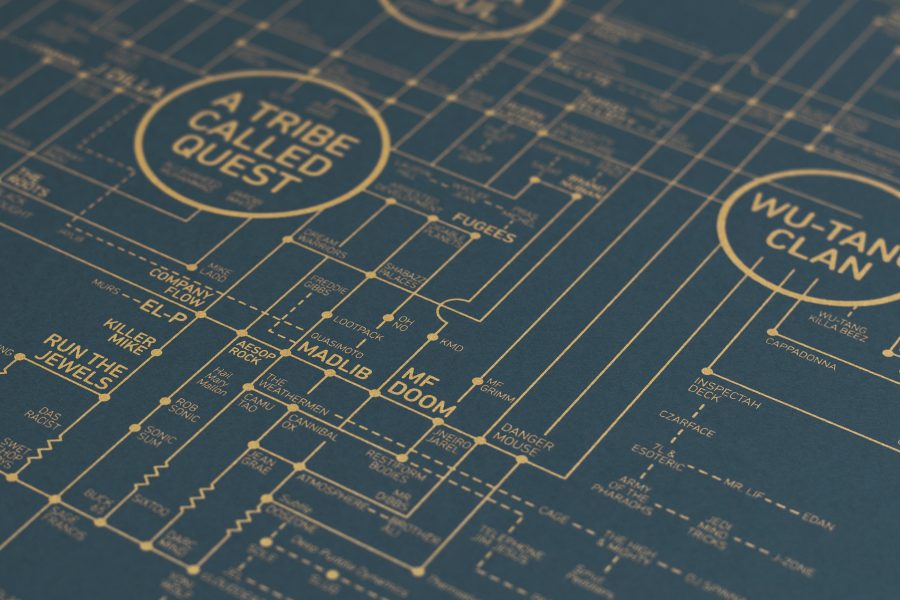 Related Content:
A History of Alternative Music Brilliantly Mapped Out on a Transistor Radio Circuit Diagram: 300 Punk, Alt & Indie Artists
The History of Electronic Music Visualized on a Circuit Diagram of a 1950s Theremin: 200 Inventors, Composers & Musicians
Enter the The Cornell Hip Hop Archive: A Vast Digital Collection of Hip Hop Photos, Posters & More
Josh Jones is a writer and musician based in Durham, NC. Follow him at @jdmagness