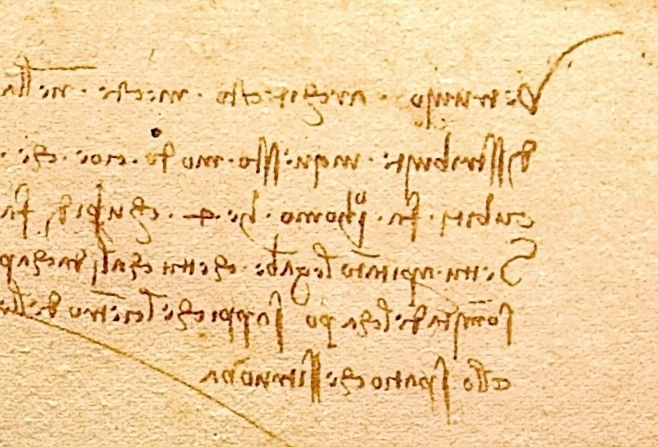 As the stand­out exam­ple of the "Renais­sance Man" ide­al, Leonar­do da Vin­ci racked up no small num­ber of accom­plish­ments in his life. He also had his eccen­tric­i­ties, and tried his hand at a num­ber of exper­i­ments that might look a bit odd even to his admir­ers today. In the case of one prac­tice he even­tu­al­ly mas­tered and with which he stuck, he tried his hand in a more lit­er­al sense than usu­al: Leonar­do, the evi­dence clear­ly shows, had a habit of writ­ing back­wards, start­ing at the right side of the page and mov­ing to the left.
"Only when he was writ­ing some­thing intend­ed for oth­er peo­ple did he write in the nor­mal direc­tion," says the Muse­um of Sci­ence. Why did he write back­wards? That remains one of the host of so far unan­swer­able ques­tions about Leonar­do's remark­able life, but "one idea is that it may have kept his hands clean. Peo­ple who were con­tem­po­raries of Leonar­do left records that they saw him write and paint left hand­ed. He also made sketch­es show­ing his own left hand at work. As a lefty, this mir­rored writ­ing style would have pre­vent­ed him from smudg­ing his ink as he wrote."
Or Leonar­do could have devel­oped his "mir­ror writ­ing" out of fear, a hypoth­e­sis acknowl­edged even by books for young read­ers: "Through­out his life, he was wor­ried about the pos­si­bil­i­ty of oth­ers steal­ing his ideas," writes Rachel A. Koestler-Grack in Leonar­do Da Vin­ci: Artist, Inven­tor, and Renais­sance Man. "The obser­va­tions in his note­books were writ­ten in such a way that they could be read only by hold­ing the books up to a mir­ror." The blog Walk­er's Chap­ters makes a rep­re­sen­ta­tive coun­ter­ar­gu­ment: "Do you real­ly think that a man as clever as Leonar­do thought it was a good way to pre­vent peo­ple from read­ing his notes? This man, this genius, if he tru­ly want­ed to make his notes read­able only to him­self, he would've invent­ed an entire­ly new lan­guage for this pur­pose. We're talk­ing about a dude who con­cep­tu­al­ized para­chutes even before heli­copters were a thing."
Per­haps the most wide­ly seen piece of Leonar­do's mir­ror writ­ing is his notes on Vit­ru­vian Man (a piece of which appears at the top of the post), his enor­mous­ly famous draw­ing that fits the pro­por­tions of the human body into the geom­e­try of both a cir­cle and a square (and whose ele­gant math­e­mat­ics we fea­tured last week). Many exam­ples of mir­ror writ­ing exist after Leonar­do, from his coun­try­man Mat­teo Zac­col­in­i's 17th-cen­tu­ry trea­tise on col­or to the 18th- and 19th-cen­tu­ry cal­lig­ra­phy of the Ottoman Empire to the front of ambu­lances today. Each of those has its func­tion, but one won­ders whether as curi­ous a mind as Leonar­do's would want to write back­wards sim­ply for the joy of mas­ter­ing and using a skill, any skill, how­ev­er much it might baf­fle oth­ers — or indeed, because it might baf­fle them.
If you're inter­est­ed in all things da Vin­ci, make sure you check out the new best­selling biog­ra­phy, Leonar­do da Vin­ci, by Wal­ter Isaac­son.
Relat­ed Con­tent:
The Ele­gant Math­e­mat­ics of Vit­ru­vian Man, Leonar­do da Vinci's Most Famous Draw­ing: An Ani­mat­ed Intro­duc­tion
Down­load the Sub­lime Anato­my Draw­ings of Leonar­do da Vin­ci: Avail­able Online, or in a Great iPad App
Leonar­do da Vinci's Bizarre Car­i­ca­tures & Mon­ster Draw­ings
Leonar­do da Vinci's Vision­ary Note­books Now Online: Browse 570 Dig­i­tized Pages
Leonar­do da Vinci's Hand­writ­ten Resume (1482)
Leonar­do Da Vinci's To Do List (Cir­ca 1490) Is Much Cool­er Than Yours
Based in Seoul, Col­in Mar­shall writes and broad­casts on cities and cul­ture. His projects include the book The State­less City: a Walk through 21st-Cen­tu­ry Los Ange­les and the video series The City in Cin­e­ma. Fol­low him on Twit­ter at @colinmarshall or on Face­book.