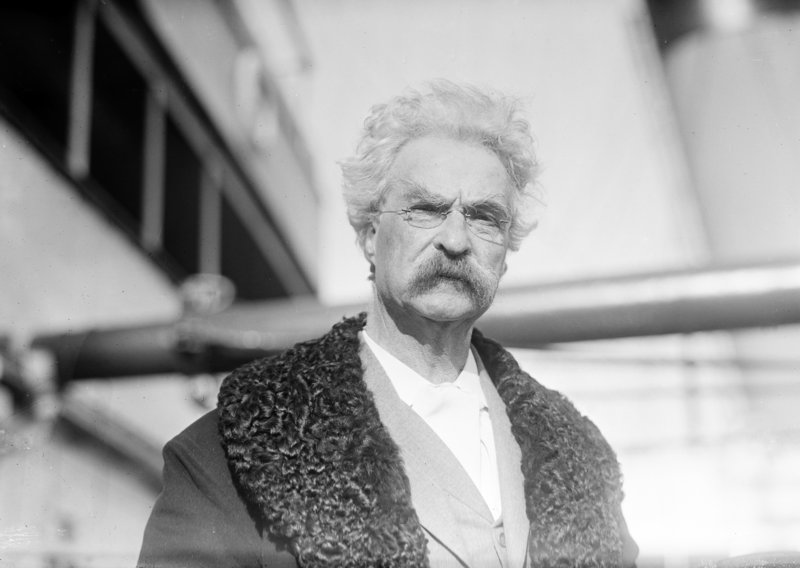 Public Domain image via Wikimedia Commons
Humanity has come up with many negative stereotypes of Americans, some of them not entirely groundless: the widely held belief, for example, that Americans don't get out much. I admit the truth of that one as an American myself — albeit an American who now lives in Asia — because I certainly did drag my feet on getting a passport and getting out there in the world at first. Perhaps I can take comfort in the fact that no less a colossus of American letters began his international travels even later than I did, though when he did get around to it, he got even more out of it: not only The Innocents Abroad, one of the best-loved travel books of all time, but an insight into what makes travel so vital a pursuit in the first place.
The travels Mark Twain recounts in the book began in 1867 on the chartered vessel Quaker City, which took him and a group of his countrymen through Europe and the Holy Land, an itinerary including a stop at the 1867 Paris Exhibition and journeys through the Papal States to Rome and through the Black Sea to Odessa, all followable on a hypertext map at the University of Virginia's Mark Twain in His Times page. "In his account Mark Twain assumes two alternate roles," says the Library of America, "at times the no-nonsense American who refuses to automatically venerate the famous sights of the Old World (preferring Lake Tahoe to Lake Como), or at times the put-upon simpleton, a gullible victim of flatterers and 'frauds,' and an awe-struck admirer of Russian royalty."
Whether you read The Innocents Abroad in the Library of America's edition or in one of a variety of free formats downloadable from Project Gutenberg, you'll eventually come to Twain's justification for the entire project: not the writing project with its handsome remuneration and name-making popularity, but the project of travel itself. Though many elements of the Old World experience, as well as prolonged exposure to his fellow Americans, put his formidable complaining ability to the test, the "breezy, shrewd, and comical manipulator of English idioms and America's mythologies about itself and its relation to the past" (as the Library of America describes him) ultimately admits that
I have no fault to find with the manner in which our excursion was conducted. Its programme was faithfully carried out—a thing which surprised me, for great enterprises usually promise vastly more than they perform. It would be well if such an excursion could be gotten up every year and the system regularly inaugurated. Travel is fatal to prejudice, bigotry and narrow-mindedness, and many of our people need it sorely on these accounts. Broad, wholesome, charitable views of men and things can not be acquired by vegetating in one little corner of the earth all one's lifetime.
Distinctly Twainian words, of course, but many other writers have since also tried to express the uniquely mind-expanding properties of spending time outside your homeland. As Rudyard Kipling memorably put it to his own countrymen, a few decades after The Innocents Abroad, in "The English Flag," "What should they know of England who only England know?"
Or as one writer friend of mine, well-known for the globalized nature of his books and well as of his own identity, once said, "If Americans don't travel, we're like a man who lives in a hovel assuming everyone else lives in a worse hovel." But it always comes back to Twain, who knew that "nothing so liberalizes a man and expands the kindly instincts that nature put in him as travel and contact with many kinds of people" — and who also knew that nobody quite realized "what a consummate ass he can become until he goes abroad." We can all think of much worse reasons to head across the ocean than that.
Related Content:
Mark Twain Makes a List of 60 American Comfort Foods He Missed While Traveling Abroad (1880)
A Journey Back in Time: Vintage Travelogues
Free: Read 9 Travel Books Online by Monty Python's Michael Palin
Petite Planète: Discover Chris Marker's Influential 1950s Travel Photobook Series
Join Clive James on His Classic Television Trips to Paris, LA, Tokyo, Rio, Cairo & Beyond
Based in Seoul, Colin Marshall writes and broadcasts on cities and culture. His projects include the book The Stateless City: a Walk through 21st-Century Los Angeles and the video series The City in Cinema. Follow him on Twitter at @colinmarshall or on Facebook.