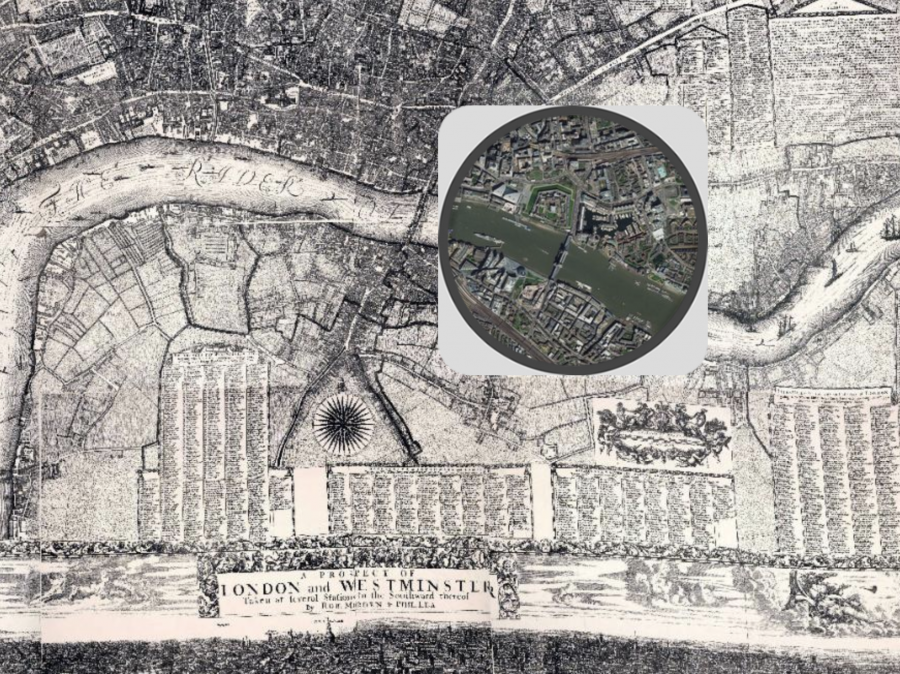 er
From ESRI, the maker of geographic software, comes the London Time Machine, an interactive map that lets you see how London has changed over the past 330+ years, moving from a city left in ruins by the Great Fire of 1666, to the sprawling metropolis that it is today. Here's how ESRI describes the map:
On Sunday the 2nd of September 1666, the Great Fire of London began reducing most of the capital to ashes. Among the devastation and the losses were many maps of the city itself.

The Morgan Map of 1682 was the first to show the whole of the City of London after the fire. Produced by William Morgan and his dedicated team of Surveyors and Cartographers it took 6 years to produce, and displayed a brighter perspective on city life for a population still mourning their loved ones, possessions, and homes.

But how much of this symbolised vision of a hoped-for ideal city remains today? What now lies on the lush green fields to the south of the river Thames? And how have the river's banks been eaten into by the insatiable appetite of urban development? Move the spyglass to find out, and remember to zoom-in to fully interrogate finer details!
Enter the London Time Machine here.
If you would like to sign up for Open Culture's free email newsletter, please find it here.
If you would like to support the mission of Open Culture, consider making a donation to our site. It's hard to rely 100% on ads, and your contributions will help us continue providing the best free cultural and educational materials to learners everywhere. You can contribute through PayPal, Patreon, and Venmo (@openculture). Thanks!
Related Content:
Prize-Winning Animation Lets You Fly Through 17th Century London
The Oldest Known Footage of London (1890-1920) Features the City's Great Landmarks
What Happens When a Japanese Woodblock Artist Depicts Life in London in 1866, Despite Never Having Set Foot There